Breaking down the pullback
Market's Monday sell-off and reversal was extremely rare event
SPX 4% loss turned into gain—only 4 other moves have been larger
How has market's follow-through compared to the historical pattern?
How volatile has the market been lately?
Here's one way to answer that: When the S&P 500 (SPX) fell nearly 4% intraday on Monday and then rallied furiously to close higher on the day, it did something it's matched or exceeded only four other times since 1960.1
When the market moves like it has this week, many traders and investors feel the need to get their bearings: What does this "mean"? What can we expect in the coming days and weeks?
Past performance may not guarantee future results, but analyzing similar market moves is one way traders try to at least gain some insight into the market's possible range of reactions. The problem is that rare events like Monday's don't give you much to go on.
When that's the case, many traders expand the definition of the price movement they're interested in—loosening it enough to provide a larger pool of comparisons, but not enough to dilute the gist of the price action—which in this case is the reversal of an exceptionally large intraday sell-off.
First, let's see where things stood as of yesterday. The following chart shows SPX fell below Monday's close (shortly after the 2 p.m. ET Fed announcement), although it was still up more than 2% from Monday's low: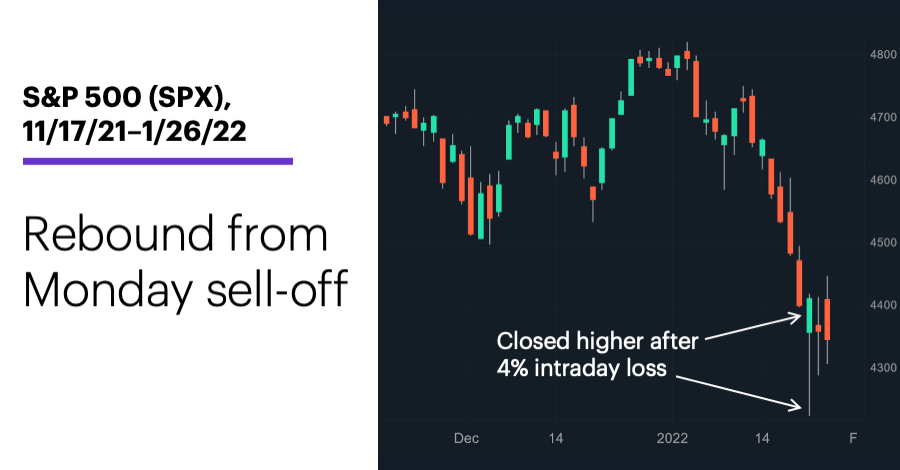 Source: Power E*TRADE. (For illustrative purposes. Not a recommendation.)
---
While the SPX has fallen 4% or more intraday and closed higher only four other times, it's fallen 2% or more and closed up 39 times since 1960. There have been more than 15,500 trading days since then, so this looser definition of Monday's price action still qualifies as an exceptional event. But with 39 examples, we may have a better chance of determining the market's typical response to such moves.
The table below shows the SPX's average returns one week (five trading days) and two weeks (10 trading days) after these days. The takeaway is that there typically appeared to be a recovery in the first several days after days like Monday, but after two weeks that rebound had often vanished. In fact, after one week the SPX was higher 25 out of 39 times, but only 19 times after two weeks.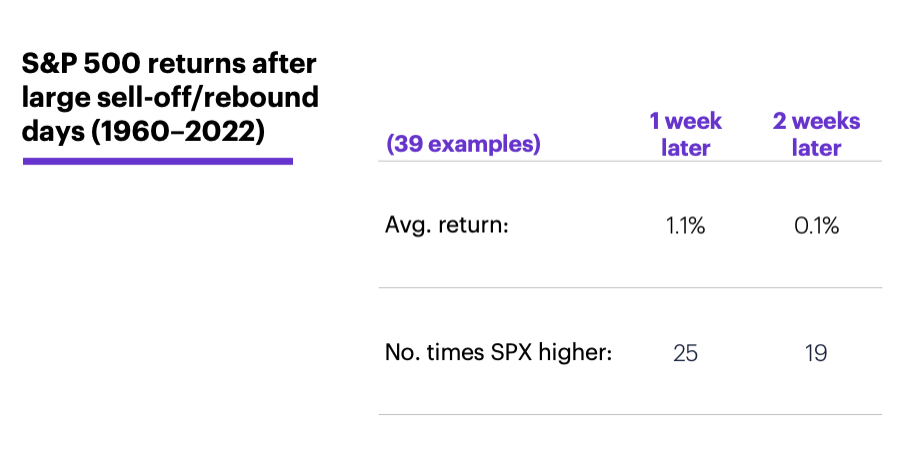 Source (data): Power E*TRADE. (For illustrative purposes. Not a recommendation.)
---
Getting back to the "range of reactions" idea, in one case the SPX was up as much as 16% after two weeks, and down as much as 12% in another. This time around the move could be bigger, or again somewhere in between—regardless of whether it's up or down.
Boiling all this down, the market's net gain from Monday is in keeping with its historical tendency to rebound immediately after exceptionally large intraday reversals to the upside. Whether the market also follows the typical pattern by turning lower again remains to be seen.
But the takeaway from the typical result may be that days like Monday are themselves "indicators" of an adjusting market, and sometimes signal more volatility on the horizon.
Today's numbers include (all times ET): Durable Goods Orders (8:30 a.m.), GDP (8:30 a.m.), Weekly Jobless Claims (8:30 a.m.), Pending Home Sales Index (10 a.m.), EIA Natural Gas Report (10:30 a.m.).
Today's earnings include: Mastercard (MA), Southwest Airlines (LUV), McDonald's (MCD), Danaher (DHR), Visa (V), United States Steel (X), Beazer Homes (BZH), Apple (AAPL).
Click here to log on to your account or learn more about E*TRADE's trading platforms, or follow the Company on Twitter, @ETRADE, for useful trading and investing insights.
---
1 All figures based on S&P 500 (SPX) daily prices, 12/30/59 – 1/26/22. Post-pattern returns are measured from the closing price of the pattern day to the closing prices five and 10 trading days later. Supporting document available upon request.
What to read next...
01/26/22
Will this high-profile stock's sell-off attract bargain hunters?
---
01/25/22
When the market is in sell-off mode, many traders watch the VIX for signs of capitulation—short-term and long-term.
---
01/25/22
When the market is in sell-off mode, many traders watch the VIX for signs of capitulation—short-term and long-term.
---