Priming the momentum pumps
Crude oil bounced after testing seven-month lows
Oil stocks one of the SPX's weakest sectors in recent weeks
PSX has been an oil sector outperformer this year
Energy stocks showed some signs of life the past couple of days, trading to the upside after spending two weeks as an S&P 500 (SPX) cellar dweller.
Remember the 12.5% jump crude oil made on September 16 in the aftermath of the attack on Saudi oil facilities? Well, it was pretty much straight down from there, with November WTI crude oil futures (CLX9) falling around 15% from $61.66 on September 16 to $52.31 on October 3. That slide took its toll on oil stocks, which tend to struggle when the commodity they sell is selling off, and vice versa.
But it's not just oil stocks that tend to track crude prices. The following chart shows the broad market has been highly correlated to crude prices so far this year (and late last year):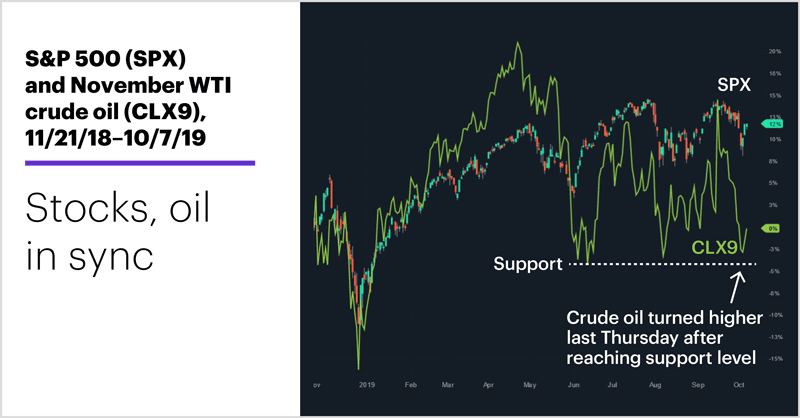 Source: Power E*TRADE
---
There's a good reason. Oil is a barometer of the global economy, typically rallying when times are good (or expectations are high), and declining when economic activity drops or pessimism about the future grips investors.
And if that sounds like the same market psychology that's driven many of the stock market's ups and downs in the past 18 months or so, you're not mistaken. Crude's worst day last week? Wednesday, the day weak manufacturing data also sent the stock market into a small tailspin.
The chart shows something besides the stock–oil connection, though. Both the SPX and oil turned higher last Thursday after dropping to fresh lows, but oil's pivot occurred as the market tested the support level defined by its June and August lows.
The takeaway: Some bullish traders may be looking for a period of outperformance in oil stocks, given the crude market's technical position and the possibility of a swing back toward economic optimism after last week's negative manufacturing news.
The following chart shows three oil stocks: bellwethers Exxon Mobil (XOM) and Chevron (XOM), and the lower-profile Phillips 66 (PSX):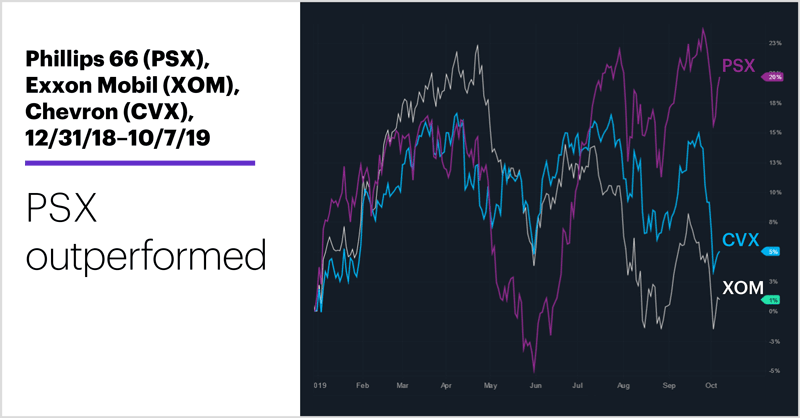 Data source: Power E*TRADE
---
PSX, the stock that typically trades half as many shares as CVX on a given day—and one quarter as many as XOM—has outperformed its higher-volume brethren by a wide margin this year, even after selling off more sharply than both of them in May. The stock, which is up around 20% YTD, is up 26% since May 31, and had a much milder downswing in August.
Experienced traders know it's always a good idea to check out individual names in a sector to see which ones look best positioned to capitalize on market tailwinds.
Market Mover Update: Two days after pulling back to the bottom of its trading range, Apple (AAPL) broke out of the top of it yesterday, trading to its highest level in more than a year (see "Pressing the range").
Today's numbers (all times ET): Producer Price Index (PPI), NFIB Small Business Optimism Index.
Today's earnings include: AZZ (AZZ), Levi Strauss (LEVI), Domino's Pizza (DPZ).
Click here to log on to your account or learn more about E*TRADE's trading platforms, or follow the Company on Twitter, @ETRADE, for useful trading and investing insights.
---
What to read next...
10/07/19
After a shaky start to October, the market finds its footing toward the end of last week.
---
10/04/19
Seemingly out-of-sync stock and options action puts spotlight on under-the-radar tech company.
---
10/03/19
October's volatile start may mean something very different from what most people think.
---