Trading volatility vs. price direction
MSTR's options implied volatility well below its historical volatility
High-flying tech stock consolidated after Feb.-March correction
Price-neutral options strategies not necessarily neutral on volatility
While stock trades are generally two-sided affairs (prices can go up, or prices can go down), options traders have to account for some additional market dimensions—namely, how volatility and time decay can affect a trade, regardless of which way underlying prices move.
One stock's recent price action, and its appearance yesterday on a LiveAction scan for unusual volatility, offers a good lesson in how some options traders may approach so-called "non-directional" trades.
Enterprise analytics stock MicroStrategy (MSTR) appeared on the scan for symbols with implied volatility (IV) notably below their historical volatility (HV), which means the options market was expecting these stocks to be less volatile over the next 30 days than they were over the past 30 days: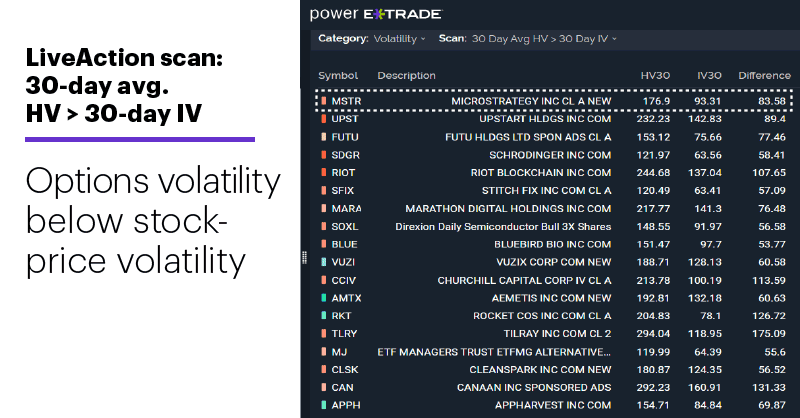 Source: Power E*TRADE
---
In MSTR's case, it was fairly easy to see why options traders may have been pricing in reduced future volatility. Periods of high volatility are often followed by periods of low volatility, and the stock has had volatility in spades, rallying 345% from December 15 to February 9 before tumbling more than 50% over the next four weeks.
Over the past couple of weeks, though, MSTR's volatility has fallen (see bottom of chart) as its price has been confined to a fairly narrow range: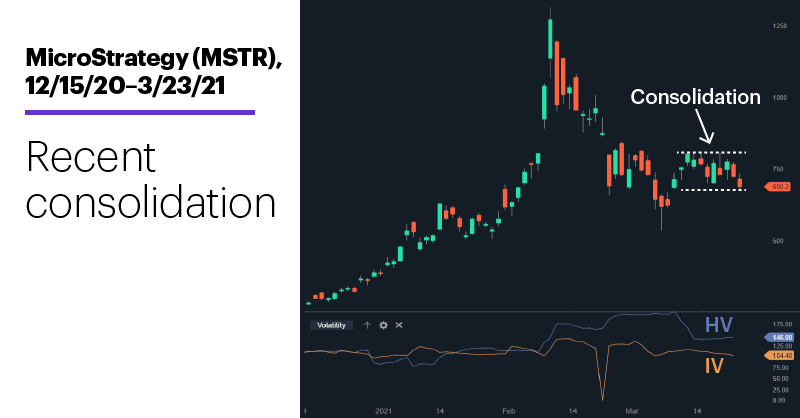 Source: Power E*TRADE
---
Because lower IV typically translates into lower-priced options (all else being equal), options traders in these types of situations may consider long-options strategies, especially if they expect volatility to swing higher in the relatively near future—say, if a consolidating stock makes a breakout move.
But what if they're unsure about the direction the stock may take?
The following chart shows the risk profile for a long options "strangle," which combines a long out-of-the-money call option with a long out-of-the-money put. This type of strategy is neutral about the underlying market's direction, since the long call has the potential to profit if prices rally, while the long put can profit if prices fall:
Source: Power E*TRADE
---
The catch is that the stock has to rally or fall enough to make up for the combined cost of the two options, both of which will be fighting time decay throughout the life of the trade. At expiration, if the stock is anywhere between the two strike prices, both options will expire worthless. That makes it all the more important to avoid buying options that are potentially overpriced because of relatively high IV—and also why traders who do, in fact, expect prices to move a specific direction may favor using a bull call spread or bear put spread.
In other words, while this type of strategy may be non-directional in terms of the underlying stock's price, it's directional in terms of volatility: It represents a bet that volatility will move in a certain direction—up—over the course of the trade.
And that's a good reminder that any options trade represents a forecast on some aspect of market action—price direction, volatility, time decay, or all three. Traders need to decide which strategy best fits their outlook and risk-tolerance level.
Today's numbers (all times ET): Mortgage applications (7 a.m.), Durable Goods Orders (8:30 a.m.), Fed Chairman Jerome Powell speech (10 a.m.), EIA Petroleum Status Report (10:30 a.m.).
Today's earnings include: Cassava Sciences (SAVA), General Mills (GIS), KB Home (KBH), RH (RH).
Today's IPOs include: DigitalOcean (DOCN), ACV Auctions (ACVA), Leonardo DRS (DRS).
Click here to log on to your account or learn more about E*TRADE's trading platforms, or follow the Company on Twitter, @ETRADE, for useful trading and investing insights.
---
What to read next...
03/23/21
The energy sector—and many other value stocks—took a step back last week. Warning sign or opportunity?
---
03/22/21
Broad market hits new highs, but suffers yet another interest-rate slip.
---
03/19/21
The market fear gauge is now back to its pre-pandemic levels.
---