Price-volatility showdown
Volatility contractions can lessen the impact on options of large underlying price moves
NEWR's recent bounce was accompanied by a big implied volatility decline
Some call options cheaper than they were when stock was 5% lower
If you've been looking to buy a call option and the underlying stock suddenly surges more than 15%, it would only be natural to think you've missed out on a buying opportunity.
You may have, but not always. Underlying price action is the most obvious driver of options prices, but another critical component—volatility—will usually have something to say about the matter. The dynamics between the two played out recently in New Relic (NEWR), makers of a cloud-based enterprise software tracking and optimization platform.
Yesterday the stock landed on the LiveAction scan for biggest one-week implied volatility (IV) drops in the wake of its May 13 earnings: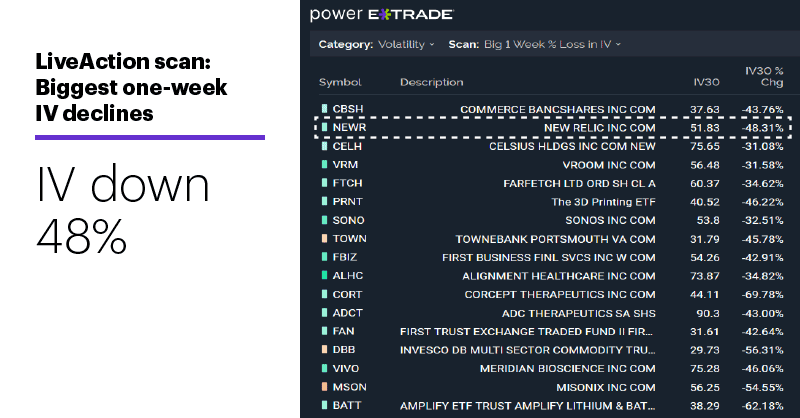 Source: Power E*TRADE
---
The announcement, which featured solid earnings and revenue beats, also included better-than-expected forward guidance.1 The stock responded with some classic earnings volatility—falling 9% before reversing to close up 5.8%. That intraday pivot also happened to occur at a level (roughly $52–$53) that has supported the stock four other times since August 2020: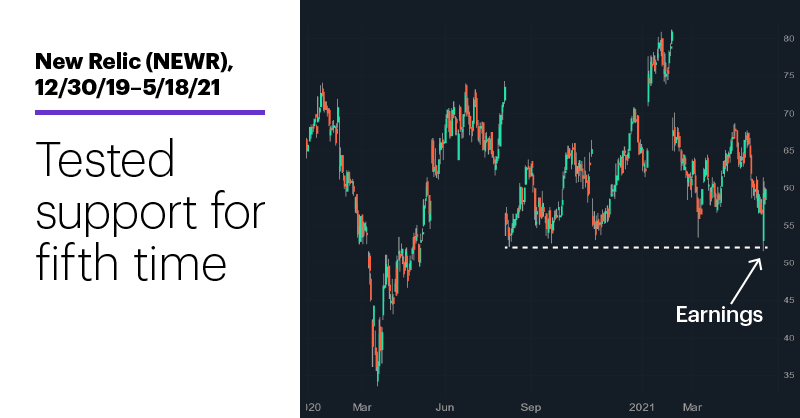 Source: Power E*TRADE
---
By yesterday NEWR had climbed as high as $60.49—a 17% rally off last Friday's low of $51.52. While some traders may have assumed that call options premiums had also exploded to the upside with a bounce of this magnitude, that wasn't entirely true—and the nearly 50% IV drop played a role.
For example, yesterday the June $60 call was up more than 20% on the day at $3.40. True, that's a big one-day increase, but the option was still down 66% from where it was in mid-April ($10)—and even cheaper than it was the day before the earnings announcement:
Source: Power E*TRADE
---
Option prices are the result of the interaction of the underlying market's movement, expectations about its future movement (IV), and time. Sometimes these factors are aligned to push option prices in the same direction, but other times they're working against each other—which means traders may find options are cheaper in certain situations than they'd first assume.
Sometimes that can work to a trader's advantage, other times it will be negative. But you won't know unless you dig deep enough to see whether or not these drivers are in sync with your market outlook.
Market Mover Update: After Home Depot (HD) crushed its earnings yesterday, its stock responded by adding to its track record of dropping after releasing numbers. Tuesday marked the 16th time in the past 21 quarters that HD closed lower on earnings day. The stock's average five-day post-earnings return is also negative.
July WTI crude oil futures (CLN1) briefly traded to a new contract high of $67.02/barrel on Tuesday before retreating below $66 and closing down on the day.
Today's numbers include (all times ET): EIA Petroleum Status Report (10:30 a.m.), FOMC minutes (2 p.m.).
Today's earnings include: e.l.f. Beauty (ELF), L Brands (LB), TJX Companies (TJX), Target (TGT), Lowe's (LOW), Eagle Materials (EXP), Keysight Technologies (KEYS).
Today's IPOs include: Squarespace (SQSP).
Click here to log on to your account or learn more about E*TRADE's trading platforms, or follow the Company on Twitter, @ETRADE, for useful trading and investing insights.
---
1 StreetInsider.com. New Relic (NEWR) Tops Q4 EPS by 18c, Revenues Beat; Offers 1Q & FY22 Revenues Guidance Above Consensus. 5/13/20.
What to read next...
05/18/21
Will renewed attention on cybersecurity provide a tailwind for this corner of tech?
---
05/17/21
No, it's not a "wreck," but growth stocks bear the brunt of selling as inflation story grabs hold of market.
---
05/14/21
The options market appears to be expecting big things from this biotech stock.
---