Lining up price and volatility patterns
Moderna (MRNA) slid more than 40% from record high in Dec.
Correction preceded by nearly 900% rally off Feb. low
Price, volatility levels presenting bulls with relatively cheap options?
On December 7, 2018, a headline-grabbing biotech IPO wrapped up its first day of trading at $18.60. Although it climbed as high as $29.79 over the next five months, it didn't make much noise after that, falling to around $12 by August 2019. By February 24, 2020, it was right back where it started—literally—closing at $18.59.
But that relatively ho-hum 14 months of trading was about to end abruptly. The next day, Moderna (MRNA) surged 28% to $23.76, and it basically hasn't looked back since. The stock soared as it established itself as a player in the COVID vaccine race, eventually tagging $178.50 on December 1 (an 897% gain from its February low):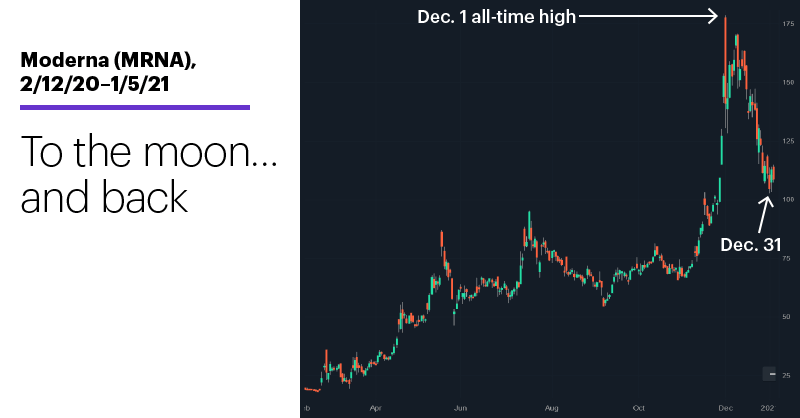 Source: Power E*TRADE
---
That the stock subsequently tumbled 41% the rest of the month—just as its vaccine received emergency authorization in the US and began its rollout—may seem like a bit of a head-scratcher, but MRNA's path isn't an anomaly: The other leading vaccine producers, Pfizer (PFE), BioNTech (BNTX), and AstraZeneca (AZN), have experienced similar slides in recent weeks, suggesting these stocks may have baked in more than their fair share of "good news" in advance of that news actually materializing.
Nonetheless, after such significant corrections, some traders may be looking for some of these stocks to rebound, at least temporarily. MRNA fell more than 3% in early trading yesterday, but that was after jumping 7% on Monday, establishing the December 31 low ($104.47) as a potential risk point for short-term traders—i.e., if prices break below that level, many would scrap their long positions and wait for another opportunity.
Also, options traders may have been encouraged yesterday to see that MRNA appeared on a scan for symbols with implied volatility (IV) lower than their historical volatility (HV):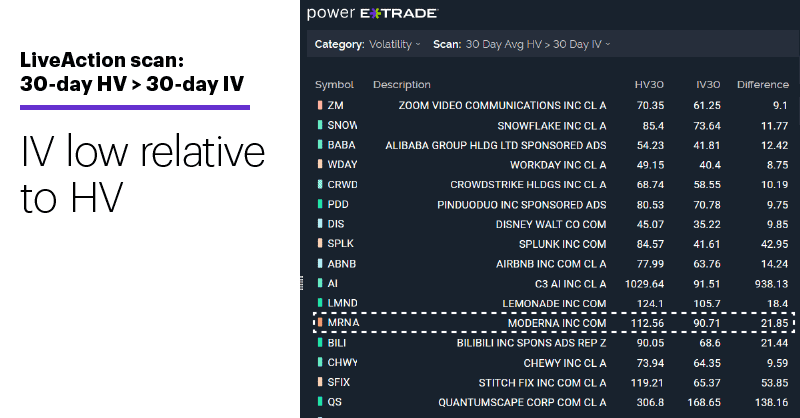 Source: Power E*TRADE
---
All else being equal, relatively low IV can signal options at least aren't overpriced, even if they're not necessarily at bargain-basement levels. After all, MRNA's HV (the stock's price movement) has been exceptionally high lately, so its IV is "low" only compared to that inflated level. Nonetheless, the following chart shows the February, March, and April options all had IV below the 30-day average: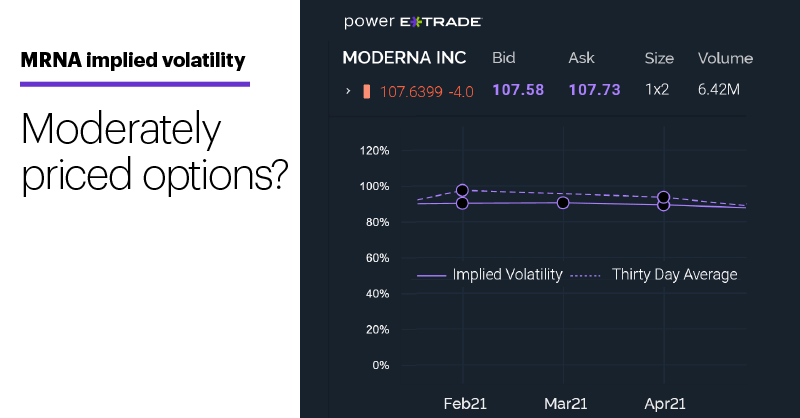 Source: Power E*TRADE
---
Correctly timing a stock pullback is always easier said than done, but if you try to trade it with options that are overpriced because of high IV, you may find yourself fighting a two-front battle.
In this case, there's no guarantee MRNA's recent low will hold. Nonetheless, bulls are looking at cheaper call options because of the stock's sell-off (yesterday the February $110 call was roughly one-fifth of where it was trading a month ago), and they may have lower IV levels on their side, too.
It's a combination many traders like to look into, when it pops up.
Market Mover Update: Semiconductor stocks did their part in helping the market rebound yesterday, with Micron (MU) surging more than 6% intraday and Taiwan Semiconductor (TSM) rallying nearly 3%.
February WTI crude oil (GCG1) jumped more than 5% intraday yesterday— breaking out of its recent trading range and topping $50/barrel for the first time since last February—as Saudi Arabia announced it would trim its output by an additional million barrels/day.1
Today's numbers (all times ET): Mortgage Applications (7 a.m.), ADP Employment (8:15 a.m.), PMI Composite Final (9:45 a.m.), Factory Orders (10 a.m.), EIA Petroleum Status Report (10:30 a.m.), FOMC Minutes (2 p.m.).
Today's earnings include: MSC Industrial (MSM).
Click here to log on to your account or learn more about E*TRADE's trading platforms, or follow the Company on Twitter, @ETRADE, for useful trading and investing insights.  
---
1 Bloomberg.com. Oil Tops $50 With Saudis Pledging a Surprise Unilateral Cut. 1/5/21.
What to read next...
01/05/21
The broad market wasn't cooperative, but was Monday's fast start for semiconductors a sign of things to come?
---
01/04/21
Stocks close out a historic year with more records, enter new year at all-time highs.
---
12/31/20
Ready for a new year of trading? Start by checking in on how the stock market tends to perform in January.
---