Price leading the news?
Casino and resort stocks sold off on Monday
China temporarily shuttered casinos, part of zero-COVID policy
Contrarian swing pattern in response to some past events
Anyone who thinks COVID's days as a market catalyst are over need only look at Monday's price action in US casino and resort stocks to get a dose of reality.
A little more than an hour into Monday's trading session, MGM Resorts (MGM) was down around 3%, Las Vegas Sands (LVS) was more than 9% lower, and Wynn Resorts (WYNN) was off more than 8%: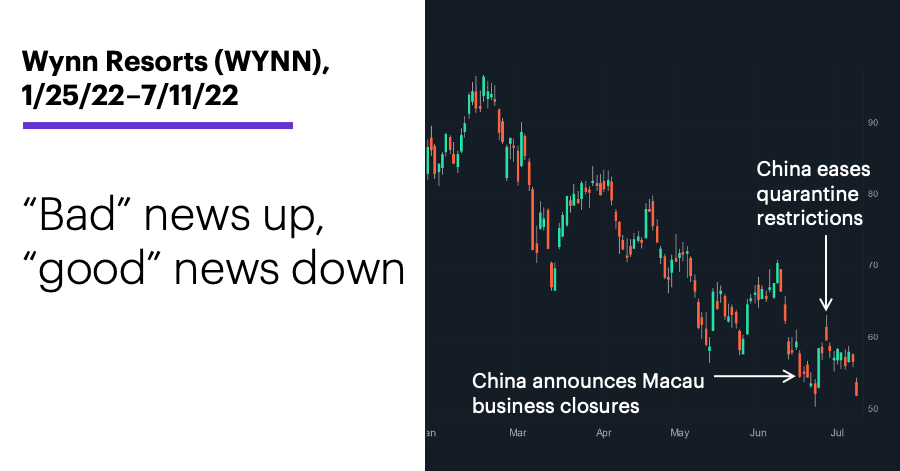 Source: Power E*TRADE. (For illustrative purposes. Not a recommendation.)
---
But Monday's news wasn't about a virus outbreak in Las Vegas. Instead, these US stocks sold off as China announced it was shutting down casinos in its gambling center of Macau for a week because of a spike in COVID cases.1 Macau has for many years outpaced Vegas in dollar terms, and since all these companies have major footprints in Macau, any shutdown can mean a significant loss of revenue.
That's the quick take on the business situation. The chart above highlights another dynamic—how casino stocks have sometimes reacted in contrarian fashion to the Macau news pendulum, which has repeatedly swung between "We have to shut things down" and "We're open for business," as China has pursued its zero-COVID policy. Two recent examples:
1. "Bad" news rally. WYNN sold off in June, but the move bottomed soon after China shut down most Macau businesses (but not casinos) as COVID cases spiked.2
2. "Good" news sell-off. After hitting a two-week high on June 28 when China announced it would loosen its quarantine restrictions, WYNN turned lower.
That's not to say yesterday's sell-off means WYNN and other casino stocks will immediately rebound (if nothing else, the broad market's trend will likely play a significant role). Two similar episodes from last year paint a somewhat different picture: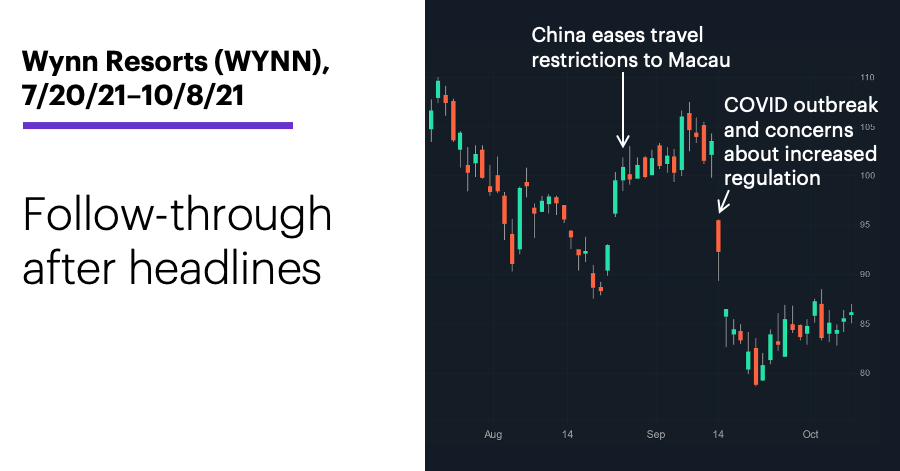 Source: Power E*TRADE. (For illustrative purposes. Not a recommendation.)
---
WYNN jumped in late-August 2021, but the move lost most of its momentum by the time China announced it was easing travel restrictions to Macau on August 25.3 The stock then tumbled on September 14 amid another COVID outbreak and concerns that casinos would be caught up in China's regulatory crackdown,4 and kept falling for another week before reversing to the upside. In both cases, though, the move was relatively close to ending—either in terms of price or time—by the time the headlines broke.
Price leading the news is a concept that some traders and investors have difficulty embracing, but what's true in the long term—that markets are forward-looking—may sometimes also be true in the short term. Experienced traders know that sometimes markets both anticipate and overreact to news.
Final note: Yesterday's sell-off had an understandable impact on options premiums: The WYNN $50 put expiring on August 19, for example, jumped nearly 74% intraday on Monday, and was up more than 100% since June 28.
Today's numbers include (all times ET): NFIB Small Business Optimism Index (6 a.m.).
Today's earnings include: PepsiCo (PEP), AngioDynamics (ANGO).
Click here to log on to your account or learn more about E*TRADE's trading platforms, or follow the Company on Twitter, @ETRADE, for useful trading and investing insights.
---
1 Las Vegas Review-Journal. Casino shutdown affecting three local companies begins in Macao. 7/10/22.
2 Reuters. Macau shuts most businesses amid COVID outbreak, casinos stay open. 6/21/22.
3 CNBC.com. Two beaten-down gambling stocks could be poised to rebound, traders say. 8/25/21.
4 Bloomberg.com. Macau Casinos See $18 Billion Wipeout as China Tightens Grip. 9/14/21.
What to read next...
07/11/22
Stocks rebound, oil stumbles, jobs report surprises.
---
07/07/22
Traders and investors are always predicting the markets—whether they know it or not.
---
07/06/22
2022 will test whether July can maintain the win streak it established in recent years.
---