A volatility growth story
ASND implied volatility near 52-week highs
Options market anticipating continued volatility?
Stock up around 14% since hitting 22-month low in late January
Knowing when volatility is high or low can help determine whether options may be potentially overpriced or underpriced, but it's also something traders use to better understand stock movement.
But because "high" and "low" are almost always relative—volatility that's high compared to the past five days may not be high compared to the past five months, for example—some traders like to consult different volatility gauges and different time frames, to make sure they're not getting conflicting signals.
For example, just as many traders try to track bullish or bearish momentum by identifying stocks that are making longer-term highs or lows, one way to benchmark relatively high options volatility would be to find symbols with implied volatility (IV) at or near a longer-term high.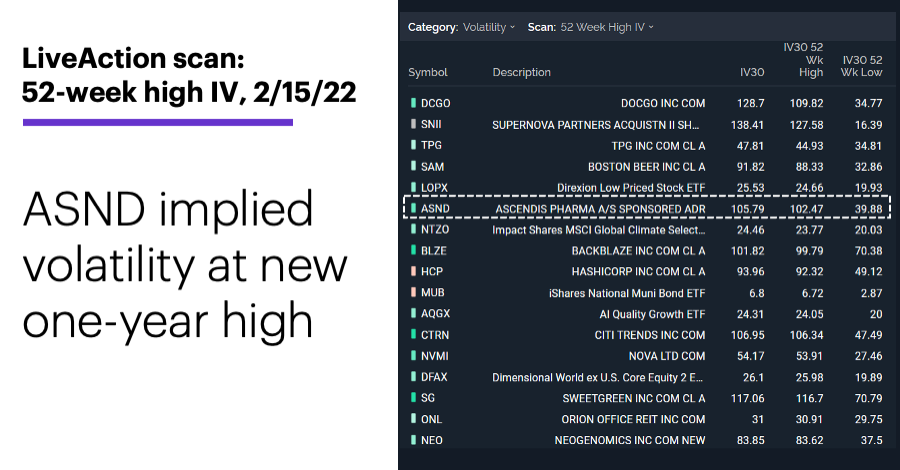 Source: Power E*TRADE. (For illustrative purposes. Not a recommendation.)
---
Yesterday, Danish biopharma company Ascendis Pharma (ASND) appeared toward the top of the LiveAction scan for 52-week high IV (above).
Similarly, the IV "constellation" below shows ASND's IV was above its 30-day average for the next few options expirations, with overall levels highest for March contracts: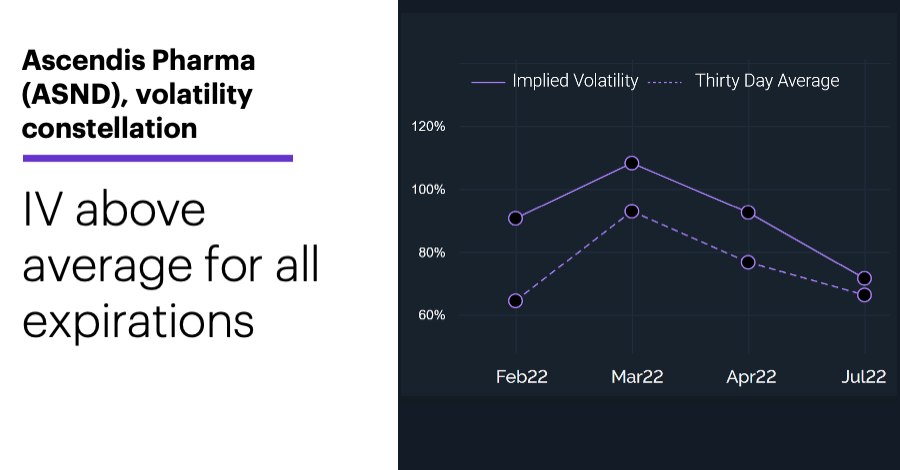 Source: Power E*TRADE. (For illustrative purposes. Not a recommendation.)
---
Although IV that's high compared to past IV readings can sometimes mean options premiums are inflated (good news for potential sellers, not so much for buyers), another way to gauge whether IV is relatively high or low is to compare it to historical volatility (HV), which simply measures how much a stock has moved (up or down) during a specific period.
The key aspect of this comparison is that HV is backward looking, while IV is forward looking. When IV is higher than HV—especially when it's significantly higher—it's the options market's way of saying it thinks the stock's volatility will be greater in the future than it has been in the past. Yesterday, ASND's 30-day IV was around 70% higher than its 30-day HV (chart bottom):
Source: Power E*TRADE. (For illustrative purposes. Not a recommendation.)
---
In essence, the options market was "forecasting" ASND would move more in the next 30 days than it did over the past 30 days. While that's doesn't mean the options market will be correct, it does highlight an interesting part of ASND's recent story: While many traders would expect IV to climb when the stock price is falling, ASND's IV jumped toward its current levels in late January as the stock turned to the upside after hitting its lowest low since March 2020.
That upturn coincided with the Food and Drug Administration's (FDA) rejection of a treatment for growth-hormone deficiency developed by Pfizer (PFE) and OPKO Health (OPK).1 The FDA approved ASND's growth-hormone deficiency therapy last year.2
While the word "volatility" has negative associations for many people because it's often used as shorthand for "falling market," as an indicator it can have some pretty useful things to say about where prices have been and where traders think it may be going.
Market Mover Update: Another stock on yesterday's 52-week high IV scan, Boston Beer Company (SAM), is scheduled to release earnings after today's closing bell.
Today's numbers include (all times ET): Mortgage Applications (7 a.m.), Retail Sales (8:30 a.m.), Import and Export Prices (8:30 a.m.), Industrial Production (9:15 a.m.), Business Inventories (10 a.m.), Housing Market Index (10 a.m.), EIA Petroleum Status Report (10:30 a.m.), FOMC minutes (2 p.m.).
Today's earnings include: Applied Materials (AMAT), NVIDIA (NVDA), Analog Devices (ADI), Shopify (SHOP), Kraft Heinz (KHC), Trade Desk (TTD), Hyatt (H), Cisco (CSCO), Boston Beer Company (SAM).
Click here to log on to your account or learn more about E*TRADE's trading platforms, or follow the Company on Twitter, @ETRADE, for useful trading and investing insights.
---
1 Reuters. U.S. FDA declines to approve Pfizer-OPKO growth hormone deficiency treatment. 1/21/22.
2 BioSpace.com. Ascendis Scores First Approval with Once-Weekly Pediatric GHD Injector. 8/26/21.
What to read next...
02/15/22
What could be behind the UK stock market's recent relative strength?
---
02/14/22
Stocks pull back, yields jump after hot inflation data and heightened international tensions.
---
02/11/22
Certain financial stocks could appeal to traders looking for names that haven't already been bid up.
---