Pressing the range
Apple (AAPL) rallied toward top of recent trading range yesterday
Analyst reports point to stronger-than-expected iPhone sales
Stock less than 5% from all-time highs after 41% YTD rally
Was the market following Apple (AAPL) to the upside yesterday, or was AAPL getting a ride on a reversal of the negative trade-war sentiment from Friday?
Maybe both factors were at work, but since AAPL was up around 2.5% halfway through the trading day while the Nasdaq 100 (NDX) was up 1% and the S&P 500 (SPX) was 0.7% higher, you'd have to give the nod to AAPL being one of the tails wagging the dog.
AAPL's rally came amid reports that J.P. Morgan analysts expect iPhone sales to exceed previous estimates—a million more than forecast for Q3 and three million more for Q4. The firm also upped its 12-month target for the stock from $243 to 265.1
Yesterday's gain pushed Apple's shares to the top of the trading range they've been in since jumping more than 3% in the wake of the company's September 10 Keynote event, which unveiled the latest iteration of the iPhone: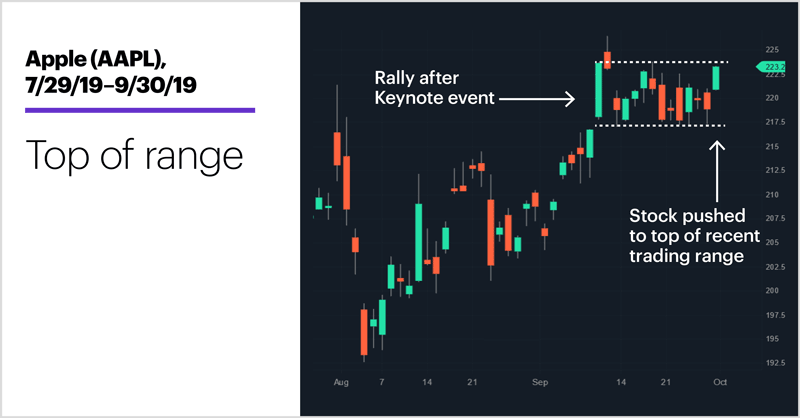 Source: Power E*TRADE
---
At the time, though, the new iPhone seemed to be eclipsed by the news that the company was upping the ante in the content-streaming game by launching a major Apple TV initiative.
Yesterday's news and rally put the focus back on Apple's smartphone bread and butter, which as recently as February had been cast in some circles as a weakness, as iPhone sales and market share had taken a hit in Q4 2018.2
But J.P. Morgan's analysis wasn't the only potentially positive piece of recent news. Goldman Sachs analysts more than doubled their estimate of global smartphone sales for 2020, based on higher 5G device sales, especially in China.3
All of which may have some short-term traders looking at the possibility of AAPL breaking out of its consolidation, which would open a path on the price chart to a challenge of the stock's record high from last October—roughly 4.5% away as of yesterday: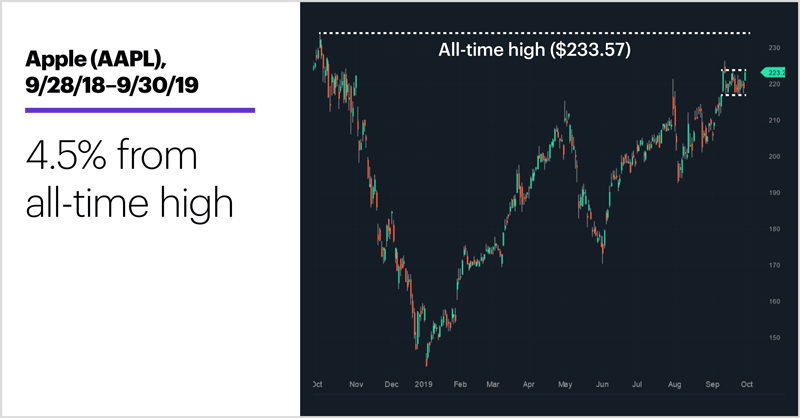 Source: Power E*TRADE
---
Trading range breakouts can sometimes trigger momentum moves, as traders who were on the sidelines during the consolidation jump into the market, and those who find themselves on the wrong side of the market scramble to get out. But experienced traders also know that stocks often quickly give back some of the gains from a high-profile piece of positive news, even if they eventually continue to rally. (Translation: If the stock doesn't immediately continue to surge, some Apple bulls may look to establish a long play on a day or days AAPL shares are cooling off rather than heating up.)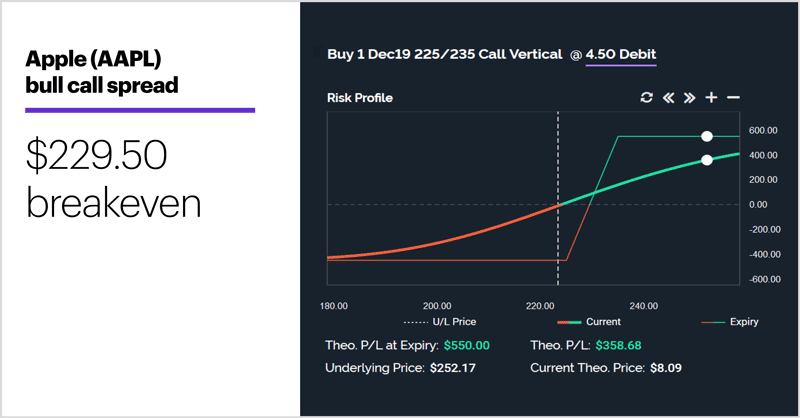 Source: Power E*TRADE
---
Lower AAPL shares could also benefit options traders looking to trade calls, which got much more expensive yesterday. Some options traders may be looking at "bull call spread" opportunities—i.e., buying a near-the-money call option and selling a higher-strike call with the same expiration. The chart above shows the profit/loss profile for a bull call spread consisting of a long December $225 call and a short December 235 call. The lower-strike call profits if the stock rallies, while the short call lowers the cost of the position.
It's a way for traders to establish a leveraged position with limited risk (and upside): In this case, the maximum profit is $550 per spread, which represents a 30% return on the position's cost ($450), which is also the maximum risk. But unlike a stock trade, the bull call spread won't continue to gain if the stock keeps rallying.
There's more than one way to slice an AAPL, or a potential breakout.
Market Mover Update: Yesterday's stock rally unfolded amid statements from Treasury officials that there were currently no discussions to curtail US investment flows into Chinese stocks, as was widely reported on Friday.4
Today's numbers (all times ET): PMI Manufacturing Index (9:45 a.m.), ISM Manufacturing Index, (10 a.m.), Construction Spending (10 a.m.).
Today's earnings include: McCormick & Company (MKC), Stitch Fix (SFIX), United Natural Foods (UNFI), GW Pharmaceuticals (GWPH).
Click here to log on to your account or learn more about E*TRADE's trading platforms, or follow the Company on Twitter, @ETRADE, for useful trading and investing insights.
---
1 CNBC.com. JP Morgan expects Apple shares to rise over 20% on better than expected iPhone sales. 9/30/19.
2 Fortune. Apple iPhone Sales Tanked at the End of 2018. 2/21/19.
3 TheStreet.com. What 5G and iPhone 11 Sales Say About Apple Going Forward. 9/30/19.
4 MarketWatch. Stocks edge higher as Treasury official says no plans to ban China listings on U.S. exchanges. 9/30/19.