Prepping for December
S&P 500 positive for December in 73% of years since 1960
Month has become slightly less bullish in recent decades
Traders should watch for possible mid-month pause or slump
The final month of a tumultuous year starts next Tuesday. How are things likely to shake out for the stock market?
Well, if you go all the way back to 1960, December has been the most reliably bullish month of the year for the S&P 500 (SPX)—up in 44 out of 60 years, and boasting the third-highest median return of all months (1.3%). Over the past couple of decades, though, it's lost a bit of that mojo:
1. The SPX has been up 14 of the past 20 Decembers—70% of the time, which trails November and April (75% positive).
2. Its median return of 0.8% makes it only the seventh-strongest month of year.1
But all things considered, those aren't numbers most bulls would bet against—in the absence of other factors, of course.
But there are a couple of intramonth tendencies shorter-term traders may want to keep an eye on. The following chart shows the SPX's December return profile from 1957–1960—that is, the index's average gain or loss as the month progressed, day by day: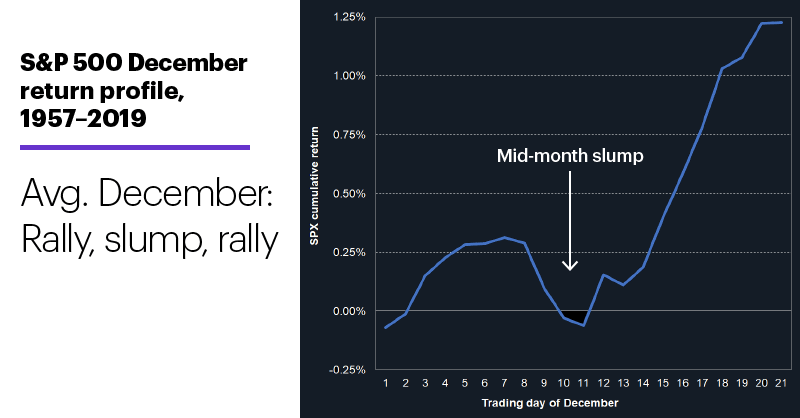 Source (DATA): Power E*TRADE
---
Although it's important to remember that this is a composite of 63 years of performance—any individual year could look much different—there was an apparent tendency for the market to:
1. Potentially start December with a day or two of weakness.
2. Rally for the next several days.
3. Slump toward the middle of the month.
4. Rally into the end of the month.
This basic pattern was also evident, with some minor variations (e.g., a weaker end-of-month rally), when analyzing only the past 20 years.
This may be a year unlike any other, but as this exceptionally bullish November has shown, you never know when a seasonal tendency will make itself felt.
Reminder: US stock exchanges close early today (1 p.m. ET).
Click here to log on to your account or learn more about E*TRADE's trading platforms, or follow the Company on Twitter, @ETRADE, for useful trading and investing insights.  
---
1 Reflects S&P 500 closing price data from 11/29/57–12/31/2019. Supporting document available upon request.
What to read next...
11/24/20
The latest vaccine news had lots of biotech and pharma names on the move, but one stock's price action may have been especially interesting to traders.
---
11/23/20
Stocks got another vaccine boost last week, but follow-through stalled as virus cases mounted.
---
11/20/20
Economic optimism and housing strength have helped this market become one of the more surprising stories of 2020—but the market could be facing a technical challenge.
---