Premium gusher?
CVX pulled back amid crude sell-off, Kazakhstan project halt
Options implied volatility (IV) jumped
Deeper downswing could further inflate put premiums
Can the energy sector catch a break?
Crude oil's renewed downturn this week—despite major oil exporters agreeing to the biggest daily global production cut in history—certainly seemed to make the answer to that question "apparently not."
The stock market's longtime weakest sector got an extra kick in the shins yesterday as oil fell below $20/barrel for the second time in a little over two weeks. Big oil companies, which had actually rebounded energetically off their March lows, responded by leading the stock market to the downside, with Exxon Mobil (XOM), Phillips 66 (PSX), ConocoPhillips (COP), and Royal Dutch Shell (RDS) all falling 7% in early trading.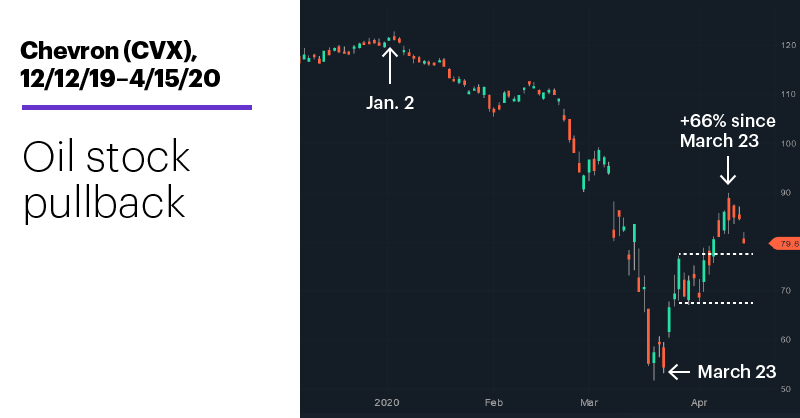 Source: Power E*TRADE
---
Chevron's (CVX) sell-off was actually smaller than most of its compatriots, with the stock down "only" around 4.9% at 1 p.m. ET, despite suffering the apparent double whammy of having work on its $45 billion Tengiz field expansion project in Kazakhstan slowed because of the coronavirus.1 But CVX, which fell around 55% from January 2 to March 23, rallied 66% to its April 9 high of $89.91, and it's still up around 50% despite its recent pullback.
And the latest downturn has pumped up options volatility—CVX also stood out among oil stocks yesterday because its implied volatility (IV), the market estimate of future volatility reflected in options prices, was up more than 30% from a week earlier: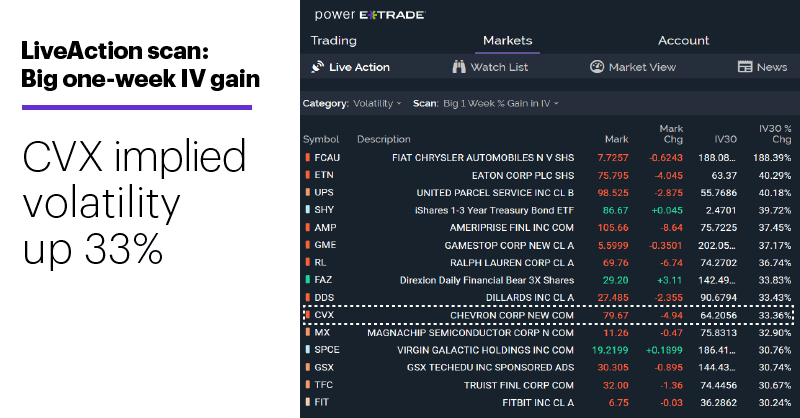 Source: Power E*TRADE
---
Higher IV typically translates into higher options premiums, which can make selling options more attractive than buying them—something that can offer opportunities for traders regardless of their outlook on the underlying stock.
While traders who expect new lows in oil and oil stocks may choose to sell calls, those who think both crude and the energy sector have more upside opportunity than downside risk (either now or in the near future) look to sell potentially inflated puts—simply to collect premium, or as a way to collect premium and go long CVX.  
The following options chain shows May CVX put options were up across the board, with even a relatively far out-the-money $67.50 put up almost 90% on the day:
Source: Power E*TRADE
---
Traders who wanted to collect premium and avoid owning shares would have to select strike prices they felt confident the stock would not reach by expiration. Those interested in owning the stock and collecting premium could short puts with strike prices near their preferred stock buy points.
For example, the price chart highlights a couple of potential pullback levels (aside from a test of the March low)—the March 26 swing high around $77 and the March 30 swing low around $67. A trader willing to own the stock at either of these levels could short $77.50 or $67.50 puts (possibly after an additional drop in the stock, which could further inflate their prices), collect the premium, and take ownership of the stock upon assignment if the stock falls far enough.
It's one of the upsides of volatility: It can sometimes offer additional ways to trade a market with options.
Today's numbers: Jobless Claims (8:30 a.m.), Housing Starts (8:30 a.m.), EIA Natural Gas Report 10:30 a.m.).
Today's earnings include: Abbott Laboratories (ABT), Dover (DOV), Skechers USA (SKX), KeyCorp (KEY).
Click here to log on to your account or learn more about E*TRADE's trading platforms, or follow the Company on Twitter, @ETRADE, for useful trading and investing insights.  
---
1 Reuters. UPDATE 2-Kazakhstan reduces work on Tengiz oil expansion due to virus. 4/14/20.
What to read next...
04/15/20
Are certain stocks poised to benefit more than others from Fed stimulus programs?
---
04/14/20
Discount retailer flourishes despite coronavirus market woes, consolidates after pushing to new highs.
---
04/13/20
Another historic week pushes S&P 500 to the 50% retracement level of the coronavirus sell-off.
---