Exhaust vs. exhaustion
Precious metals have mostly consolidated in recent months
Palladium up more than 40% since mid-December
Auto industry outlook key to sustained demand?
Precious metals haven't been very precious lately. Despite rising inflation and a slumping stock market, gold and silver haven't been able to shake themselves out of multi-month doldrums.
The one exception: Palladium, which is up more than 40% from its mid-December lows while gold, silver and, to a lesser extent, platinum have mostly crawled sideways. The separation of March palladium futures (PAH2) from the other precious metals is dramatic, even though the market pulled back around 9% between January 29 and Monday: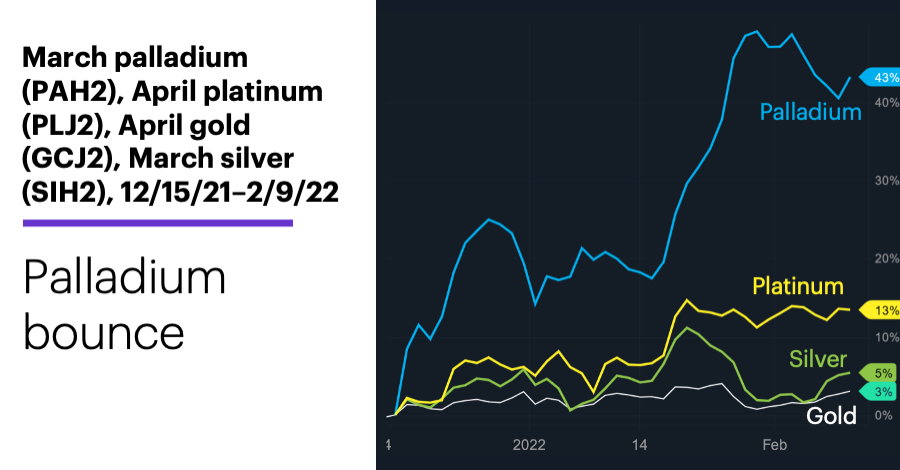 Source: Power E*TRADE. (For illustrative purposes. Not a recommendation.)
---
Of course, this rally followed palladium's slide from record highs around $3,000/ounce last May to December's lows below $1,550, resulting in a -23% 2021 return that made it the worst-performing precious metal of the year.
Given the majority of palladium is used to make catalytic converters for gas-powered vehicles, the metal's sell-off makes more sense in the context of the auto industry's production problems. Car prices, especially for used vehicles, soared last year as manufacturers struggled to keep up with demand. While there's debate over how long the semiconductor shortage at the heart of the issue will last, some analysts are hopeful the supply chain will improve over the course of this year and vehicle production will ramp up—which could continue to support palladium prices.1
While Morgan Stanley analysts see longer-term headwinds for the metal as electric vehicles reduce the demand for catalytic converters, in late December (when palladium was trading below $1,900) they forecasted an average 2022 price of $2,1002—a level the market is currently above.
Palladium is a niche metal, the majority of which is mined in Russia and South Africa.3 One of the few listed stocks with a strong footprint in the market is Sibanye Stillwater (SBSW), which has rebounded with palladium after tracking it to the downside last year: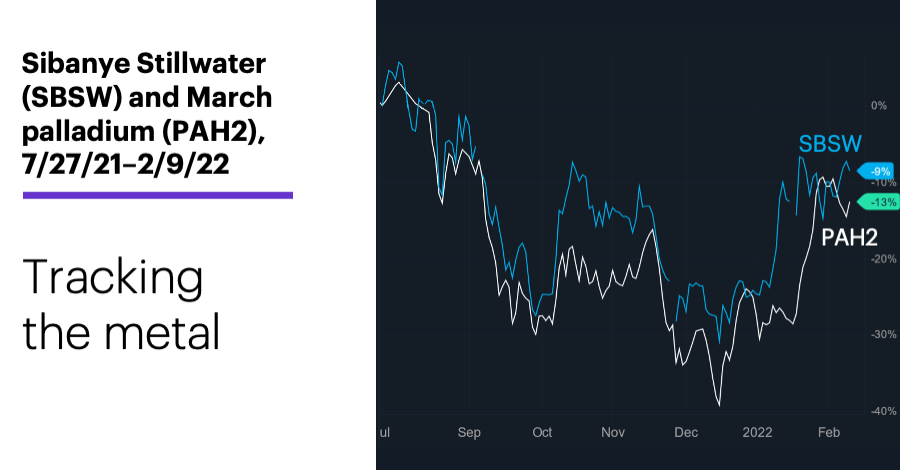 Source: Power E*TRADE. (For illustrative purposes. Not a recommendation.)
---
One potentially overlooked element of this story: Catalytic converters can also use platinum. If palladium becomes too expensive, vehicle makers could decide to switch metals—a factor that may have come into play last year.4
The year is still young, but as of yesterday, palladium had the third-biggest 2022 gain of any commodity (around 20%—ahead of crude oil). Whether it can continue its run may hinge in large part on the status of the chip shortage and the auto industry outlook, but traders shouldn't forget the other supply and demand factors that could impact its trajectory.
Market Mover Update: AutoNation (AN) followed up on Tuesday's rally with another solid gain yesterday (see "Auto stock shifting gears?").
Today's numbers include (all times ET): Consumer Price Index, CPI (8:30 a.m.), Weekly Jobless Claims (8:30 a.m.), EIA Natural Gas Report (10:30 a.m.).
Today's earnings include: Philip Morris (PM), Twitter (TWTR), Kellogg (K), Martin Marietta (MLM), Coca-Cola (KO), Zillow (ZG), Upwork (UPWK), VeriSign (VRSN).
Click here to log on to your account or learn more about E*TRADE's trading platforms, or follow the Company on Twitter, @ETRADE, for useful trading and investing insights.
---
1 S&P Global Market Intelligence. Platinum, palladium prices to recover in 2022 as vehicle production rebounds. 12/17/21.
2 Bloomberg.com. Palladium Is Poised for a Rebound After Being 2021's Worst Metal. 12/22/21.
3 Statista.com. Global mine production of palladium, 2010-2020, by country. 2/8/22.
4 Bloomberg.com. Palladium Rally Threatened by Automakers' Pivot to Platinum. 8/19/21.
What to read next...
02/09/22
Car marketplace makes turn amid unusual options activity.
---
02/08/22
Do traders think this industry leader's adverse news has been priced in?
---
02/07/22
Stocks weather more volatility, rally for another positive week.
---