Pills, pullbacks, and politics
Biotech stocks have lagged the market YTD
Biogen (BIIB) +25% Tuesday on Alzheimer's treatment news
CELG, SGEN have bucked this year's weakness
Biotech traders know the drill: Volatility is the name of the game, as stocks in this sector can make dramatic moves amid news of possible treatment breakthroughs—and setbacks. It's part of the entry fee of trading stocks that are often about potential future successes rather than current profitability.
Exhibit A: Biogen (BIIB), which surged more than 40% intraday yesterday on a one-two punch: a sizable earnings beat, plus the announcement of positive trial results for its Alzheimer's treatment aducanumab: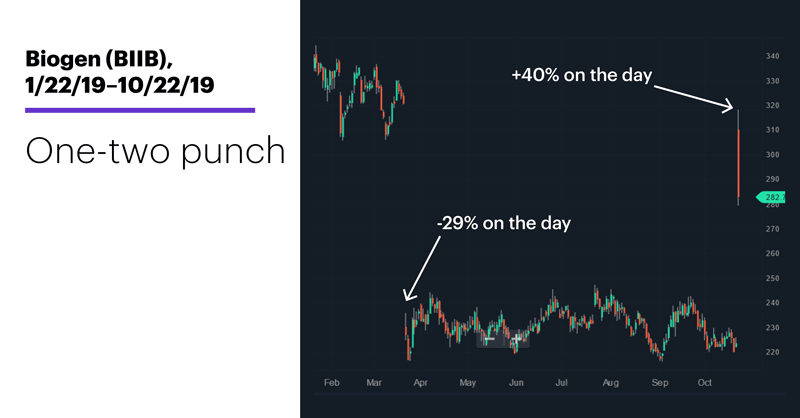 Source: Power E*TRADE
---
Although shares pulled back from their highs as the session progressed, BIIB's moonshot, remarkably, almost exactly filled the huge down gap the stock made on March 21—when the company announced it was discontinuing aducanumab trials.1
Yesterday's turnabout came after Biogen said subsequent analysis showed the drug was more effective than initial results had indicated, prompting the company to submit aducanumab to the FDA for regulatory approval.2
Stepping back from BIIB for a moment, the following chart of the Nasdaq Biotech Index (NBI) paints a picture of a sector that's had its ups and downs this year. Around noon ET yesterday, the NBI was up around 8.9% YTD (less than half the Nasdaq Comp's return)—almost precisely the same amount it was above its October 2 close, and below its February high close: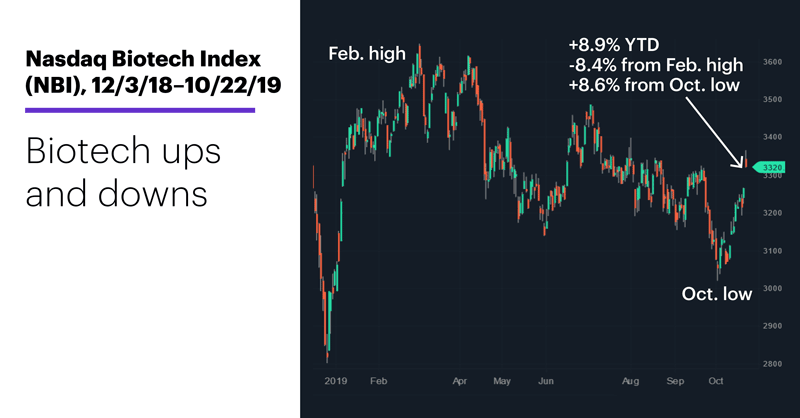 Source: Power E*TRADE
---
What the chart doesn't show is that the NBI is down around 20% from its July 2015 peak. The mega-rally days of 2011–2015 may seem like distant memories to long-term investors.
But all this may be why some analysts have recently pointed to biotech as oversold—a point of interest for investors, sure, but also for traders looking for opportunities in sectors that may develop tailwinds in the near future.
One of the reasons offered for biotech's recent slump is politics—specifically, worries that a democratic victory in the 2020 presidential election (and specifically, an Elizabeth Warren presidency) could usher in an unfavorable regulatory era for biotech companies.3
Aside from the possibility that such a risk is now priced into the market, this analysis also factored in the political truism that presidential candidates tend to be more centrist when the general election arrives.3 (And not to put too fine a point one it, but only a fool would attempt to predict the outcome of the 2020 election at this point.) In other words, maybe the fear is overdone.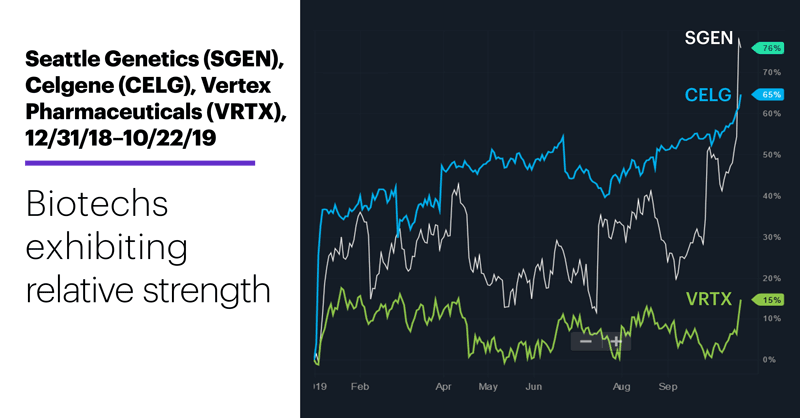 Source: Power E*TRADE
---
If biotech is capable of extending this month's gains—and, possibly, outperforming the broad market—experienced traders may focus on those stocks that have already been keeping pace with or leading the market this year.
The chart above shows three—Seattle Genetics (SGEN), Celgene (CELG), and Vertex Pharmaceuticals (VRTX). SGEN and CELG have outperformed their sector by a wide margin this year, and while VRTX's gains are more modest (but still above sector average), the stock recently approached its YTD highs. For the most part, pullbacks in these stocks, especially SGEN and CELG, have been opportunities for short-term bulls.
Pullbacks in strong stocks in strong sectors are bread-and-butter for many short-term traders. Some biotechs are already strong. Now we'll see if they get an extra boost from widespread sector bullishness.
Market Mover Update: Also on the biotech–pharma front, Bristol–Myers Squibb (BMY) jumped to a one-year high after releasing promising trial results for its lung cancer drug.
Today's numbers (all times ET): FHFA House Price Index (9 a.m.), EIA Petroleum Status Report 10:30 a.m.).
Today's earnings include: Eli Lilly (LLY), Amphenol (APH), Boeing (BA), General Dynamics (GD), Ford Motor (F), Caterpillar (CAT), Microsoft (MSFT), eBay (EBAY), Thermo Fisher Scientific (TMO), PayPal (PYPL), Tesla (TSLA), Xilinx (XLNX).
Click here to log on to your account or learn more about E*TRADE's trading platforms, or follow the Company on Twitter, @ETRADE, for useful trading and investing insights. Online stock, ETF, and options trades1 are now commission-free.
---
1 CNBC. Biogen posts its worst day in 14 years after ending trial for blockbuster Alzheimer's drug. 3/21/19
2 Investor's Business Daily. Biogen Stock Rockets On Stunning Reversal In Alzheimer's Treatment. 10/22/19.
3 MarketWatch.com. Opinion: These battered biotech stocks are now buying opportunities as Elizabeth Warren climbs in the polls. 10/12/19.
What to read next...
10/22/19
Now that the numbers are in, streaming stock seeks to confirm trend.
---
10/21/19
Positive earnings surprises last week helped market extend winning streak.
---
10/18/19
A name-brand stock may have dropped to levels that coupon-clipping bulls notice.
---