Targeted spread strategies
Eli Lilly (LLY) up more than 29% this year
Company embedded in obesity drug space
Stock pulled back from record highs amid earnings miss
On what turned out to be one of the stock market's bigger up days of the past few weeks, Eli Lilly (LLY) was a bit of a wallflower. Around midday, the pharma stock was more or less sitting out the rally, fighting to stay above breakeven after retreating from its early highs.
But the stock's positioning on a longer-term basis was potentially more interesting, since prices had stabilized a little after falling nearly 9% from their late-July record highs, with an earnings miss on August 4 in the middle of the down move:1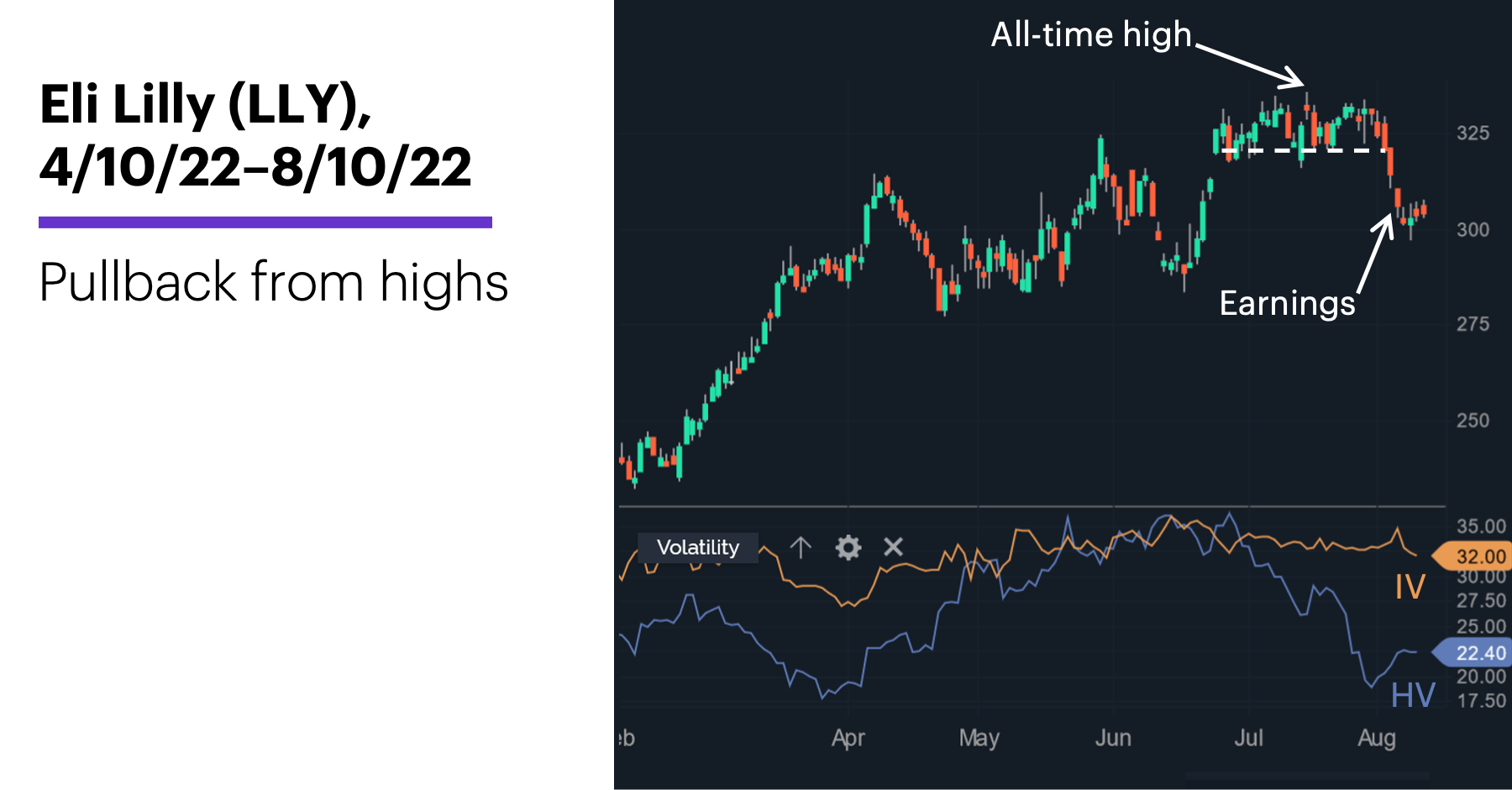 Source: Power E*TRADE. (For illustrative purposes. Not a recommendation.)
---
Although there have been plenty of twists and turns along the way, LLY has had a bear-defying 2022—still up more than 29% for the year, despite the latest pullback. (As an aside, LLY is a leader in the emerging field of obesity drugs, a space Morgan Stanley & Co. analysts estimate could exceed $50 billion in sales by the end of the decade, with key research data expected in the next few months.2)
Also, the fact that LLY's implied volatility (IV) was higher than its historical volatility (HV) indicated the options market expected the stock to move more over the next 30 days than it had over the past 30 days. While this doesn't say anything about which direction prices may take (not to mention the possibility that the options market could be wrong), for the sake of argument, let's say an options trader thought LLY could rebound to at least test the lower levels of its recent consolidation (around $320, dashed line on price chart).
While the simplest trade for such an outlook would be to buy a call, a long option can lose value if IV declines, in addition to its unavoidable losses from time decay. That's why some traders—especially those with limited price objectives and shorter-term time horizons—use "vertical" spreads.
A vertical (bull) call spread combines a long (typically at-the-money) call with a higher-strike (out-of-the-money) short call with the same expiration. Unlike the long call, the short call benefits from time decay and declining IV. The tradeoff is that the strategy has limited upside as well as limited risk—it won't lose more money if the stock keeps falling below the lower strike price, but it won't continue to gain no matter how far the stock rallies above the upper strike price: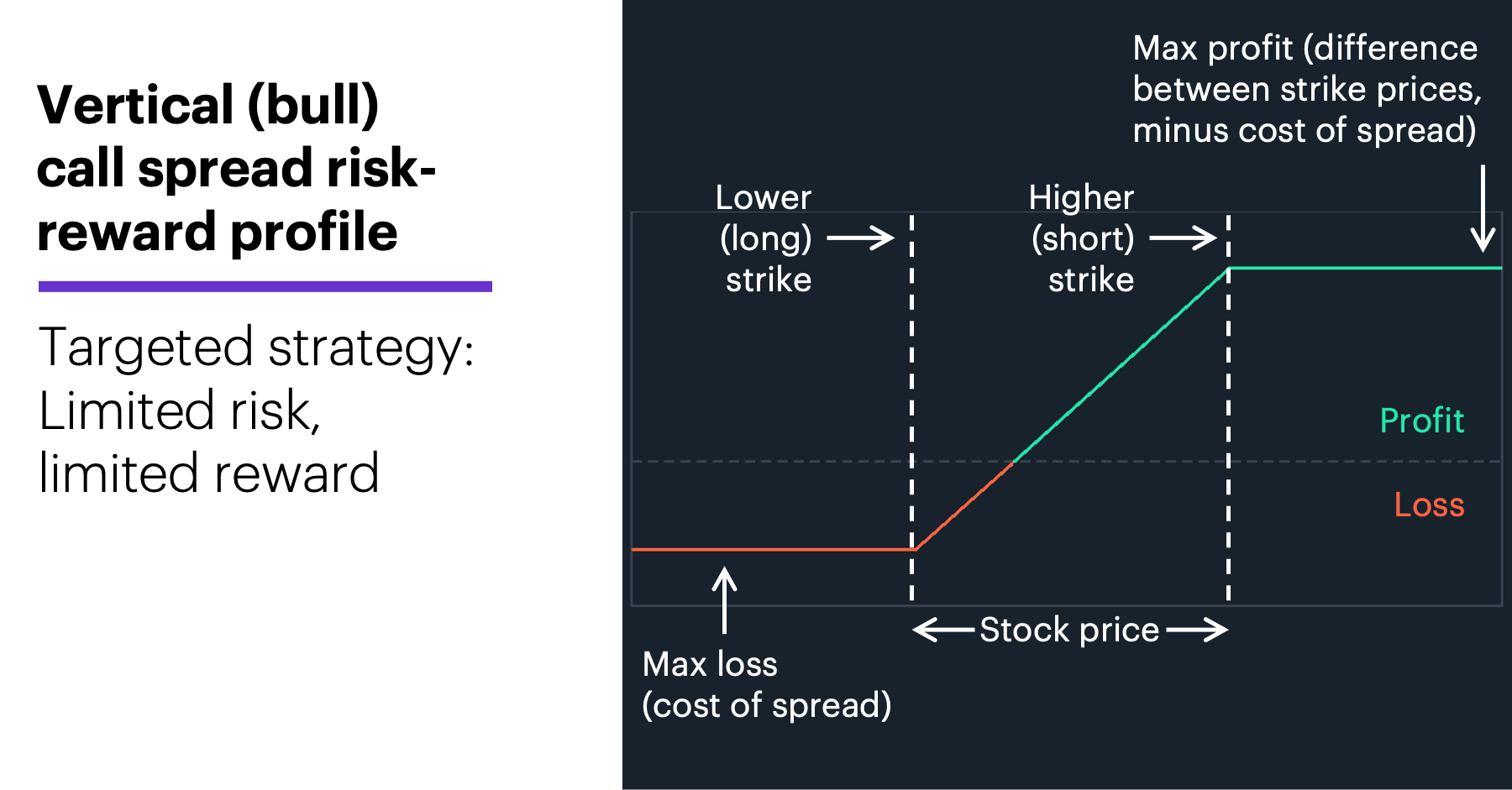 Source: Power E*TRADE. (For illustrative purposes. Not a recommendation.)
---
That capped upside, however, is precisely why some traders expecting a limited price move would use a vertical spread. Why pay for the "unlimited" upside of a long call when you don't necessarily expect that upside to be unlimited?
Yesterday, for example, an LLY September $305–$320 call spread (long the $305 and short the $320 call) was 34% cheaper than the cost of an outright $305 long call. So, although a vertical spread's profit potential is capped, on a percentage basis its profits can be potentially bigger than an outright call's because of its lower entry cost.
Market Mover Update: Papa John's (PZZA) landed on yesterday's LiveAction scan for unusual put options activity after 1,500 of the out-of-the-money September $82.50 puts changed hands. Existing open interest of 14 contracts indicated traders were opening new positions.
Finally, in case you were wondering about the connection between the milder-than-expected Consumer Price Index (CPI) reading and yesterday's equity rally, here's a snapshot of the September E-mini S&P 500 futures (ESU2) a little after the report was released at 8:30 a.m. ET: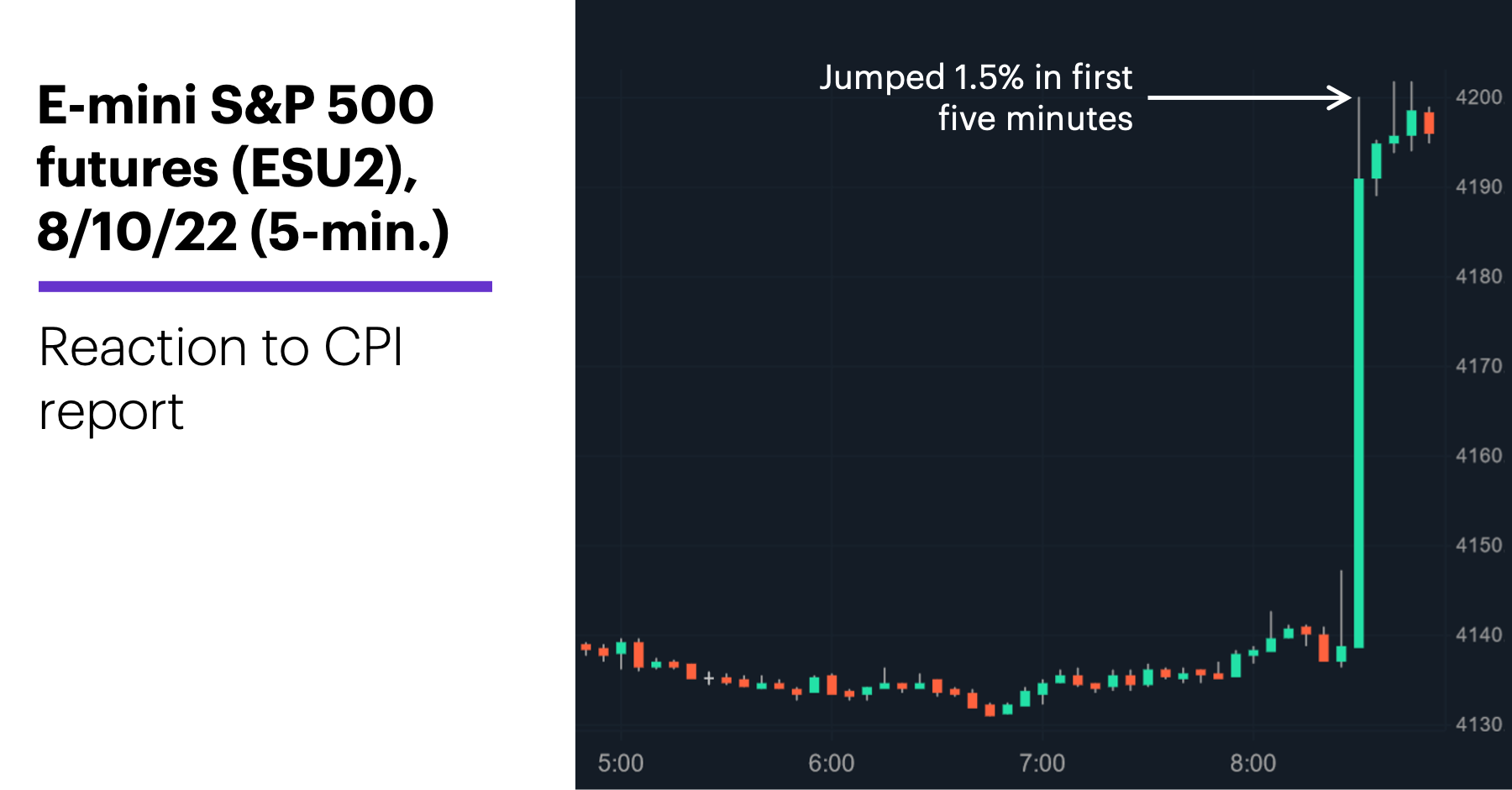 Source: Power E*TRADE. (For illustrative purposes. Not a recommendation.)
---
Today's numbers include (all times ET): Weekly Jobless Claims (8:30 a.m.), Producer Price Index, PPI (8:30 a.m.), EIA Natural Gas Report (10:30 a.m.).
Today's earnings include: Rivian Automotive (RIVN), US Foods (USFD), Dillard's (DDS), Dice Therapeutics (DICE).
Click here to log on to your account or learn more about E*TRADE's trading platforms, or follow the Company on Twitter, @ETRADE, for useful trading and investing insights.
---
1 StreetInsider.com. Eli Lilly & Co. (LLY) Shares Slide After Missing Estimates. 8/4/22.
2 MorganStanley.com. Pharmaceuticals: The Global Obesity Challenge. 8/2/22.
What to read next...
08/10/22
Is the market's recent pause setting up another momentum breakout?
---
08/09/22
Do traders think the recent moves in clean energy stocks are sustainable?
---
08/08/22
Will labor market strength trigger a shift in trader sentiment?
---