Potential cure for a news shock
Amazon launched prescription delivery service on Tuesday
WBA, CVS, other pharmacy-related stocks sold off sharply
Another opportunity for short-term traders?
Amazon (AMZN) announces a prescription service, pharmacy stocks tank—as illustrated by the following 10.9% intraday drop in Walgreens Boots Alliance (WBA):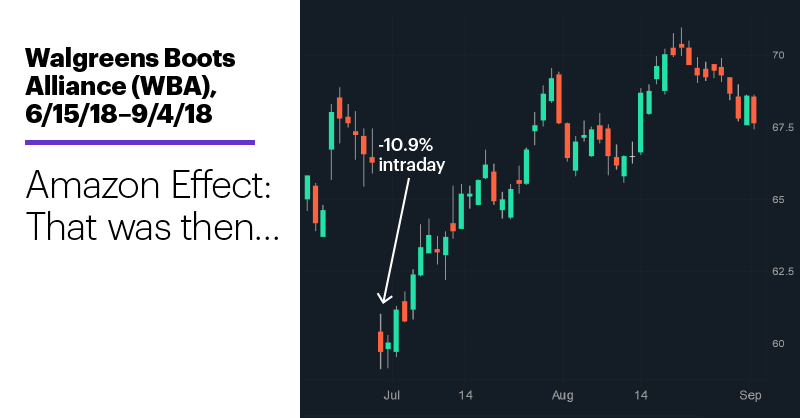 Source: Power E*TRADE
---
Yes, it's the so-called "Amazon Effect:" Amazon moves into a new business (or simply says it's going to move into a new business), and established stocks in said business get wobbly knees.
In case you weren't looking closely, though, this sell-off occurred on June 28, 2018, when news broke that Amazon was buying online pharmacy PillPack—the opening gambit of its now-realized prescription delivery service. But you didn't have to be paying particularly close attention to notice that WBA turned immediately higher after that June 28 swoon, rallying 17% over the next month and 45% by early December 2018.
Fast forward to yesterday morning, when Amazon officially unveiled its pharmacy, available in 45 states:1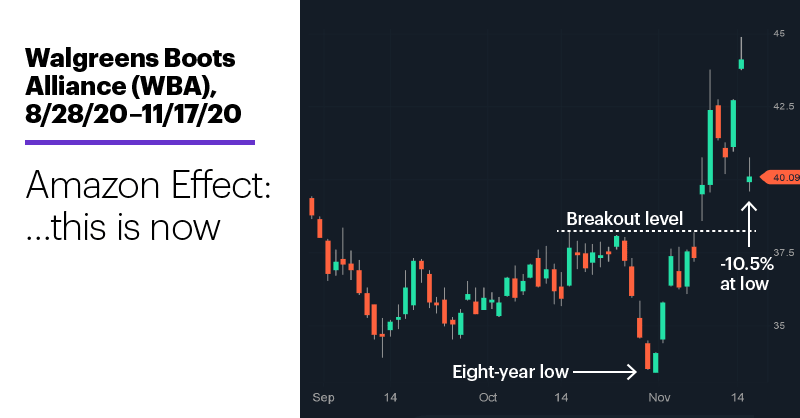 Source: Power E*TRADE
---
Look familiar? At yesterday's low, WBA was down 10.5% on the day, and other pharmacy stocks, including CVS Health (CVS), Rite Aid (RAD), and GoodRx (GDRX), also took big hits.
Okay, while it may be tempting to float the idea that yesterday's sell-offs in pharmacy stocks are setting up a replay of the June 2018 rebound, it's only fair to note:
1. In 2018 Amazon simply announced its intention to launch a prescription service—there was no immediate, overwhelming threat to other companies' revenue streams.
2. Today, Amazon's up-and-running business actually has the potential to capture market share from its competitors.
Of course, the extent to which Amazon will succeed (and how soon) remains to be seen. After all, among its competitors are multi-billion-dollar companies that have known for at least two years that this day was coming and—presumably—have taken steps to strengthen their brands and businesses. That said, both WBA and CVS have been trending lower since mid-2015—WBA hit an eight-year low of $33.36 on October 20, in fact.
Right now, though, many traders will simply be gauging whether Tuesday's sell-off has set up a buying opportunity and, if so, whether a rebound is more likely to happen immediately or after the stock shakes out a few more nervous longs—say, by testing the breakout above the October highs around $38.
Source: Power E*TRADE
---
Traders going the options route would need to adjust their strikes and timing to reflect their outlook on that point. For example, yesterday morning WBA's January $40–$45 call spread (above)—a possible strategy for conservative traders looking for an immediate rebound—was roughly 45% cheaper than it was on Monday.
That's a nice discount in a 24-hour period, but if the WBA does, in fact, fall further and challenge its recent breakout level, the spread would get even cheaper, and traders could alternately lower their strike prices (e.g., a $37.5-$42.5 spread).
Either way, the action over the next few days should be interesting.
Today's numbers (all times ET): Mortgage Applications (7 a.m.), Housing Starts and Permits (8:30 a.m.), EIA Petroleum Status Report (10:30 a.m.).
Today's earnings include: L Brands (LB), NVIDIA (NVDA), Target (TGT), TJX (TJX), Lowe's (LOW), Keysight (KEYS).

Click here to log on to your account or learn more about E*TRADE's trading platforms, or follow the Company on Twitter, @ETRADE, for useful trading and investing insights.  
---
1 CNBC.com. Amazon jumps into the pharmacy business with online prescription fulfillment, free delivery for Prime members. 11/17/20.
What to read next...
11/17/20
Homebuilder stocks have been in school lately, as they undergo test after test amid a potential shift in the fundamental landscape.
---
11/16/20
Despite continued tech struggles, the US market hit new highs last week in the wake of good news on the vaccine front.
---
11/13/20
Unusual options trading activity highlights possible strategy for traders playing a potential stock breakout.
---