Market medicine
LLY, ABBV rallied on Wednesday as broad market sold off
Both stocks have double-digit percentage gains this year
Pharma stocks may be less susceptible to rising rates than biotech
On days like yesterday when it feels like the entire market is moving lower, it can be instructive to analyze pockets of strength to see if they're shining any light on market dynamics.
Although it may have felt like everything was in the red on Wednesday, around midday five of the S&P 500's 11 sectors were in positive territory—utilities, energy, consumer staples, real estate, and health care. Three of the five (energy, consumer staples, health care) are traditional defensive sectors that often rally when the broad market is under stress, but even within these, there were moves that were worth digging into.
For example, the biggest source of bullishness in the health care sector yesterday was in pharmaceuticals, an industry that was pushed out of the mainstream investing spotlight during the height of the pandemic as high-flying biotech names, especially vax stocks, captured investors' imaginations.
But while biotech is going through one of its roughest patches in years as interest rates continue to rise (pressuring growth stocks),1 many "big pharma" stocks—many of which have established product lines and positive earnings—have enjoyed renewed strength. The following chart compares two of the biggest pharma names, AbbVie (ABBV) and Eli Lilly (LLY), to the SPX since mid-September: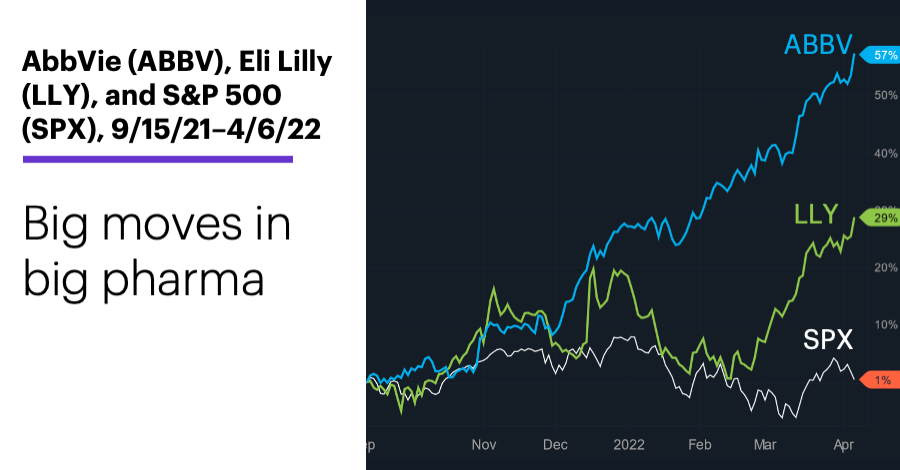 Source: Power E*TRADE. (For illustrative purposes. Not a recommendation.)
---
Aside from their outperformance relative to the SPX over the past six months, both ABBV and LLY were up more than 2% yesterday, and both recently received favorable coverage from Morgan Stanley analysts.2,3
But it's also worth noting that yesterday marked new all-time highs for both names—the latest of many this year (especially for ABBV). When any market's momentum appears unstoppable, experienced traders tend to remember two important principles: No trend lasts forever, and even the strongest one has pullbacks that can offer the opportunity to buy on weakness rather than chase strength.
Market Mover Update: Gogo (GOGO) jumped 16% intraday on Wednesday following news the aviation industry broadband provider was being added to the S&P SmallCap 600 index. The move pushed the stock to its highest price in nearly seven years, although it gave back more than half its gain later in the session: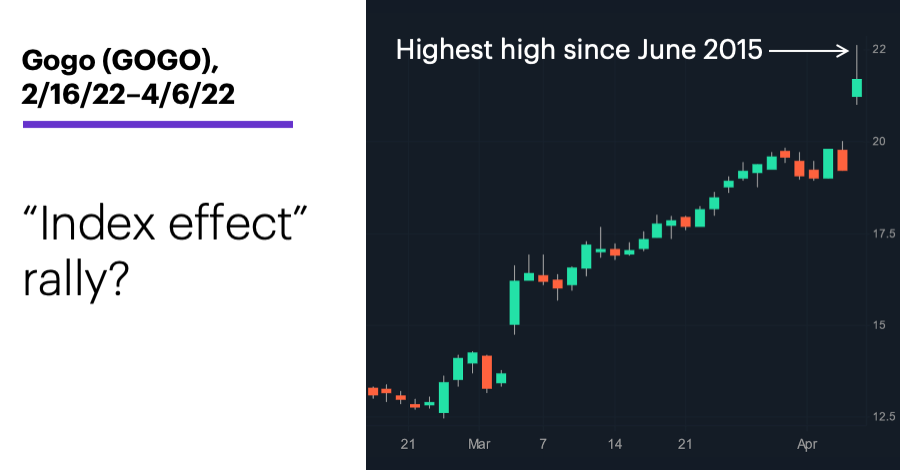 Source: Power E*TRADE. (For illustrative purposes. Not a recommendation.)
---
"Beware the index bump?" highlights the different paths stocks can take after being added to an index.
Pharma wasn't the only bullish area of the market yesterday. Two fertilizer companies, Intrepid Potash (IPI) and Mosaic (MOS), appeared on the LiveAction scan for biggest percentage gainers. Meanwhile, June natural gas futures (NGM2) jumped more than 3% to their fifth-consecutive contract high. Natural gas is a key component in the production of commercial fertilizers.
Interest rates jumped again Wednesday—the 10-year T-note yield hit 2.64% and the average 30-year fixed mortgage rate topped 5% for the first time since 2018.4
Today's numbers include (all times ET): Jobless Claims (8:30 a.m.), EIA Natural Gas Report (10:30 a.m.), Consumer Credit (3 p.m.).
Today's earnings include: Conagra Brands (CAG), Constellation Brands (STZ), Apogee Enterprises (APOG), WD-40 (WDFC).
Click here to log on to your account or learn more about E*TRADE's trading platforms, or follow the Company on Twitter, @ETRADE, for useful trading and investing insights.
---
1 The Wall Street Journal. Biotech Stocks, Once Booming, Enter Bear Territory. 4/3/22.
2 Seeking Alpha. AbbVie wins Bullish views at Morgan Stanley on diversification plans amid threat to Humira. 4/6/22.
3 CNBC.com. Morgan Stanley names Eli Lilly a top pick, says it has best product outlook in pharma. 4/6/22.
4 National Mortgage Professional. Daily Mortgage Rates Top 5%. 4/6/22.
What to read next...
04/06/22
Call volume jumps as financial stock retreats to lowest levels since mid-February.
---
04/05/22
Chip stock's pullback shows parallels between options spread and investing strategy.
---
04/04/22
Broad market extends winning streak to three weeks despite pullback.
---