Peaks and valleys
SNOW rallied to four-month high on Tuesday
Stock price was cut in half between December and May after huge post-IPO rally
Recent breakout accompanied by heavy call volume
In the markets, "hot" may get most of the attention, but smart traders tend to keep watching when things cool off.
For example, of all the IPOs that flooded the market during last year's rebound, few were hotter than cloud data platform Snowflake (SNOW), which shattered records for a software launch, more than doubling its official IPO price on its first day of trading last September.1
Less than three months later, SNOW was enjoying the view from the top of the mountain, having rallied an additional 75% when it tagged $429 on December 8: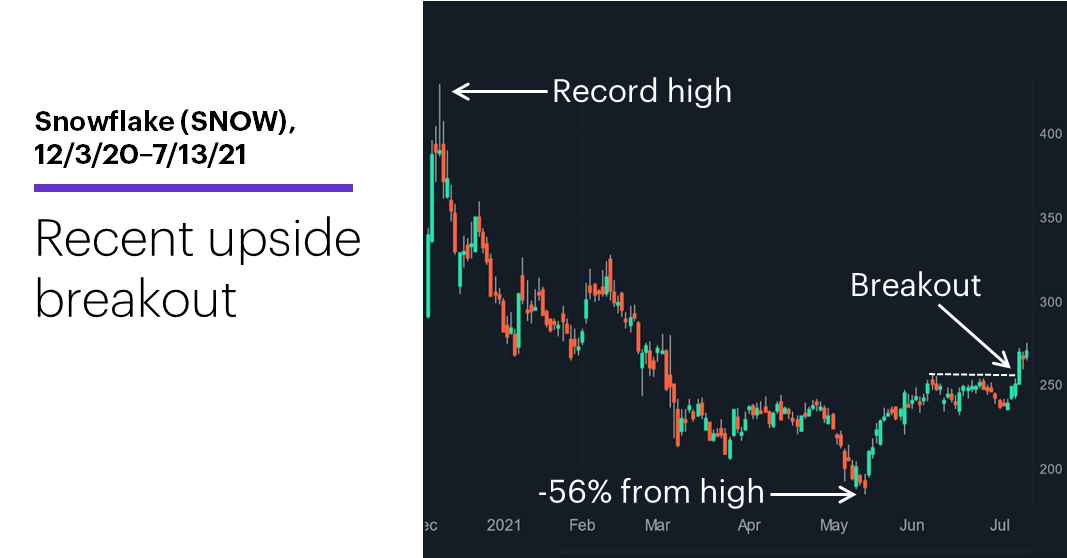 Source: Power E*TRADE
---
But as the broad market continued to climb over the next several months, SNOW went in the opposite direction, eventually seeing its stock price more than cut in half when it closed at $188.24 on May 13—around $66 below its IPO day closing price. Meanwhile, SNOW went from being one of the most talked-about tickers in the stock world to…not.
Jump forward two months. SNOW may not necessarily be on every trader's lips again, but bulls who braved those mid-May lows have quietly been rewarded by a 40%-plus rally, even if the stock is still more than 35% below its record high. But things have gotten a bit noisier in recent days—so far this week the stock has extended last Friday's breakout move, which pushed shares definitively above their March–June highs.
On the options side, SNOW appeared yesterday on at least two LiveAction scans, including highest call-put ratio (around 18:1) and unusual call volume, with more than two-and-half times the average number of contracts changing hands in early trading: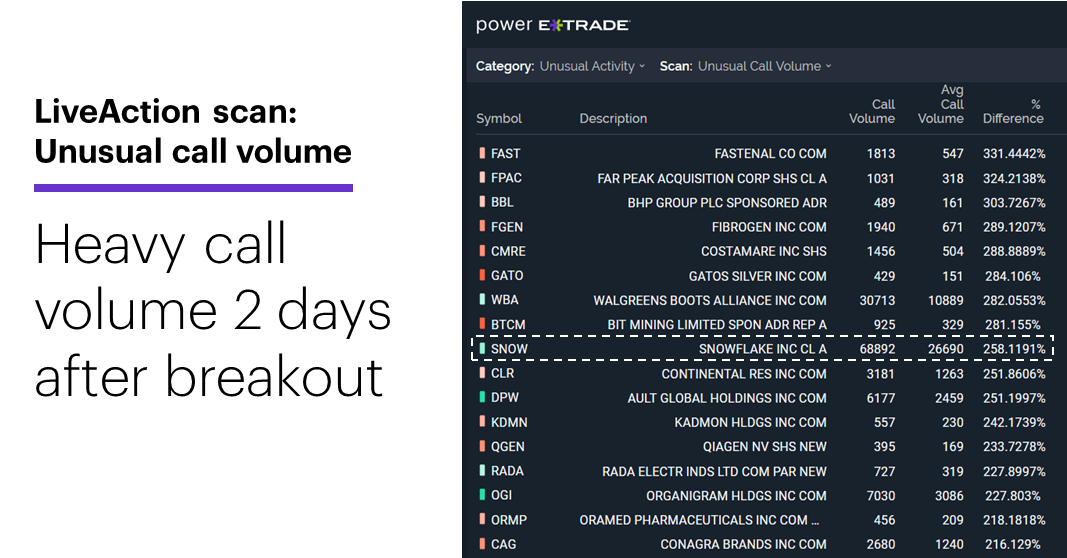 Source: Power E*TRADE
---
By midday, call volume had increased to nearly five times its daily average. Whether or not SNOW is on a path to challenge its former high, its recent momentum rejuvenation may bring the stock back into the trading spotlight. But as experienced traders know (and as at least one recent article has illustrated), breakouts are not infrequently followed by temporary reversals—a reminder that rushing in with the crowd often carries more risk than potential reward.
Market Mover Update: Monday marked the 13th time in the past year that the Cboe Volatility Index (VIX) closed higher the same day the S&P 500 (SPX) made a 50-day or longer new high. Yesterday marked the ninth time out of those 13 that the SPX closed down the next day (see "VIX in spotlight as market hugs highs").
Stock index futures sold off in the pre-market after the Consumer Price Index (CPI) posted its biggest monthly increase (0.9% vs. 0.5% expected) since March 2011, but a surge in used car prices was responsible for a big portion of that jump.2 Bank stocks slumped after the group's initial batch of earnings topped estimates (see "Beyond the bigs").
Today's numbers include (all times ET): Delta Air Lines (DAL), Bank of America (BAC), BlackRock (BLK), Citigroup (C), Wells Fargo (WFC).
Today's earnings include: Mortgage Applications (7 a.m.), Producer Price Index, PPI (8:30 a.m.), Atlanta Fed Business Inflation Expectations (10 a.m.), EIA Petroleum Status Report (10:30 a.m.), Jerome Powell, Semiannual Monetary Policy Report to the Congress (12 p.m.), Beige Book (2 p.m.).
Click here to log on to your account or learn more about E*TRADE's trading platforms, or follow the Company on Twitter, @ETRADE, for useful trading and investing insights.
---
1 UPI. Snowflake sets new software IPO record. 9/16/20.
2 CNBC.com. Inflation just jumped the most in years, yet markets are largely ignoring it. Here's why. 7/13/21.
What to read next...
07/13/21
There's more to bank earnings than the high-profile announcements scheduled for this week.
---
07/12/21
Market dips, then rebounds after Covid elbows its way back into the spotlight.
---
07/09/21
Real estate stock looks for more room as options market builds inventory.
---