Overlooked tech
Tech started off this week reversing its recent pullback
Computer and peripheral stocks have been exceptionally strong since April
S&P 500 gets back in the green for the year
Tech got back into a bullish groove yesterday after last week's stumble, which was only the third time since October 2018 that the Nasdaq 100 (NDX) posted a weekly loss when the S&P 500 (SPX) gained ground. But at 2 p.m. ET Monday, the NDX was up 2%—more than three times as much as the SPX.
Some traders look for opportunities to buy market-leading stocks, industries, or sectors after they dip, since—barring any other conflicting data—a trend is assumed to be in place until it's definitively broken. And as noted in this space yesterday, the NDX has usually bounced back the week after it pulls back and the SPX doesn't.
So where may traders be anticipating more tech upside? One target could be stocks in the industry that has been a linchpin of the tech rally over the past few months.
An underreported corner of the tech sector has rallied nearly 39% over the past three months.
Semiconductors? No. Cloud security? Nope. The answer you're looking for is computers and peripherals (C&P)—sort of a catch-all for various hardware (including computers), devices, and support stocks, many of which operate well outside the tech limelight. The industry has been—by far—the leading tech industry in the S&P 500 since April 20, up nearly 39%.
The moonshot rallies in stocks like Logitech (LOGI) and Zebra Technologies (ZBRA)—both of which have hardly paused since March—explain a lot of that return, but they may also prompt some traders to look for C&P names that have recently paused but have the potential for renewed momentum if favorable winds again fill tech sails.
For example, Pure Storage (PSTG), which specializes in enterprise-level flash storage, has been caught in the dead zone since rallying 122% from its March low to its May high: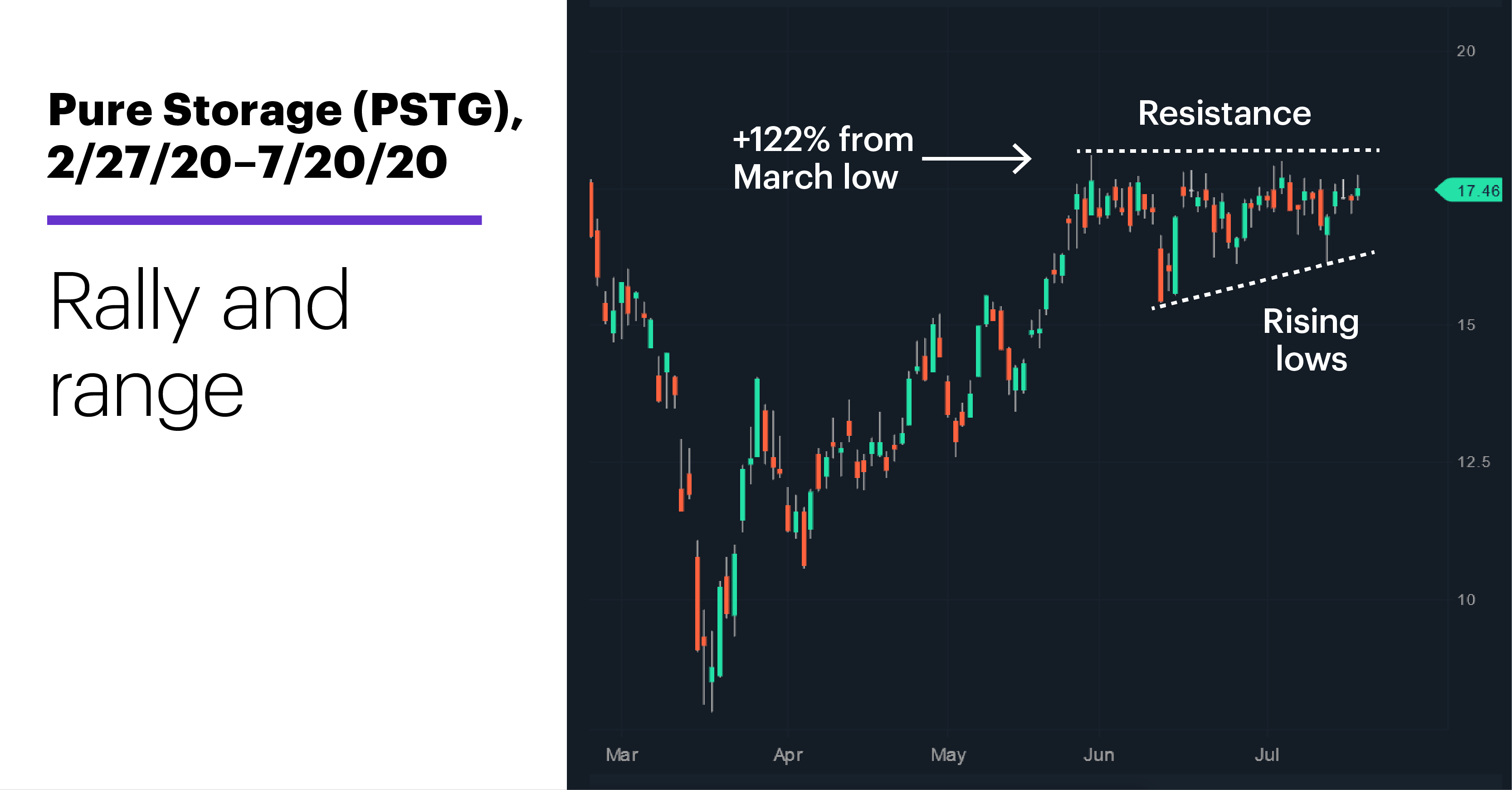 Source: Power E*TRADE
---
That May 29 high occurred right after PTSG surprised analysts with a big earnings (and revenue) beat,1 which probably helped trigger its current 12-month target price of $20—roughly 14% above where the stock was trading yesterday afternoon (the highest estimate is $25, the lowest is $142).
Fundamentals aside, the recent consolidation on PSTG's price chart may interest some traders for purely technical reasons:
1. Consolidations represent pauses in a trend, and all else being equal, many traders will look for prices to exit a consolidation in the same direction they entered it—which, in this case would be to the upside.
2. While the consolidation's highs have been roughly at the same level ($17–$18), the lows have occurred at progressively higher prices, which suggests that buyers are coming in more aggressively each time the stock dips.
The combination could lead some traders to position themselves for an upside breakout—which, if the NDX resumes its market-leading uptrend, could get a boost from a rising tech tide.
Could tech as a whole continue to struggle? Of course. Could C&P be particularly overbought? Same answer. But until those outcomes have definitely played out, many traders may return to the wells that have repeatedly filled their buckets in recent months.
Market Mover Update: It just missed the mark last Friday, but on Monday the S&P 500 closed up on the year for the first time since June 8, and only the second time since February.
Online educator K12 (LRN) kicked off the week in detention, pulling back more than 4% intraday after hitting a fifth-straight record high on Friday (see "Class is in").
Today's numbers (all times ET):  Chicago Fed National Activity Index (8:30 a.m.).
Today's earnings include: United Airlines (UAL), Coca-Cola (KO), Lockheed Martin (LMT), Raytheon Technologies (UTX), Snap (SNAP), Philip Morris International (PM), Texas Instruments (TXN).
Click here to log on to your account or learn more about E*TRADE's trading platforms, or follow the Company on Twitter, @ETRADE, for useful trading and investing insights.  
---
1 StreetInsider.com. Pure Storage (PSTG) PT Raised to $25 at Susquehanna. 5/29/20.
What to read next...
07/20/20
Last week saw an inversion of the market status quo, as traders rotated away from tech.
---
07/17/20
Are traders eyeing a summer vacation for online education stocks?
---
07/16/20
Is oil getting ready to boil? Crude comes to near-standstill as OPEC plots its next move.
---