An overlooked rotation story?
Russell 2000 (RUT) up more than 4% this week at yesterday's high

Small cap index still roughly 10% from record highs
Some small caps have made high-momentum moves this year
With the trade war currently on the back burner and much of the financial world looking ahead to next week's Fed meeting, the story hogging the most bandwidth this week is the apparent rotation out of growth/momentum stocks and into "value" names.
Depending on who you talk to, it could be a sign that the most energetic phase of the bull market is over, or that a new, sustained uptrend could unfold.1 Or, somewhere in the middle.
Regardless of whether you favor Door #1, Door #2, or Door #3, a few days does not constitute a trend, so it's premature to attach too much significance to it. That said, it's somewhat surprising so few people seem to be talking about another notable market realignment—this week's surge in small-cap stocks, which have been market doormats all year.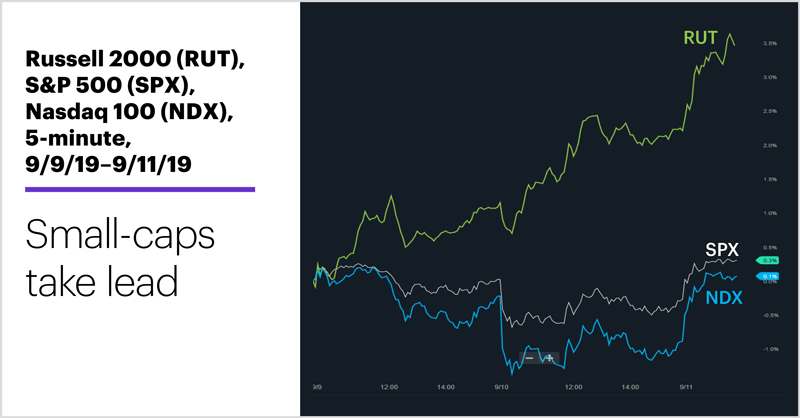 Source: Power E*TRADE
---
The chart above shows the small-cap Russell 2000 (RUT)—the weakest major US index this year—was up more than 3% on the week as of yesterday morning, while the rest of the market essentially stood still. (The RUT went up 4% on the week later in the day.)
In fact, on Monday and Tuesday the RUT closed up while the S&P 500 (SPX) and Nasdaq 100 (NDX) both closed down—something that's happened only 24 other times over the past 32 years.2
While the SPX and NDX are less than 2% from their record highs, the RUT is still around 10% below its peak level, although this week's rally pushed it to within 2% of its late-July high around 1,600—the approximate top of its six-month trading range:
Source: Power E*TRADE
---
Aside from the apparent contradiction—small-caps are the definition of "growth" (potential, that is) and often sport high-momentum price moves—there's a possibility that the Russell upsurge is simply an extension of the larger rotation story: long-neglected stocks getting their time in the sun as market players take profits out of high-profile momentum holdings.
But the chart below shows some small-cap stocks were outperforming even before the RUT's recent surge. The two stocks represent different ends of the small-cap spectrum. On the left is cloud-computing company Fastly (FSLY), which began trading a little less than four months ago. After hitting a post-IPO low around $14 in mid-August, the stock shot up to $35.25 last week before pulling back. It's been a poster child for momentum lately, falling 13.5% on Monday and rallying more than 15% yesterday.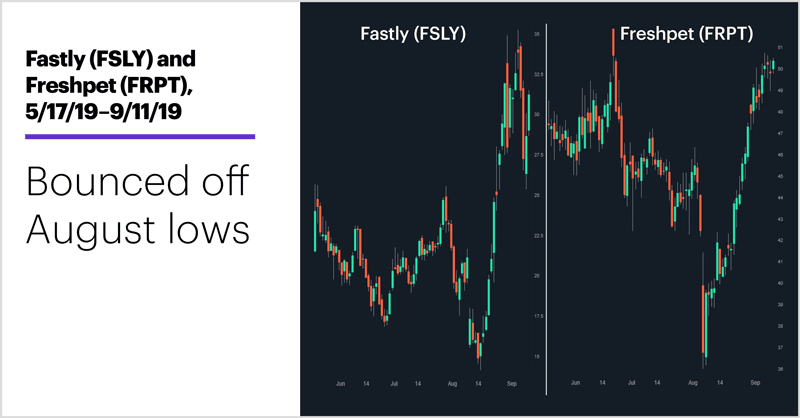 Data source: Power E*TRADE
---
On the right, pet food maker Freshpet (FRPT) also surged off its August low, but it had already gained around 61% on the year before pulling back from its all-time high of $51.85 on June 20.
Small-caps have made one or two bullish "head-fakes" in recent months—briefly outperforming other areas of the market only to return to their laggard ways—but for what it's worth, this week's move is on a different scale. The momentum may disappear as quickly as it emerged, but if the RUT breaks out of its consolidation, some traders may be looking to individual small caps that have already shown upside momentum to extend their gains.
Today's numbers (all times ET): European Central Bank (ECB) announcement (7:45 a.m.), Consumer Price Index, CPI (8:30 a.m.), EIA Natural Gas Report (10:30 a.m.).
Today's earnings include: Broadcom (AVGO), Oracle (ORCL), Kroger (KR).
Click here to log on to your account or learn more about E*TRADE's trading platforms, or follow the Company on Twitter, @ETRADE, for useful trading and investing insights.
---
1 MarketWatch.com. Shift into value stocks could fuel a solid rally, says J.P. Morgan. 9/11/19.
2 Supporting document available upon request.
What to read next...
09/11/19
Potentially market-moving themes emerge as Alibaba enters new phase.
---
09/10/19
What was yesterday's big rally in Etsy all about?
---
09/09/19
Market breaks out of trading range, climbs closer to former records.
---