Options volume, two ways
PLUG options volume heavy as stock challenges consolidation
Number of options trades also high
Shares have rallied 72% after 73% correction
Some traders reflexively view high options volume as a sign of market interest—and it certainly can be—but in reality, things are rarely that cut and dried.
For example, hydrogen-cell battery maker Plug Power (PLUG) appeared yesterday on most scans for unusual or heavy options volume, including total options volume (top) and largest number of options trades (bottom):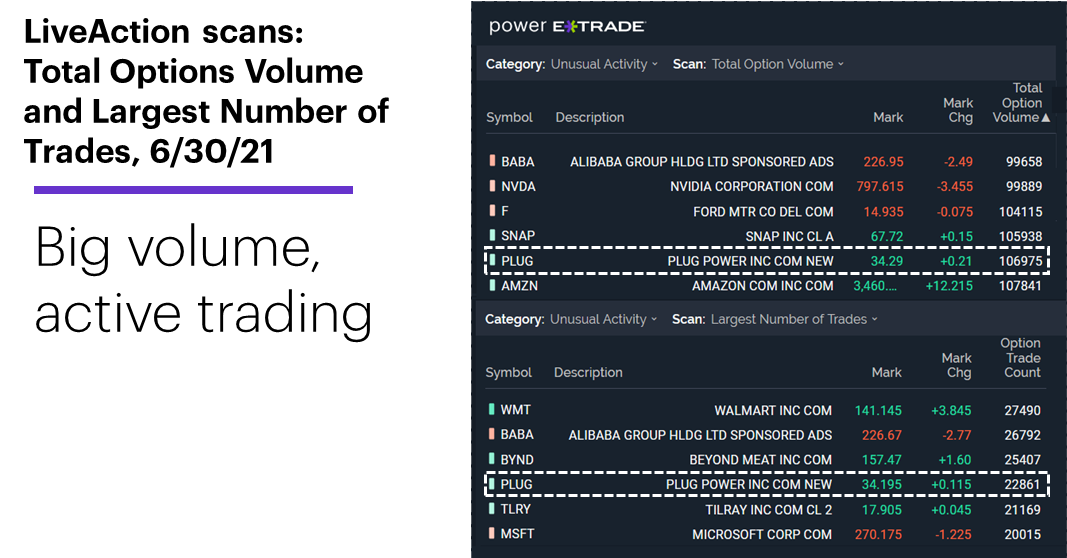 Source: Power E*TRADE
---
While PLUG's presence on both lists may simply seem redundant, there's a subtle, but important, difference between the two. Heavy option volume can sometimes be the result of just one or two large institutional trades. While that could mean a big player is making a directional bet on the underlying stock, there's also the possibility that, say, a fund manager is simply hedging an existing stock position against potential losses.
In contrast, a high number of individual trades usually means more market participants are involved—or at least, those that are involved are more active. The combination of the two suggests that not only was PLUG's options volume heavier than normal, but that there was broad participation in the trading—a potential sign of interest in the stock, which traders sometimes view as fuel for potential price moves.
Of course, when gauging the potential significance of options data, longtime traders are apt to place it in the context of the underlying stock's price action. Yesterday, PLUG was pressuring the upper edge of the consolidation it formed after releasing earnings on June 22, when it jumped 14%. The stock is now up more than 70% from its May low after tumbling 73% from its January all-time high:
Source: Power E*TRADE
---
It's always difficult to glean clear insights from unusual options activity—it's an alert that "something" may be happening, not a roadmap to what will happen. But when attempting to decipher options volume, a key thing to remember is that it's not just a matter of how many contracts traded, but who may have been trading them.
Market Mover Update: There are surprises, and then there are surprises. Even though yesterday's Pending Home Sales number for May shocked—yes, shocked—most market watchers by coming in at +8% instead of the expected small decline, the S&P 500 homebuilder index closed flat.
Eli Lilly (LLY) notched a small gain yesterday, but it has yet to trade anywhere near last Thursday's high (see "Big news, big moves").
Halftime report. Finally, quiet trading over the past two days didn't prevent the S&P 500 (SPX) from recording a well-above-average June (+2.2%, third-best since 2000) and an even better first half (14.4%, 12th-best since 1960). But that leads to another observation: Although July has been a more-bullish month for the stock market in recent years (see "Eye on July"), stronger-than-average Junes have tended to be followed by weaker-than-average Julys: The average July return after 20-strongest Junes since 1960 (returns of 1.7% or higher) was 0.2%—well below the 1.2% average for Julys that followed the 20-weakest Junes.1
Today's numbers include: Challenger Job-Cut Report (7:30 a.m.), Weekly jobless claims (8:30 a.m.), PMI Manufacturing Final (9:45 a.m.), ISM Manufacturing Index (10 a.m.), Construction Spending (10:00 a.m.).
Today's earnings include: Walgreen's (WBA), Acuity Brands (AYI), McCormick & Company (MKC).
Today's IPOs include: Torrid Holdings (CURV), D-Market Electronic Services & Trading (HEPS), Krispy Kreme (DNUT), EverCommerce (EVCM).
Click here to log on to your account or learn more about E*TRADE's trading platforms, or follow the Company on Twitter, @ETRADE, for useful trading and investing insights.
---
1 Reflects monthly S&P 500 (SPX) closing prices, 1960–2020. Supporting document available upon request.
What to read next...
06/30/21
Check out how the stock market has typically performed during the first full month of summer.
---
06/29/21
The first rule of buying options: Understand that time isn't on your side.
---
06/28/21
Market bounces back from Fed-fueled inflation anxiety, on pace for better-than-average June and first half of year.
---