Taking cues from volatility
AVXL options volatility exceptionally high on Tuesday
Shares approached year-long support-resistance level
But IV higher for some expirations than others
One of the most important tools options traders have at their disposal is volatility—specifically, implied volatility (IV), which can provide insights into the market expectations for a stock, as well as whether its options may be under- or overpriced.
But as with tool, you can hurt yourself if you don't know how to use it properly.
Yesterday morning, for example, biopharma company Anavex Life Sciences (AVXL) was near the top of the LiveAction scan for high 30-day IV: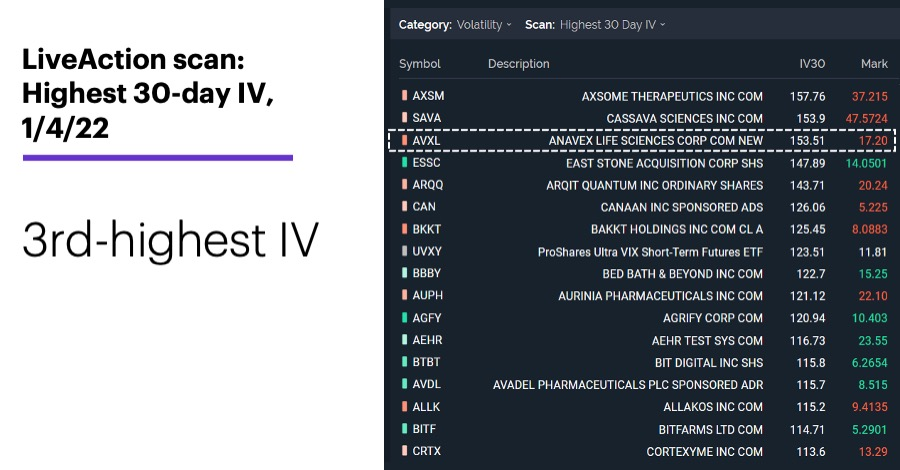 Source: Power E*TRADE (For illustrative purposes. Not a recommendation.)
---
In a nutshell, that means the options market was factoring in the possibility that AVXL could make an exceptionally big move over the next month. Two important points about such high IV readings:
1. The options market could be wrong. Implied volatility is a forecast, and like any other forecast, it may be incorrect—or it could change tomorrow depending on new market developments. It's also influenced by past (especially recent) events. In this case, it's a good guess that AVXL's high IV reflects the stock's price volatility over the past year, including its nearly 30% decline since early November. In other words, the stock has been volatile, and traders expect that volatility to continue.
2. One thing implied volatility doesn't imply is price direction. Even if a high 30-day IV reading is, in fact, followed by a big move in the stock, there's no way to know if that move will be up or down.
Anavex definitely experienced some volatility yesterday—its 9.4% intraday sell-off dropped the stock a little below its December 6 low of $16.25, which is the bottom of a former-resistance-turned-support level that shares bounced off a few times between September and December: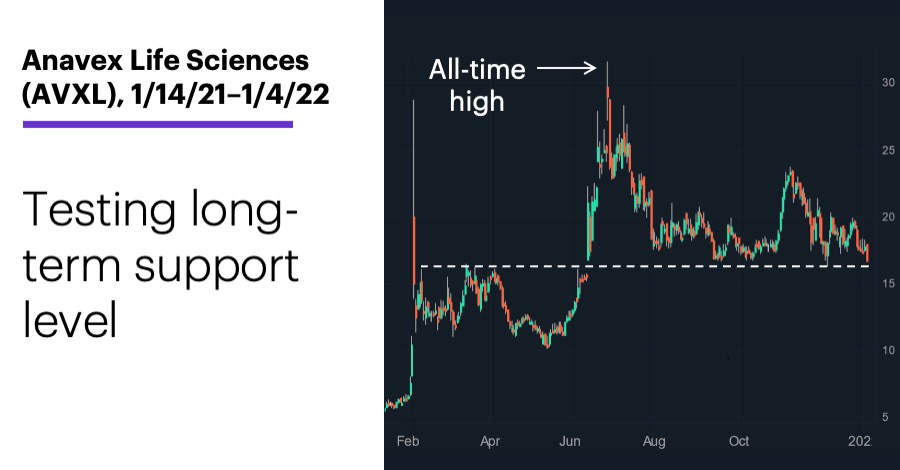 Source: Power E*TRADE (For illustrative purposes. Not a recommendation.)
---
While a breakdown below support could certainly result in the type of move that would make good on the high-IV "forecast," it's interesting to note that most of the open interest in the AVXL January monthly options (expiring on January 21) was in call options with strike prices of $20 or higher (i.e., roughly 22% or more above the stock price), including 2,100 contracts in the $22 calls, which experienced an IV surge a week ago.1
Whether it turns out to be right or wrong about elevated volatility in the future, one thing high IV readings often produce in the present is higher options prices—the greater the uncertainty, the higher the premium options sellers can generally charge for exposing themselves to the risk of a short position.
Anavex's IV profile highlights an important detail about this factor—IV isn't necessarily the same across different expirations. While AVXL options expiring over the next three weeks all had IV well above their 30-day averages, the difference between the two was nonexistent for the options expiring on February 4: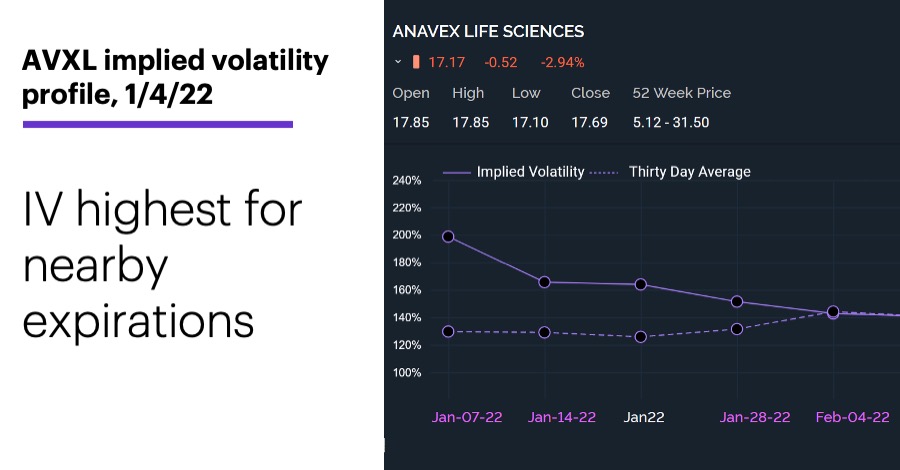 Source: Power E*TRADE (For illustrative purposes. Not a recommendation.)
---
In other words, the February 4 options were less likely to be overpriced (because of higher-than-average IV) than any of the preceding expirations, which would likely make them more attractive to buyers and less attractive to sellers interested in pocketing elevated premiums.
Volatility can be a useful tool, but if you don't take the time to understand how it works, you can end up doing more harm than good to your next options "project" by selling options that may be too cheap or buying ones that are too expensive.
Today's numbers include (all times ET): Mortgage Applications (7 a.m.), ADP Employment Report (8:15 a.m.), PMI Composite Final (9:45 a.m.), EIA Petroleum Status Report (10:30 a.m.), FOMC minutes (2 p.m.), Vehicle Sales.
Today's earnings include: Simply Good Foods (SMPL), RPM International (RPM).
Click here to log on to your account or learn more about E*TRADE's trading platforms, or follow the Company on Twitter, @ETRADE, for useful trading and investing insights
---
1 Zack's Equity Research. Is the Options Market Predicting a Spike in Anavex (AVXL) Stock? 12/29/21.
What to read next...
01/04/22
Sector performance this year diverged a bit from its recent pattern. What will traders be looking for in 2022?
---
01/03/22
Stocks enter 2022 near all-time highs after rebounding from a shaky start to December.
---
12/30/21
Find out why options don't always move the way you expect them to.
---