Options, two ways
HES had high put-call ratio yesterday morning
Stock recently pulled back to late-July lows
Company reportedly has hedged oil-market exposure
Oil and gas exploration and production company Hess (HES) has been cited in recent weeks as something of a standout among energy stocks—which, depending on your outlook, may not mean that much, given the S&P energy sector's roughly -40% year-to-date (YTD) return as of yesterday.
But since late March it's done better than almost any major oil stock you care to name, including Exxon Mobil (XOM), Chevron (CVX), ConocoPhillips (COP), and Phillips 66 (PSX). HES is down only around 29% YTD, and it's rallied more than 63% off its March low.
Bottom line, it's pretty difficult to get an energy sector rally off the ground without the cooperation of rising oil prices, and even though crude rebounded mightily from its April implosion lows, prices have barely budged over the past two months, and are still more than $20/barrel lower than their January highs (roughly $42 now vs. $63 then). Until the global economy rebounds closer to pre-pandemic levels—or everyone is confident that it will—energy stocks may not get much help from the oil market.
High P/C ratios don't always mean traders are making bearish bets.
That said, one possible explanation for HES's relative outperformance may have to do with options—not HES options, though. More than one analyst has pointed out the company proactively hedged its exposure to weak crude oil prices, reportedly holding put options controlling 150 million barrels a day of crude, which is estimated to account for almost 80% of its 2020 production. Translation: HES has protected itself against a further drop in crude prices through the end of the year, and is estimated to experience only a 15% revenue contraction as a result.1
But yesterday traders were probably interested in different put options. First, HES landed on the LiveAction scan for high put-call (P/C) ratios. Depending on the situation, a high P/C ratio can mean different things: Traders may be scooping up puts because they think a stock will drop, but extremely high P/C ratios can also occur when bearish sentiment is reaching an extreme, setting up the possibility of an upside reversal.
The options chain showed the big trade in HES was in the September $40 calls—3,000 contracts traded hands: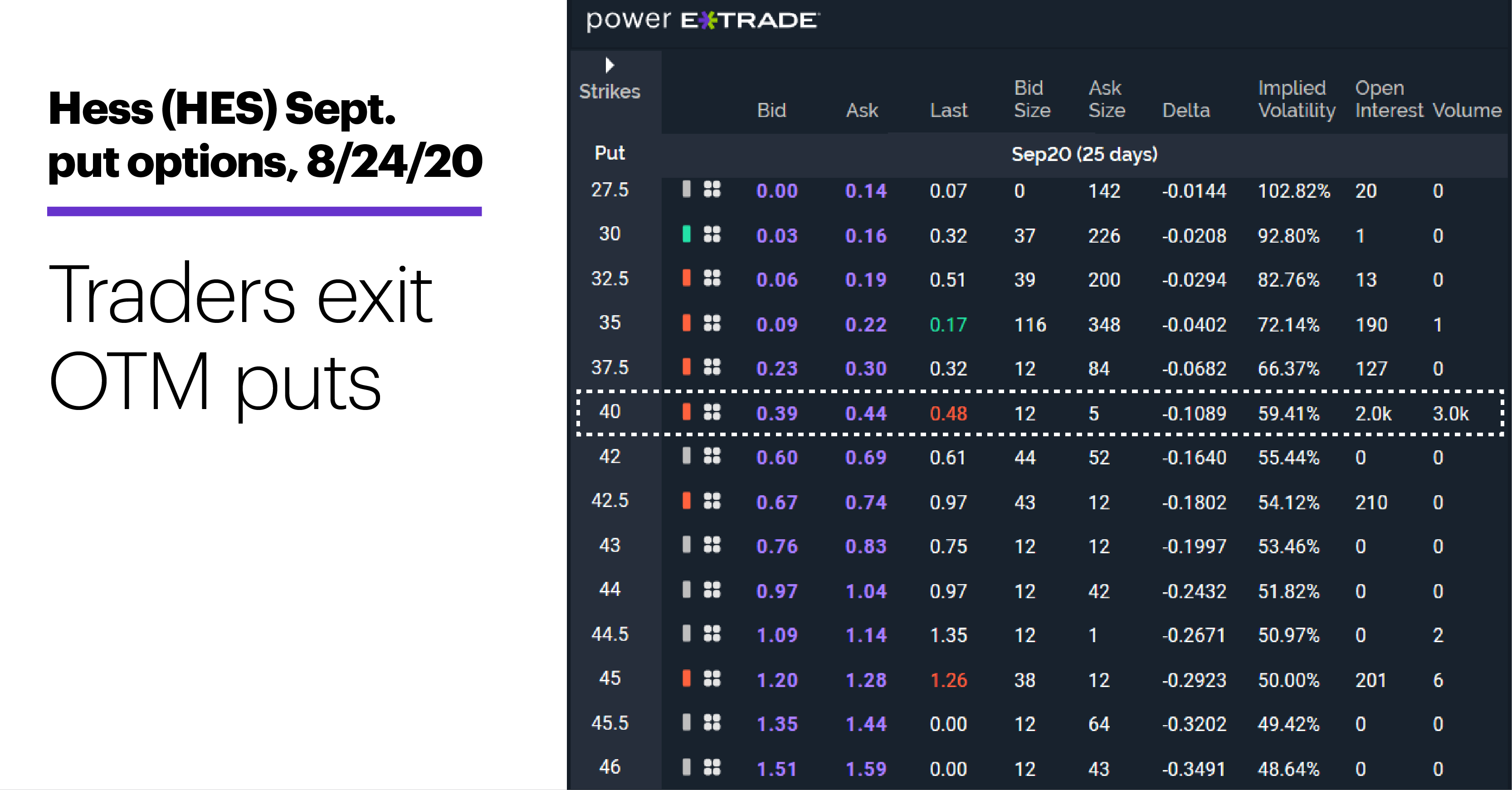 Source: Power E*TRADE
---
Experienced options traders, though, probably noticed the contract's open interest—the number of unclosed trades—was only 2,000 contracts, which means at least 1,000 of those contracts were being liquidated. If some large player had originally purchased these out-of-the-money puts as a bearish bet or hedge on HES, some traders may have viewed yesterday's "lightening of the load" as more bullish than bearish.
They may also have noticed the stock's most recent downswing dropped shares to their late-July lows around $47—not too far from the bottom of the trading range that's been in effect since June:
Source: Power E*TRADE
---
Given HES's relative strength vs. its sector in recent months, some traders may be anticipating the stock to, if not necessarily embark on a long-term uptrend in the absence of an oil rally, potentially test its recent highs between $55-$60 (a zone that happens to incorporate the stock's average analyst price target of $58.442).
It's always difficult to make sense of the market's many moving parts, but when it comes to options activity, it's always good to know what traders are getting out of as well as what they're getting into.
Today's numbers (all times ET): S&P Case-Shiller Home Price (9 a.m.), FHFA House Price Index (9 a.m.), Consumer Confidence (10 a.m.), New Home Sales (10 a.m.).
Today's earnings include: Autodesk (ADSK), Best Buy (BBY), Toll Brothers (TOL), HEICO (HEI), Hormel Foods (HRL), J.M. Smucker (SJM), Pure Storage (PSTG), Urban Outfitters (URBN), Intuit (INTU), Nordstrom (JWN), Salesforce.com (CRM), Medtronic (MDT).
Click here to log on to your account or learn more about E*TRADE's trading platforms, or follow the Company on Twitter, @ETRADE, for useful trading and investing insights.  
---
1 Forbes. Hess Stock Is An Energy Sector Outlier. 7/31/20.
2 TipRanks. Hess Stock Forecast & Price Targets. 8/24/20.
What to read next...
08/24/20
The broad market's six-month journey back to record highs is over. Now what?
---
08/21/20
Semiconductor stock stabilizes after big sell-off last month. Are traders seeing a favorable risk-reward balance?
---
08/20/20
Is this time different? The Russell 2000 has disappointed before, but some traders may be looking for it to extend one of its best rallies in years.
---