Options traders show their interest
CASY options open interest more than four times average
Stock pulled back after earnings last week
Shares rebounded more than 1% yesterday
Traders often scour options activity for signs of trading activity that may not be immediately apparent in a stock's price action. And while unusual options volume or high put-call ratios often get the most attention, experienced traders know to keep an eye on high open interest (OI), which measures the current number of unclosed options positions.
After all, high option volume could mean traders are getting out of existing positions. High OI, on the other hand, means traders are opening new options positions—i.e., putting money on the table—which can sometimes provide fuel for a stock move.
Yesterday morning, for example, OI in convenience store chain Casey's General Stores (CASY) was more than four times average: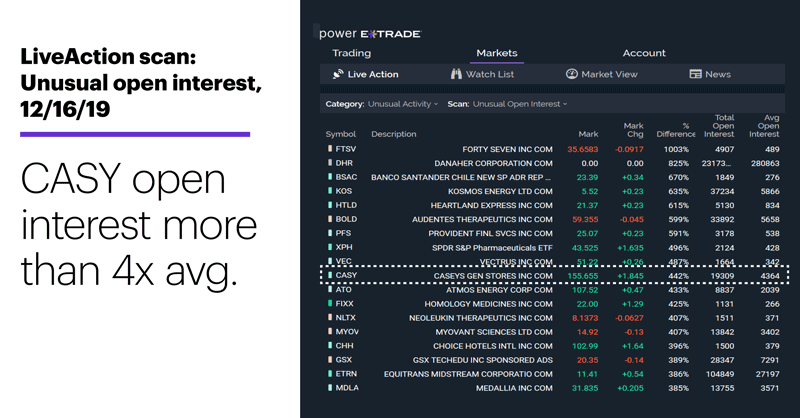 Source: Power E*TRADE
---
A stock price chart (below) suggests why there may be interest in CASY. The company released earnings after the close last Monday and took a 9.5% haircut on Tuesday. The stock beat its headline earnings number but missed on revenues.1 What had been a 37% year-to-date gain before the earnings announcement was, as of yesterday, closer to a 22% YTD gain: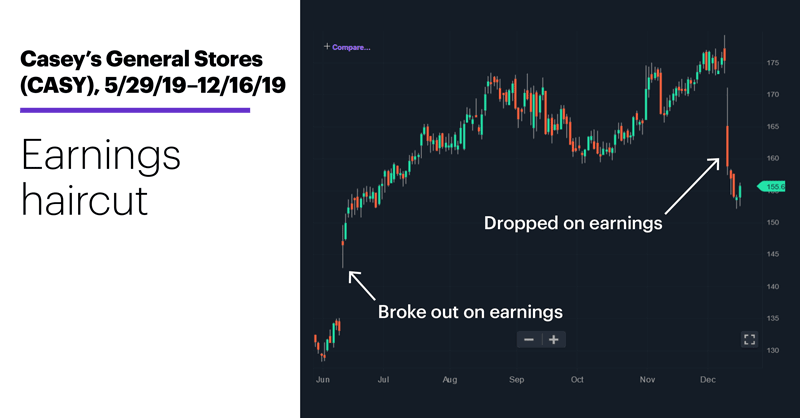 Source: Power E*TRADE
---
Last week's downturn, coincidentally, flip-flopped CASY's June earnings rally, which came after the company topped earnings by a wider margin and beat revenues. But the last two candles on the chart also show CASY staged an intraday rally to close near the top of its range on Friday, and then followed through yesterday with a strong rally (up more than 1.5% intraday).
While a one-and-a-half-day buying spree doesn't mean CASY's recent pullback has definitively run its course, some traders may see it as a sign that some bulls may be at least willing to take a chance on a shorter-term rebound. There's also all those aforementioned options positions to consider, which the following options chain shows were mostly concentrated in the $160 and $165 calls expiring at the end of this week: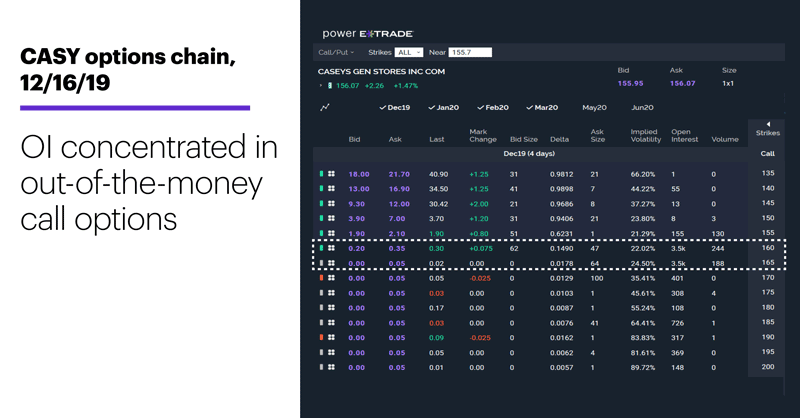 Source: Power E*TRADE
---
There were 3,500 open positions in each of these options—which, given the stock was trading around $156 yesterday, could mean some call buyers were looking for the stock to rally at least above $160, if not all the way to $165, before the options go off the board.
And these traders may also see the potential for longer-term investors to get back CASY discounted levels,2 especially if broad-market tailwinds keep blowing.
Many traders will likely be closely watching those open interest levels in the next couple of days, to see if CASY players remained…interested.
Market Mover Update: Small-cap high-flyer EverQuote (EVER) turned back to the upside yesterday with a 5%-plus intraday rally. Home Depot (HD) followed through on Friday's bullish momentum with another solid up day.

Today's numbers (all times ET): Navistar International (NAV), Cintas (CTAS), FedEx (FDX), Jabil (JBL), Worthington Industries (WOR).
Click here to log on to your account or learn more about E*TRADE's trading platforms, or follow the Company on Twitter, @ETRADE, for useful trading and investing insights. 
---
1 StreetInsider.com. Casey's General Stores (CASY) Earnings. 12/17/19.
2 Zack's Equity Research. 3 Reasons Why Growth Investors Shouldn't Overlook Casey's (CASY). 12/13/19.
What to read next...
12/16/19
Stocks back to record highs amid trade optimism and a hands-off Fed.
---
12/13/19
China-sensitive retailer's options may offer discount for bulls.
---
12/12/19
Financial companies usually kick off quarterly reporting season. Do their stocks get a head start on the action?
---