Options traders ring bell
WSM options volume 11 times normal yesterday
510% rally followed by 20% correction
Stock has recently consolidated near support
Some trades just jump off the tape, and even if it's not clear what they're all about, they sometimes alert you to interesting market situations.
Yesterday, high-end cookware retailer Williams Sonoma (WSM) was up at least 1% during much of Wednesday's trading session, and its options were trading at more than 11 times their average pace: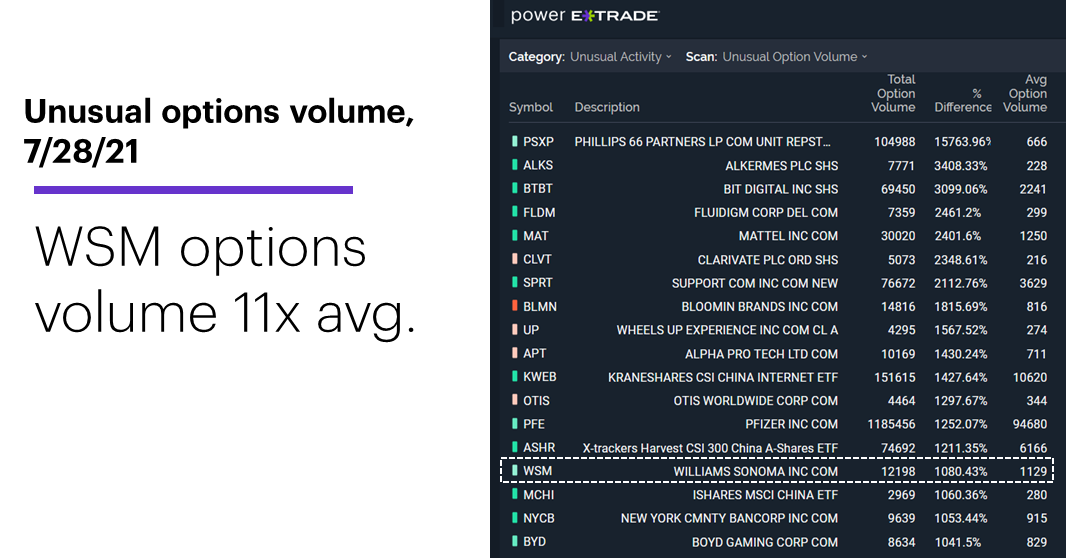 Source: Power E*TRADE (For illustrative purposes. Not a recommendation.)
---
The fact that the volume was almost evenly split between calls and puts may have made things less interesting to some traders, but there were some pretty big numbers being thrown around: 5,200 of the November $140 puts and 5,500 of the November $170 calls. No other contract had volume of more than 400.
A huge long strangle—that is, someone buying the options because they thought WSM would either break out above the upper strike or below the lower one? Or someone selling them because they thought the stock would trade between the two strikes? As always, that's impossible to know. But unusual options activity is often more interesting to traders when a stock is near a potential inflection point.
Williams Sonoma (WSM) was certainly one of the pandemic success stories. It took its lumps with the rest of the market during the February–March 2020 COVID sell-off, sliding around 58% to $30.66, but it's turnaround was nothing short of remarkable: By May of this year, the stock had closed above $187—a 510% rally in a little less than 14 months: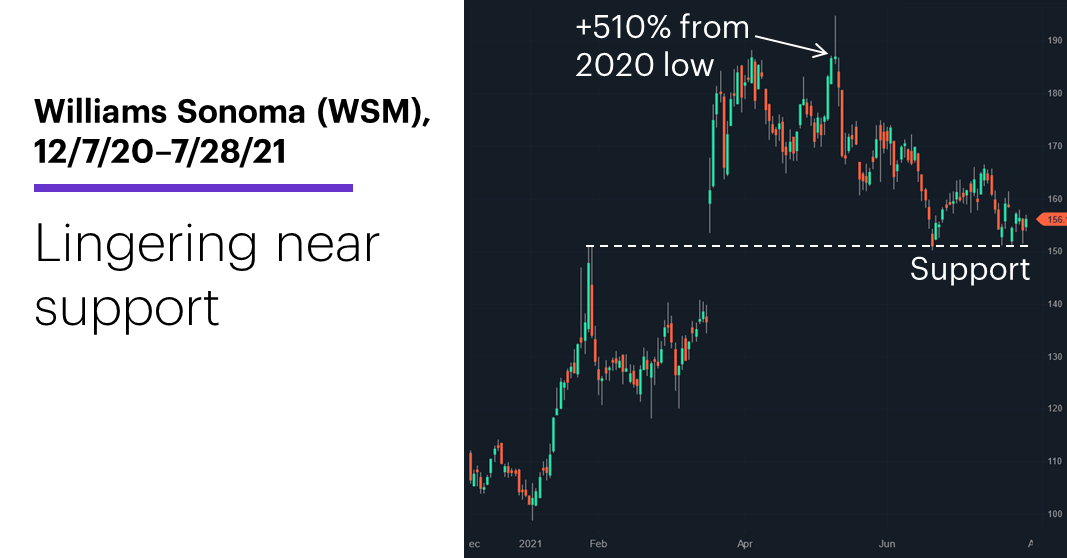 Source: Power E*TRADE (For illustrative purposes. Not a recommendation.)
---
But the chart also shows WSM has since drifted lower, falling nearly 20% by June when it reached—and bounced off of—its January high around $151, a level that is again functioning as support for the stock during its recent consolidation.
Support is support until it isn't—that is, there's no guarantee buyers will continue to scoop up a stock at a certain level just because they've done it repeatedly in the past. But unusual options volume that occurs when a stock is hovering near a conspicuous price level can sometimes signal that traders don't necessarily think the status quo will persist indefinitely.
Market Mover Update: Mattel (MAT) rallied another 5% on Wednesday, running its three-day gain to 12.7% (see "To beat or not to beat").
And on the subject of unusual options volume, V.F. Corp's (VFC) put volume was twice as high as its call volume yesterday, with most of the trades (8,000 contracts) in the at-the-money and slightly out-of-the money August puts. The retailer is scheduled to announce earnings today.
Today's numbers include (all times ET): GDP (8:30 a.m.), weekly jobless claims (8:30 a.m.), Pending Home Sales Index (10 a.m.).
Today's earnings include: Amazon (AMZN), Baxter (BAX), Yum! Brands (YUM), Merck (MRK), United States Steel (X), Keurig Dr. Pepper (KDP), First Solar (FSLR), Mastercard (MA), Martin Marietta (MLM), Pinterest (PINS), Upwork (UPWK).
Today's IPOs include: TGPX Holdings (COOK), Riskified (RSKD), Preston Hollow Community Capital (PHCC).
Click here to log on to your account or learn more about E*TRADE's trading platforms, or follow the Company on Twitter, @ETRADE, for useful trading and investing insights.
---
What to read next...
07/28/21
Stock's sell-off shows why it's a good idea to look at what traders are doing immediately after a big earnings move.
---
07/27/21
There are different ways to gauge which way a particular market may be leaning.
---
07/26/21
Stocks reverse deepest pullback in more than two months, enter final week of July at record levels.
---