Squaring up a correction
Square (SQ) down 16% for week at yesterday's low
Move within parameters of the stock's other recent corrections
Options may help traders fine-tune risk exposure
It's been a busy couple of days for e-commerce payments processor Square (SQ), which released earnings on Tuesday, and also made headlines by revealing it had beefed up its bitcoin stake.1
As of yesterday, the stock—which is up more than 200% year-over-year and closed at a record high last Friday—was weathering its first pullback since late January. At Wednesday's low of $230.92, SQ was down 10% on the day, and more than 16% for the week.
A noteworthy downturn—and definitely one of the stock's biggest three-day drops in a while—but as the following chart shows, SQ has had its share of sharp retracements on its road to repeated new highs: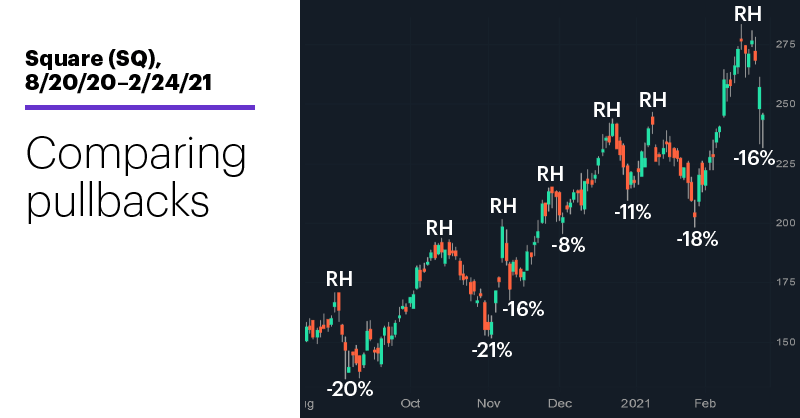 Source: Power E*TRADE
---
The one thing all these moves have in common is that, whether they lasted two days or two weeks, they all ended up being good buying opportunities. Every time SQ pulled back 10% from a relative high (RH) over the past six months, the stock was higher one month later (on average, by 16%), even if it sometimes fell more before recovering.
Of course, it was impossible to know that would happen in any of these instances, just as it's impossible to know whether SQ's current sell-off—not to mention the larger tech pullback—is closer to its beginning than its end.
But this type of situation offers an excellent opportunity to examine the bull call spread—an options strategy on the conservative end of the risk spectrum. The position consists of going long one call option and shorting another with a higher strike price and the same expiration date, which provides a limited-risk, limited-reward trade with a lower cost than an outright call: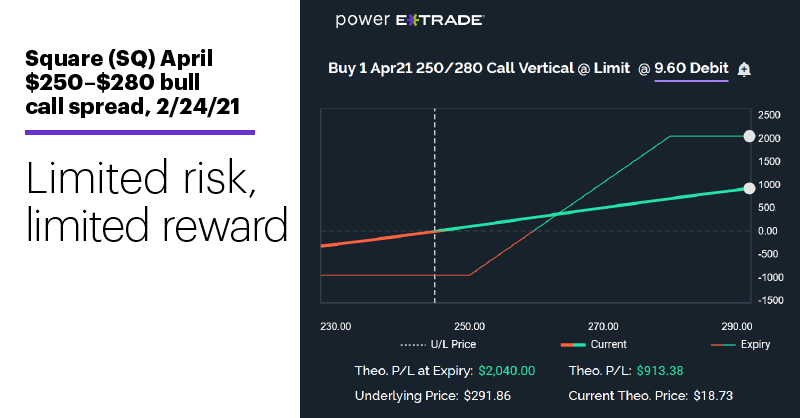 Source: Power E*TRADE
---
The chart above shows the risk-reward profile for an April $250–$280 call spread with the potential to return $2,040 per spread (on a move to $280 or higher) while capping risk at $960 (the cost of putting on the trade), no matter how far the stock drops.
At the other end of the risk spectrum, a more aggressive trader may look at a "synthetic" position combining a short put and a long call with the same strike price and expiration: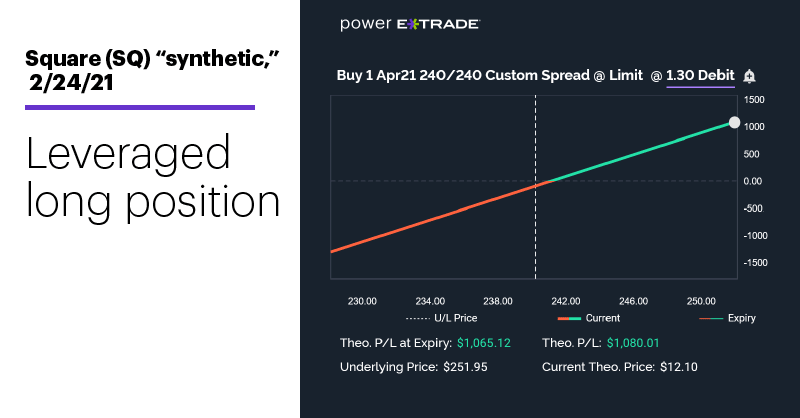 Source: Power E*TRADE
---
The synthetic shown here combines a long April $240 call and a short April $240 put at a cost of $540 per position (when the stock was trading around $240 yesterday)—essentially equivalent to a 200-share stock position, with unlimited risk as well as upside.
Regardless of how the SQ scenario progresses, it's a good reminder that when uptrending markets pull back, traders who want to buy the dip have tools to help them tailor their positions to fit their risk tolerance.
Today's numbers (all times ET): Durable Goods Orders (8:30 a.m.), GDP, second estimate (8:30 a.m.), Weekly Jobless Claims (8:30 a.m.), Pending Home Sales Index (10 a.m.).
Today's earnings include: Airbnb (ABNB), Best Buy (BBY), Beyond Meat (BYND), Keurig Dr. Pepper (KDP), Domino's Pizza (DPZ), Editas Medicine (EDIT), First Solar (FSLR), Virgin Galactic (SPCE), Wayfair (W), Sunrun (RUN), iRhythm Technologies (IRTC), Moderna (MRNA), Salesforce.Com (CRM), Workday (WDAY).
Click here to log on to your account or learn more about E*TRADE's trading platforms, or follow the Company on Twitter, @ETRADE, for useful trading and investing insights.  
---
1 MarketWatch.com. Square buys more bitcoin as Cash App users boost revenue. 2/23/21.
What to read next...
02/24/21
Sometimes there is a certain degree of method to the apparent madness of earnings volatility.
---
02/23/21
Looking for stocks that buck the market's trend on a given day can potentially highlight pockets of hidden momentum.
---
02/22/21
Stocks dip as small caps and tech give back some gains.
---