Options spotlight
CRTO options volume jumped on Tuesday
Stock in consolidation after big Feb. rally
Shares hovering roughly halfway between all-time high and low
It's a "quadruple-witching" expiration week, which means you never know what will cross the tape as traders scramble to exit or adjust options positions before they expire.
And while on any given day a big stock move will be mirrored by a surge in options activity, that's not always the case. Yesterday, for example, Criteo's (CRTO) options volume was more than seven times average halfway through the trading day, even though the stock was up a modest 0.7% and had been consolidating for the better part of a month: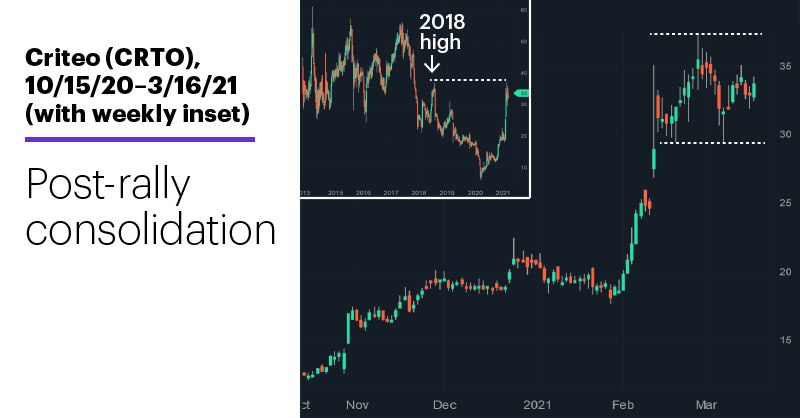 Source: Power E*TRADE
---
If that doesn't sound like classic expiration-week excitement, the stock may have needed to catch its breath. Last month's 90%-plus run-up was only a chunk of CRTO's 456% rally off the March 2020 low of $6.38. But as the weekly chart inset shows (September 2013-present), the recent consolidation formed near its July 2018 highs around $37—well below the 2014 record high around $61.
France-based Criteo operates in the online ad-targeting space. You know the drill: You visit a store's website, maybe buy something, and later while you're browsing elsewhere you see little ads about the products you'd bought or viewed. The stock's rally over the past 14 months represents not just a rebound from the initial COVID sell-off, but also from the hit CRTO and similar stocks took in January 2020 when Google and others announced they would stop supporting third-party tracking cookies (Criteo subsequently pivoted into "cookie-less" tech).
Regardless of a market's long-term outlook, traders know even the strongest trends are susceptible to setbacks and pauses. For example, in the past few weeks, even traders expecting CRTO to extend its gains in the long run may have also been prepared for it to pause or pull back after such an accelerated rally—especially as it approached the potential resistance of a previous long-term high.
Just as calls become cheaper after a sharp stock sell-off, puts become less expensive after a sharp rally—which means traders in the past few weeks had the opportunity to use relatively discounted puts to trade a potential CRTO pullback. (Even after selling off around 11% from their February 25 high, shares were still up more than 80% since January 27.)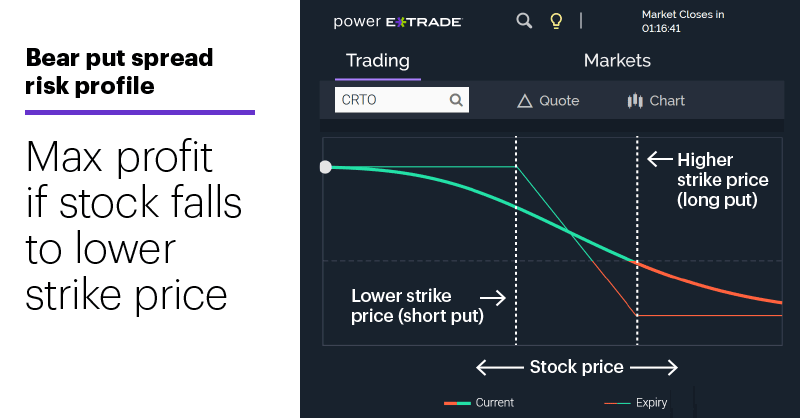 Source: Power E*TRADE
---
The chart above shows an example of a risk-reward profile for a bear put spread: A long at-the-money put option combined with a short out-of-the-money put, a position with the potential to return a profit if prices remain below the higher (at-the-money) strike price, while limiting risk to the cost of establishing the spread.
Market Mover Update: XPeng (XPEV) motored higher again yesterday, extending its rally since March 10 to more than 16% (see "Shifting price gears"). The stock also landed on the LiveAction scan for largest net positive options deltas.
Today's numbers (all times ET): Mortgage Applications (7 a.m.), Housing Starts and Building Permits (8:30 a.m.), EIA Petroleum Status Report (10:30 a.m.), FOMC announcement (2 p.m.).
Today's earnings include: G-III Apparel (GIII), Five Below (FIVE), Cintas (CTAS), PagerDuty (PD).
Today's IPOs include: Jowell Global (JWEL), Olo (OLO), Sun Country Airlines (SNCY).
Click here to log on to your account or learn more about E*TRADE's trading platforms, or follow the Company on Twitter, @ETRADE, for useful trading and investing insights.  
---
What to read next...
03/16/21
Pharma stock's sell-off highlights the gap between forecasts and reality—and how markets sometimes react in surprising ways.
---
03/15/21
Stocks rebound, but interest rates continue to make their presence felt.
---
03/12/21
A recent sell-off highlights a lesson in options spreads.
---