Options overdrive
Chinese electric car maker NIO jumped 31% intraday on Monday
Company released strong sales report last week
Stock getting temporary boost from potentially short-lived trends?
A couple of converging market themes appeared to collide yesterday in Nio's (NIO) 31% intraday rally yesterday—surging Chinese equities (goosed in part by state-sponsored media exhorting citizens to support the market1) and a recent jump in electric vehicle makers (EVMs).
Tesla (TSLA), Nikola (NKLA), and Workhorse (WKHS) have all enjoyed huge up moves at some point over the past few weeks, but Friday and yesterday saw China's entrant in the EVM sweepstakes, NIO, put together the most explosive portion of its roughly 190% rally since the end of May: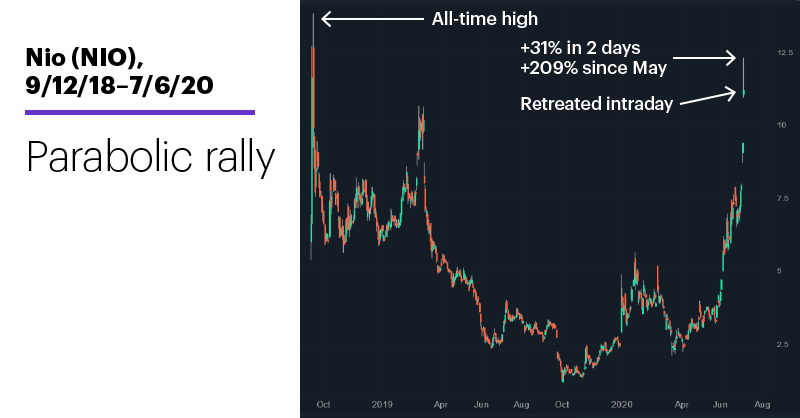 Source: Power E*TRADE
---
The most recent jump, which got the stock back in the neighborhood of the all-time high of $13.80 it tagged on its third day of trading in September 2018, came after the company announced its June vehicle sales (3,740) were up nearly 180% from a year ago.2
That's undeniably good news, but some traders may wonder if the stock got an outsized bump from the combination of the "hot" story du jour (EVMs) and what could be described as government marketing on behalf of the Chinese stock market. If that's the case, options traders may be particularly interested, because the impact of the move may be even more exaggerated in options.
They certainly seemed to be all in yesterday morning. The number of trades in NIO options trailed only TSLA, Amazon (AMZN), and Apple (AAPL) among individual stocks: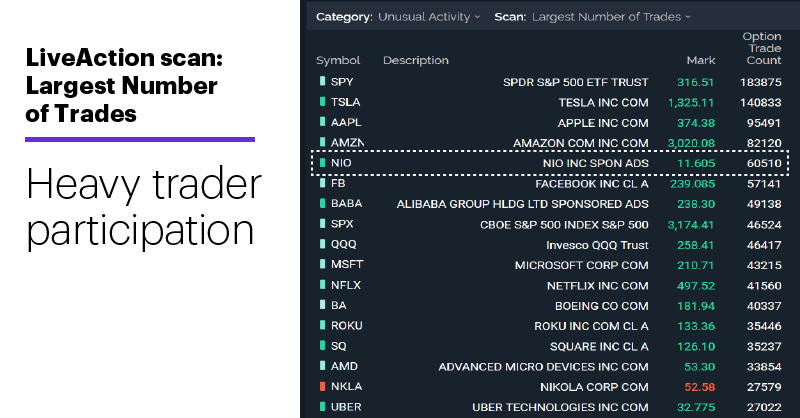 Source: Power E*TRADE
---
Also, implied volatility (IV) in NIO options was exceptionally high, even relative to how much the stock has moved recently. The following chart shows that the 30-day IV (which is the market estimate of future volatility) for August NIO options was well above average (dashed line):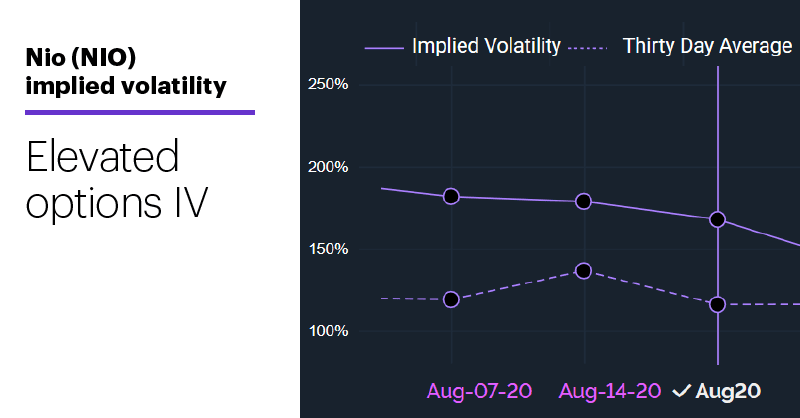 Source: Power E*TRADE
---
Implied volatility is baked into an option's price, which means all else being equal, high-IV options will typically be more expensive than low-IV options—and that means some options traders may be more inclined to sell high-IV options and attempt to profit from their natural loss of value over time—especially in the final two or three weeks before they expire, when "time decay" accelerates.
The options such traders would sell would, of course, depend on their forecast of the stock's volatility as well as its direction. (After all, although volatility tends to be "mean-reverting"—that is, it swings to lower levels after reaching an exceptionally high level, and vice versa—it can become more extreme before it changes direction.)
Traders who expected NIO to cool off, at least temporarily, may consider shorting calls (the prices of which would have been inflated both by the stock rally and high IV), with the understanding that such an approach is the same as shorting the stock, but with the added leverage of options—strict risk control is essential. Others may consider a bear put spread.
Bullish traders may look at shorting out-of-the-money put options if NIO does pull back, either to collect premium or to take a long position in the stock upon exercise. (NIO, despite its big gain on Monday, closed near its intraday low. WKHS pulled back sharply yesterday, and NKLA has retreated dramatically from its early-June record high.)
NIO has already overshot even the most bullish analyst performance target ($7.30, with an average target of $5.70).3 Analysts aren't always right—they were demonstrably wrong about NIO for the past two days, anyway—but long-time traders know that when a market makes an exceptional move because of potentially short-lived catalysts, options can sometimes provide more than one way to play a potential counter-reaction.
Market Mover Update: New week, another new record for the Nasdaq 100 (NDX), which surged more than 2.5% intraday to hit 10,625.10 on Monday. The surge in Chinese equities also made itself felt in JD.com (JD), Alibaba (BABA), and ZTO Express (ZTO), all of which hit new record highs yesterday (see "Making a list, checking it twice").
Click here to log on to your account or learn more about E*TRADE's trading platforms, or follow the Company on Twitter, @ETRADE, for useful trading and investing insights.  
---
1 CNBC. China told citizens to buy stocks, boosting market — 'We have the Fed...China has its state media.' 7/6/20.
2 MarketWatch.com. Nio's stock rockets toward a near 2-year high after upbeat report on June sales. 7/6/20.
3 TipRanks. Nio Price Target & Analyst Ratings. 7/6/20.
What to read next...
07/06/20
Surprise employment surge rounds out rebound week for US stocks.
---
07/02/20
Up or down, the stock market has often exhibited an interesting pattern in July.
---
07/01/20
As we kick off the second half of 2020, the US market is still in the red for the year. Find out what that's meant for stocks in the past.
---