Options on wheels
TM options in play on Wednesday morning
Call volume more than 10x avg., outnumbered puts 60 to 1
Stock pulling back from December record high
A little more than an hour into yesterday's trading session, somebody was getting busy in Toyota (TM) call options. At 2,613 contracts, call volume was more than 10 times average: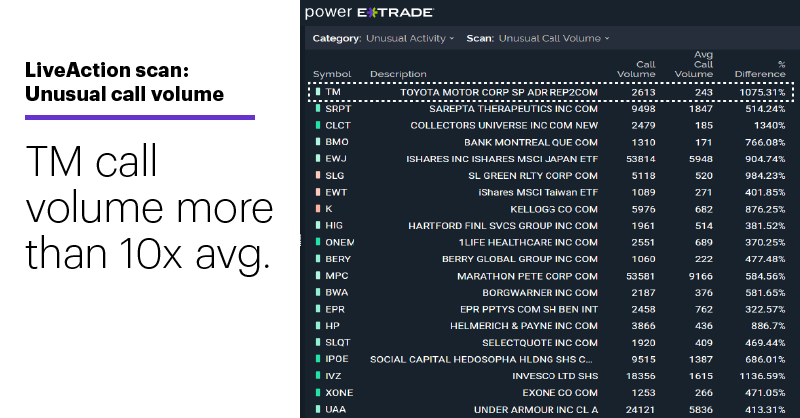 Source: Power E*TRADE
---
Calls were outnumbering puts by more than 60 to 1, too. Meanwhile, the stock was up, but not that up, roughly 0.7% higher around 11 a.m. ET when the S&P 500 (SPX) was sitting on a 1% gain.
The following chart shows TM has pulled back around 5% since hitting an all-time high of $156.30 in mid-December, and yesterday was still hovering above an obvious technical level—the breakout of the November (and February) highs around $144.50: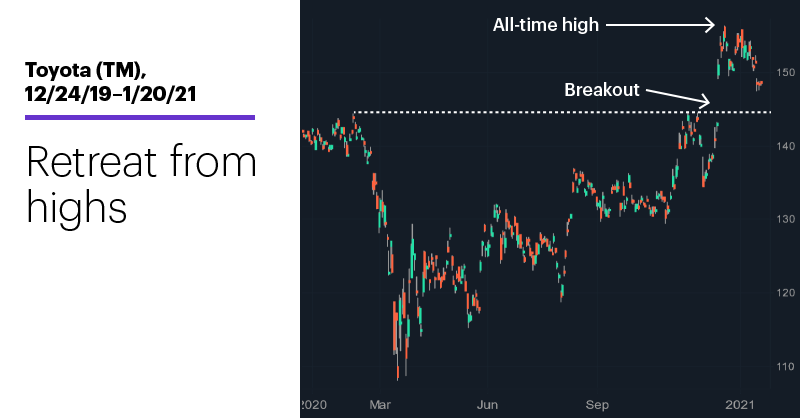 Source: Power E*TRADE
---
And that means…
Good question, but here are a couple of things observant traders may have noticed:
1. The majority of the volume was in the out-of-the-money February $155, $160, and $165 calls—all strikes near or above the stock's all-time high.
2. In all strikes but one, the volume was greater than the open interest (OI), which suggests traders were closing out existing positions.
3. For good measure, traders also appeared to be closing out positions in the March $165 calls—400 contracts changed hands, while the OI sat at zero.
In a nutshell, traders who may interpret high call volume as a potentially bullish undercurrent are less likely to see things that way when many of the existing call holders appear to be liquidating their positions. (There was no evidence, around 11 a.m. ET, that traders were rolling their positions to more distant contract months.)
Even if you don't trade them directly, it's always worth looking at options activity. But experienced traders know to look at it closely and put it in the context of the larger market picture—including the potential test of nearby technical levels that could determine the stock's short-term path.
Market Mover Update: Tech paced yesterday's stock rally as the Nasdaq 100 (NDX) surged to a new all-time high with a 2%-plus intraday gain, but the SPX and Russell 2000 (RUT) also pushed to fresh records. After releasing earnings yesterday, U.S. Bank (USB) pulled back below the breakout point noted in "Financial fireworks." Cardlytics (CDLX) jumped more than 5% intraday on Wednesday after tagging a key retracement level on Tuesday (see "Pullback possibilities").
Today's numbers (all times ET): Intel (INTC), Union Pacific (UNP), CSX (CSX), Citrix Systems (CTXS).
Today IPOs: MYT Netherlands Parent (MYTE), Dream Finders Homes (DFH).
Today's earnings include: Housing Starts and Building Permits (8:30 a.m.), weekly jobless claims (8:30 a.m.).
Click here to log on to your account or learn more about E*TRADE's trading platforms, or follow the Company on Twitter, @ETRADE, for useful trading and investing insights.  
---
What to read next...
01/20/21
Pullbacks in certain food stocks may look tasty to traders who see the potential for renewed interest in the group.
---
01/19/21
Broad market dips as reporting season gets underway.
---
01/15/21
Soaring small cap registers its sharpest short-term drop in more than six months.
---