Heads-up from options market
FREQ consolidating after 100%-plus Oct.–Dec. rally
Open options positions around seven times average
Traders leaning toward puts
A well-known technical trading principle holds that, in absence of other factors, prices should exit a consolidation pattern in the same direction they entered it. In other words if a stock in an established uptrend forms a trading range for several days, bet on an upside breakout rather than a downside breakout.
It's not a bad rule of thumb, except that in most situations there are usually at least a couple of other factors to consider, and it doesn't take into account whether the initial breakout will fizzle after a few days and give way to a larger move in the opposite direction. Such is trading.
So, going just by the rule of thumb, traders watching biotech stock Frequency Therapeutics (FREQ) lately may have been considering the possibility of an upside breakout from the stock's roughly three-week triangular consolidation: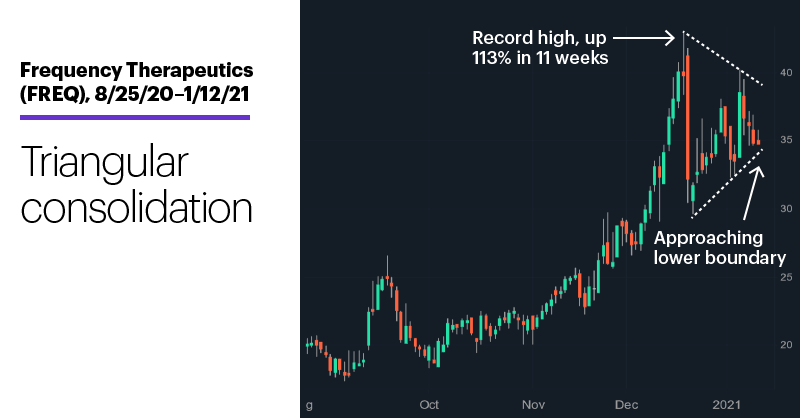 Source: Power E*TRADE
---
After all, the stock preceded this congestion period with a 113% rally from early October to mid-December that pushed shares to a record high near $43 (prior to December, FREQ had never traded above $29). Rally, pause, resume rally.
But in addition to noticing in recent days that the stock was approaching the lower boundary of the consolidation, some traders probably spotted FREQ on LiveAction scans for high open interest (OI), which represents the number of unclosed options trades—a general barometer of the options market's level of engagement in a symbol. Yesterday, FREQ's OI was around 681% times average—not out-of-this-world high, by any means, but definitely noticeable, especially for a lightly traded stock like FREQ, which averages around 225,000 shares a day: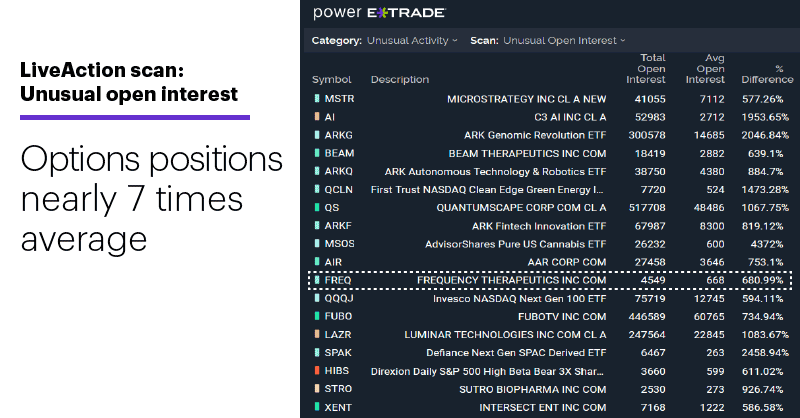 Source: Power E*TRADE
---
Traders who dug a little deeper would have discovered that, with FREQ trading around $35 yesterday morning:
1. The biggest options position was in the July $30 put—1,000 contracts (representing 100,000 shares of stock), or around 22% of the total OI.
2. In the other expiration months, out-of-the-money puts outnumbered out-of-the-money calls by a fairly significant margin. In the February options, for example, OI in the $30 put was 494 contracts, while the combined OI in the above-the-market $40 and $45 calls was only 127 contracts.
Frequent visitors to this space will be aware of the caveat that you have to be careful not to read too much into options positioning, but in the context of a stock that is still coming off a huge rally (the biggest one in its 15-month existence), the fact that traders have been so active in out-of-the-money puts may suggest that sentiment is leaning toward the downside in the near-term, regardless of whether the stock can eventually add another chapter to its uptrend story.
Market Mover Update: Vaccine maker Moderna (MRNA) extended its rally off its December 31 low to more than 15% (see "Lining up price and volatility patterns"), while Editas Medicine (EDIT) weakened again yesterday after an early intraday rally (see "Double helix, double top").
Today's numbers (all times ET): Mortgage Applications (7 a.m.), Consumer Price Index, CPI (8:30 a.m.), EIA Petroleum Status Report (10:30 a.m.), Beige Book (2 p.m.).
Today's earnings include: IHS Markit (INFO), Infosys (INFY).
Click here to log on to your account or learn more about E*TRADE's trading platforms, or follow the Company on Twitter, @ETRADE, for useful trading and investing insights.  
---
What to read next...
01/12/21
Some gene-editing stocks have recently cooled after red-hot rallies in 2020. Find out which levels traders may be watching.
---
01/11/21
Small caps pick up where they left off in Q4 to pace market in first week of 2021.
---
01/06/21
This chart-topping vaccine stock's recent sell-off may catch the eye of options traders.
---