Options discount check
SFIX down more than 60% since Jan. after massive 2020 rally
Shares fell to one-year low last week before bouncing
Call options may be doubly discounted—by price and volatility
As the old saying goes, stocks can't fall below zero—which is one reason buying them is less risky than shorting them. But that doesn't mean identifying lows is any easier than calling tops.
For options traders, though, identifying conditions that can potentially make call options better "bargains"—beyond the discount provided by a falling stock price—is one way some traders try to get a little extra edge in a trade.
For example, like almost every other stock last year, personalized clothing retailer Stitch Fix (SFIX) severely underperformed during the COVID sell-off—and, like many other stocks, it rebounded significantly. After closing at an all-time low of $11.46 in April 2020, the stock rallied more than 262% to hit $41.52 in November. But that was just a warm-up for the seven-week, 197% surge that propelled shares to a record close of $106.41 in late-January 2021.
Since then, though, bears have been more or less running the show. As of yesterday, SFIX was down roughly 67% from its January high, and more than 45% below where it was trading in late June: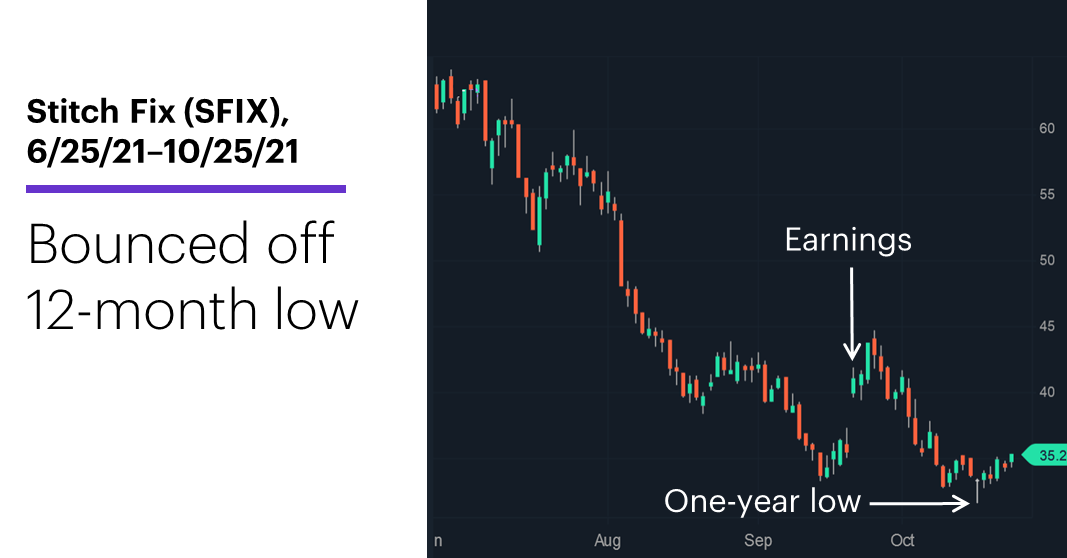 Source: Power E*TRADE (For illustrative purposes. Not a recommendation.)
---
On October 18—around three weeks after a post-earnings rally—SFIX tagged $31.50, which was as low as the stock had been in a year. While bulls have certainly been waiting a while for the tide to turn (last month's modest bounce was one of its biggest up moves since January), the Street doesn't seem to have tempered its longer-term expectations for the stock, with the average analyst target sitting more than 35% above current levels.1 Also, hedge funds had remained heavily invested in the stock, at least through the end of Q2.2
So far this year, bargain hunters and dip buyers haven't had much luck with the stock. But some options traders may have noticed recently that volatility conditions were looking more favorable than they have in a while for call buyers. A few factors were at work.
First, on a percentage basis, SFIX's recent downswing pales in comparison to the declines in its call options prices. On Monday the December $40 call was trading around 2.00 ($200)—more than 70% lower than where it was on September 24 (when the stock popped after earnings), compared to just a 20% decline in the stock:
Source: Power E*TRADE (For illustrative purposes. Not a recommendation.)
---
In addition to this discount, some of the option's loss can be chalked up to time decay. But another factor was likely at work, too—reduced options implied volatility (IV), which the following LiveAction scan shows was below the stock's historical volatility (HV):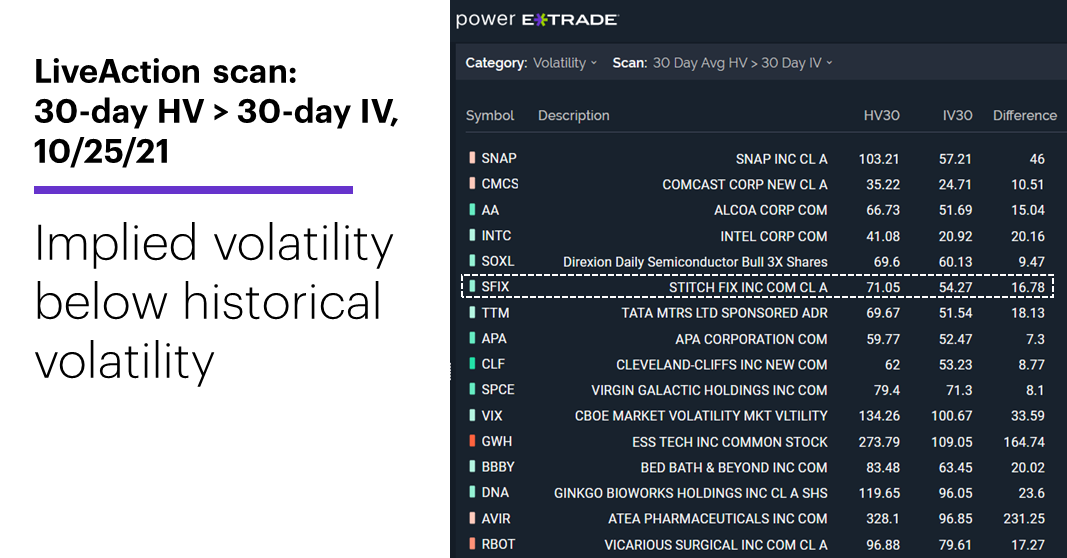 Source: Power E*TRADE. (For illustrative purposes. Not a recommendation.)
---
Also, Stitch Fix's IV was trading near its lowest levels of the past two months—an indication that, all else being equal, option premiums were not being inflated by expectations of high future volatility.
So, while traders can never know when a bottom is in, when they make the decision to go long using options, they can at least increase the odds they're not overpaying by making sure IV is running cooler rather than hotter.
Today's numbers include (all times ET): S&P Case-Shiller Home Price Index (9 a.m.), FHFA House Price Index (9 a.m.), Consumer Confidence (10 a.m.), New Home Sales (10 a.m.).
Today's earnings include: Alphabet (GOOGL), Eli Lilly (LLY), Advanced Micro Devices (AMD), General Electric (GE), Lockheed Martin (LMT), Microsoft (MSFT), Visa (V), Pinterest (PINS), Twitter (TWTR), United Parcel Service (UPS), Southern Copper (SCCO).
Click here to log on to your account or learn more about E*TRADE's trading platforms, or follow the Company on Twitter, @ETRADE, for useful trading and investing insights
---
1 TipRanks.com. Stitch Fix Stock Forecast & Price Targets. 10/25/21.
2 InsiderMonkey.com. Hedge Funds Are Crazy About Stitch Fix, Inc. (SFIX). 10/12/21.
What to read next...
10/25/21
Friday dip fails to derail weekly gain as earnings season kept market chugging.
---
10/22/21
Options traders may seek ways to balance risk and potential reward as social media stock gears up for earnings.
---
10/21/21
Vax stock's sell-off highlights the advantages of letting the dust settle before potentially rushing into a trade.
---