Options discount
TJX pulled back in recent days after hitting resistance
Stock has slumped despite retail sector's record highs
Put options volume elevated on Monday
The S&P 500 (SPX) retail sector hit fresh record highs late last week, perhaps getting a boost from an incredibly strong increase in September retail sales (1.9% vs. 0.7% estimate).
It was just the latest bit of good news from an area of the market that's surprised a lot of people in the way it's bounced back from the COVID crisis. Over the past six months, the Consumer Discretionary sector has been the SPX's biggest gainer, returning roughly 35% vs. 20% for the index itself, with the Textiles & Apparel (+40%), Specialty Retail (+38%), and Internet & Catalog Retail (+35%) industry groups leading the charge.
Although this rising tide has certainly lifted the majority of boats, when you drill down to the individual stock level, there's always a wide range of outcomes—everything from Amazon (AMZN) doubling off its March lows to Macy's (M) still trading more than 60% below its January high.
Discount retailer TJX (TJX), which operates several stores, including T.J. Maxx, Marshalls, and HomeGoods, is somewhere between these two extremes. It's still up more than 50% from its March low, but it's mostly been moving sideways since early June, bound by resistance around $59 and support around $51: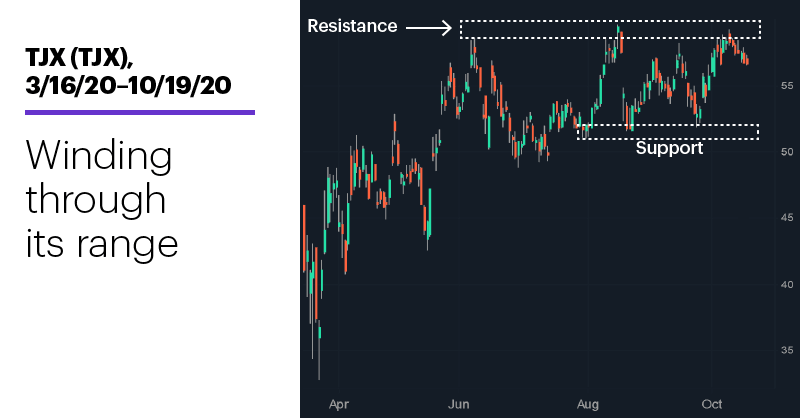 Source: Power E*TRADE
---
And despite the recent strength in its sector, TJX has pulled back over the past several days after (again) testing its resistance zone.
Aside from observations from some analysts that "off-price" retailers like TJX are behind the curve in terms of being able to translate their mostly in-store shopping experiences to the online market,1 traders who watch prices repeatedly pinball between obvious support and resistance for several weeks may look for a stock like TJX to continue to "play its range"—which in this case could imply a move to test the support zone.
There was something else such traders may have noticed yesterday: TJX's put options volume was elevated, running more than three times average in early trading. The big money was in a couple of 2,000-contract trades in the $51.50 and $56.50 puts expiring on November 13: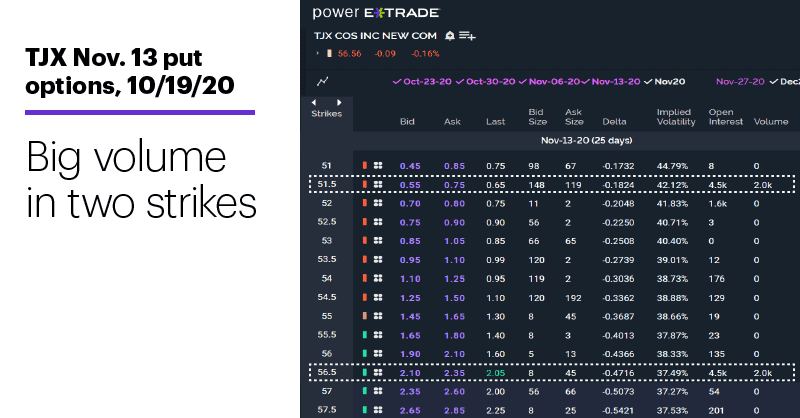 Source: Power E*TRADE
---
Although it's always impossible to decipher the "intention" of any given options trade, the fact that TJX was trading around $56.50 yesterday would probably have some traders looking at these two big prints on the options tape and thinking "bear put spread." In other words, someone buying the at-the-money $56.50 puts and selling the out-of-the-money $51.50 puts to potentially profit on a move to the lower strike price (which just happens to be around the support level).
Yesterday that spread was trading around 1.90 ($190 per spread), with a reward-to-risk ratio around 1.6:
Source: Power E*TRADE
---
The trade's potential maximum profit peaks at $310 even if TJX keeps dropping, but its maximum loss is also capped (the cost of the spread).
Regardless of whether yesterday's options action actually represented a large trader putting on a bear put spread, the position itself can be an attractive alternative for shorter-term traders looking to capitalize on limited price moves—with limited risk.
Today's numbers (all times ET): Housing Starts and Building Permits (8:30 a.m.).
Today's earnings include: Raytheon (RTX), Lockheed Martin (LMT), Procter & Gamble (PG), Snap (SNAP), Netflix (NFLX), Texas Instruments (TXN), Philip Morris (PM), Teradyne (TER).
Click here to log on to your account or learn more about E*TRADE's trading platforms, or follow the Company on Twitter, @ETRADE, for useful trading and investing insights.  
---
1 CNBC.com. Nike earnings beat doesn't mean rebound for unloved apparel stocks, traders say. 9/24/20.
What to read next...
10/19/20
Stocks weather first pullback in three weeks as tech gets back on track.
---
10/16/20
Chipmaker gets props for attractive P/E, but traders may be more interested in recent price action and next week's earnings.
---
10/15/20
A recent SPAC launch stumbled out of the gate, but contrarian traders may be looking for it to get back in the race.
---