Options diagnosis
ICLR options open interest around 13 times average
Large call positions in July options
Stock has rebounded more than 10% since correcting
Even in the simplest of times, a trade decision can have many moving parts, which makes it especially helpful to find information with the potential to tie together seemingly unrelated factors. Yesterday offered a lesson in how unusual options activity can sometimes provide a more rounded picture of a stock's price action.
Diagnostics stock Icon (ICLR) wasn't making much noise early Monday—flitting above and below breakeven for most of the morning—but it may have landed on a few trading screens thanks to its above-average open interest (OI):
Source: Power E*TRADE
---
While options volume can be heavy even if traders are getting out of positions, OI (the number of unclosed positions) can be high only when traders are in the market—a possible sign that players expect a stock to make a move. In this case, ICLR's OI was almost 13 times average, with most of the positions in two contracts:
●2,100 of the July $200 calls.
●1,500 of the July $240 calls.
As it turns out, those two strikes straddle ICLR's average Street analyst target of $225.33,1 which was roughly $35 above where the stock was trading yesterday morning: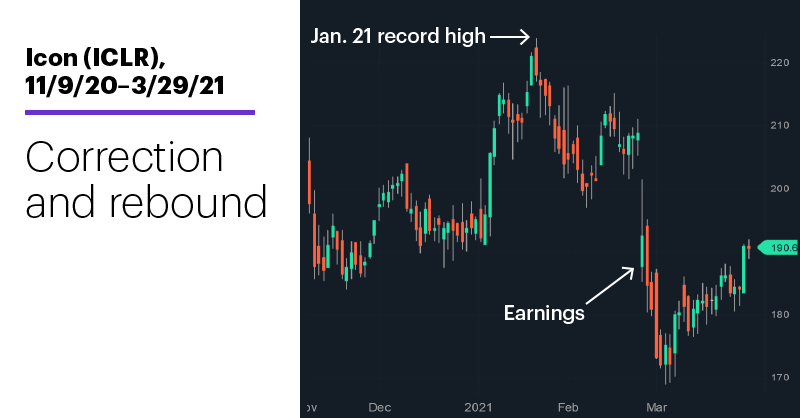 Source: Power E*TRADE
---
As of yesterday, ICLR had extended its rally off its early March lows to around 13%. But this rebound followed a 22% correction from its January 21 all-time high—a move that really kicked into gear when the company released earnings February 24.
The stock's sell-off didn't appear to be the common case of poor guidance tripping up a solid earnings beat—in fact, ICLR painted a rosier forward-looking picture than analysts had been expecting.2 But there was another piece of news: The company's announcement that it intended to buy rival PRA Health Sciences in a $12 billion deal.3
Cue the selling that often occurs when a company announces a major acquisition—in this case, an additional 11% slide that took the stock into bear territory by March 2.
If the big July positions were, in fact, an indication that some traders were betting the recent downturn was exacerbated in the short-term because of the buyout news, the following chart shows one possible contributing factor: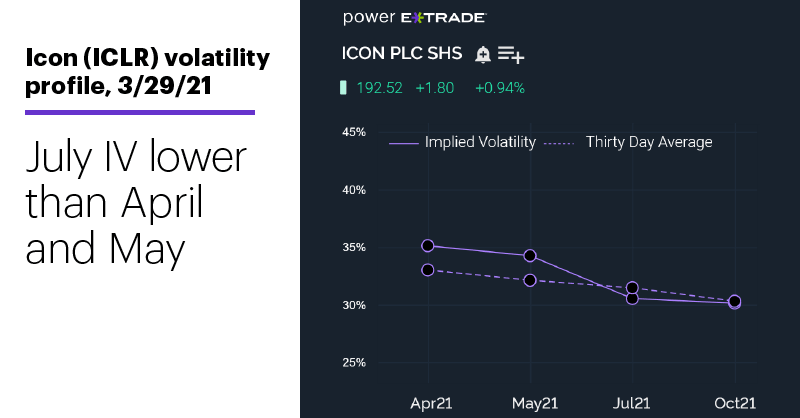 Source: Power E*TRADE
---
Implied volatility (IV) for the July options was running below average, and well below the level for April and May options. Because lower IV can translate into relatively lower options prices, that may have made the July strike more attractive for bulls, even aside from the larger time window they provide for a possible rally to unfold.
Today's numbers (all times ET): Case-Shiller Home Price Index (9 a.m.), FHFA House Price Index (9 a.m.), Consumer Confidence (10 a.m.).
Today's earnings include: Lululemon (LULU), McCormick (MKC), PVH (PVH), Chewy (CHWY).
Click here to log on to your account or learn more about E*TRADE's trading platforms, or follow the Company on Twitter, @ETRADE, for useful trading and investing insights.
---
1 StreetInsider.com. ICON plc (ICLR) Tops Q4 EPS by 7c, Offers Guidance. 2/24/21.
2 TipRanks. Icon Stock Forecast & Price Targets. 3/29/21.
3 The Wall Street Journal. Icon to Buy Clinical-Trial Rival PRA in $12 Billion Deal. 2/24/21
What to read next...
03/29/21
Late-week bounce sends market toward new month on an up note.
---
03/26/21
Sector momentum sometimes extends to lesser-known stocks–you just have to look for them.
---
03/25/21
In the middle of a semiconductor shortage, a news surprise sends shockwaves throughout the industry.
---