Matching options with forecasts
Bumble (BMBL) down more than 55% from 2021 highs
Stock bounced this week after testing Dec. record lows
Options buyers must weigh time risk against potential reward
One of the Catch-22's of options is the additional decisions they demand of traders. If you buy a stock, you'll profit if it rallies and you'll lose money if it falls. But you can buy a call option, watch the underlying stock rally, and still lose money if you don't account for all the working parts of your trade.
Let's walk through a typical decision-making scenario. Like many stocks that went public in 2021, dating app Bumble (BMBL) is now trading well below its initial highs: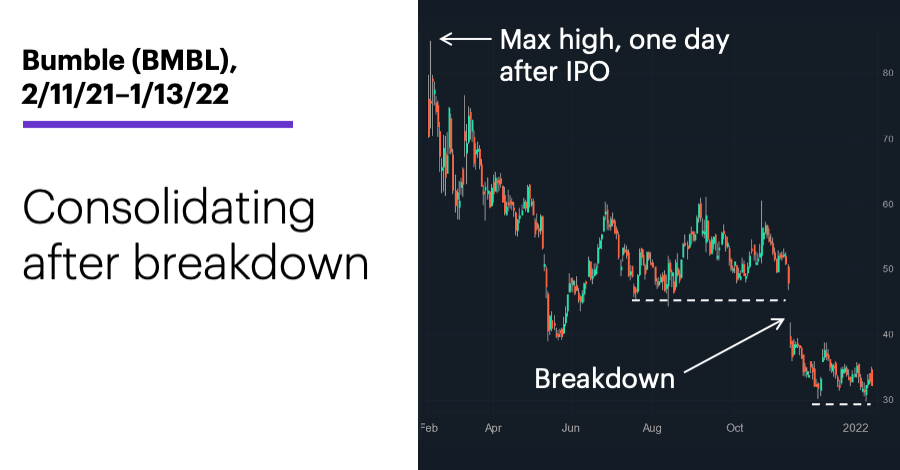 Source: Power E*TRADE. (For illustrative purposes. Not a recommendation.)
---
By early December, BMBL had fallen around 60% from the record close it set soon after it began trading, with the last leg of the decline punctuated by a breakdown below support after the company released earnings in November. Since then, the stock has consolidated, and shares bounced this week after testing their early December lows around $30.
Let's say a trader saw the potential for more upside and was thinking about buying call options. Since one of the challenges of a long options positions is time decay—the incremental day-to-day loss of value, which accelerates as expiration approaches—the initial (two-part) question the trader may ask is, "How far could the stock move, and how long will that move take?" The answer will help dictate which options to buy (strike price and expiration), as well as the specific strategy to use.
Let's say the trader thought the stock could at least rally to challenge the prior breakdown level around $45. It took the stock nearly three weeks to bottom after its November earnings breakdown, and our trader decides there's no reason to expect the stock would recover that ground any faster than it lost it, especially in the absence of any obvious near-term catalysts (BMBL isn't due to release earnings again until early March).
That means it would be pointless to buy January options, which expire in one week. But the trader may  decide February options aren't a great choice, either, since they're just a couple of weeks away from losing time value at an accelerated rate (the final two to three weeks before expiration). That leads our trader to decide to buy options in the next expiration month, which in this case is April.
Aside from the reality that options in more-distant expirations tend to be less responsive to changes in the underlying stock price, the trader's April long call position is still subject to time decay—just not as much as January or February options. One way some traders try to at least partially offset this disadvantage is to pair the long option with a short option, which benefits from time decay.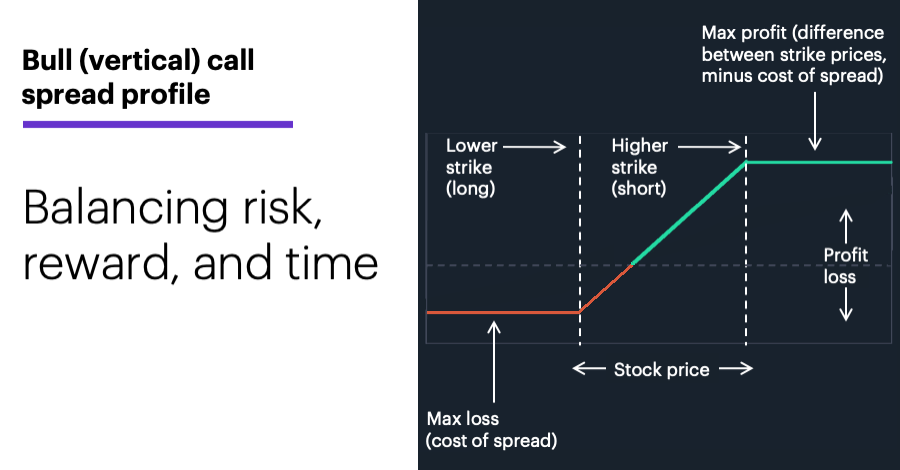 Source: Power E*TRADE. (For illustrative purposes. Not a recommendation.)
---
For example, if the trader decided to buy a BMBL April $35 call when the stock was trading around $34 yesterday, selling an April $45 call at the same time would create a bull call spread with the potential to profit (at expiration) if the stock is trading between the spread's strike prices, as shown in the chart above.
Adding a short, higher-strike call to an outright call position accomplishes two things: It helps reduce the effect of time decay, and it lowers the cost of gaining long exposure to the stock, since the trader collects premium on the short call. But the resulting limited-risk position also sacrifices gains if the stock continues to rally above the short strike's call.
There's no such thing as a free lunch in the markets, but understanding what you're gaining and what you're giving up by using a particular strategy can help you make decisions that better reflect your risk appetite and market outlook.
Today's numbers include (all times ET): Retail Sales (8:30 a.m.), Import and Export Prices (8:30 a.m.), Industrial Production and Capacity Utilization (9:15 a.m.), Business Inventories (10 a.m.), Consumer Sentiment (10 a.m.).
Today's earnings include: Wells Fargo (WFC), JPMorgan Chase (JPM), Citigroup (C), BlackRock (BLK).
Holiday reminder: US stock exchanges will be closed on Monday, January 17 for Martin Luther King, Jr. Day. Certain futures markets (including stock index futures) will trade on a shortened schedule.
Click here to log on to your account or learn more about E*TRADE's trading platforms, or follow the Company on Twitter, @ETRADE, for useful trading and investing insights.
---
What to read next...
01/13/22
Is GM news just another bump in the road for used-car marketplace, or major pothole?
---
01/12/22
Clean-energy stocks played a big part in Tuesday's rebound, including some with unusual options activity.
---
01/11/22
Someone has an exceptionally large options position in this small-cap industrial stock.
---