Call volume on the rise
OTIS scheduled to release earnings on Oct. 25
Call volume more than 38 times put volume early Tuesday
Stock in consolidation since pullback from Aug. record
Traders attempting to get a read on a company's upcoming earnings release often look to the options market for indications of which way the sentiment winds may be blowing. Because even if a stock is laying low before an announcement, activity on the options side may suggest whether bulls or bears are being more aggressive.
Yesterday, for example, among the stocks with call volume significantly higher than put volume was Otis Worldwide (OTIS), maker of elevators, escalators, and moving walkways. Call volume was nearly 40 times put volume in early trading: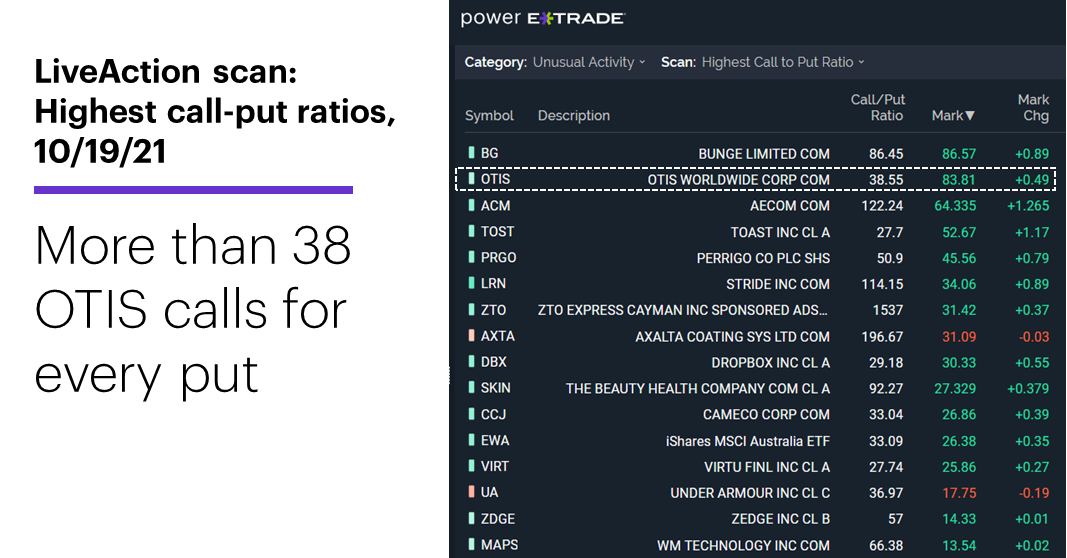 Source: Power E*TRADE (For illustrative purposes. Not a recommendation.)
---
Although OTIS has been around a long time (since 1853, in fact), it only recently returned to the publicly traded arena. It was first listed on the New York Stock Exchange in 1920, but disappeared from the trading ranks in 1976 after being acquired by United Technologies.
In April 2020, it began trading again under its own ticker—and it's stock has, for the most part, been riding the up escalator, with shares climbing from around $47 last year to as high as $92 this August.
One thing that may have made OTIS's unusual options activity more interesting to some traders was that it occurred with the company poised to release earnings on Monday (October 25). With the stock trading around $84 yesterday, almost all the volume was above the market—specifically, in the November $90 and $95 calls:
Source: Power E*TRADE (For illustrative purposes. Not a recommendation.)
---
Today or tomorrow may bring more put activity than call activity, but yesterday at least, traders were clearly focused on calls. Otis has released numbers only six times since it began trading again last year, and it's rallied on four of those earnings days. On the other hand, it's 50-50 in the three days leading up to earnings and the three days after—i.e., the stock has posted a net gain in half of the three-day periods before and after an earnings release, and declined in the other half.
But OTIS traders—bulls and bears alike—may be looking for earnings volatility to push the stock out of its recent trading range. Prices have been consolidating for a couple of weeks since pulling back more than 11% from their late-August all-time high above $92:
Source: Power E*TRADE. (For illustrative purposes. Not a recommendation.)
---
The stock's 3%-plus rally over the past four days has pushed it toward the top of that consolidation. The options market is currently forecasting a +/-3.9% earnings-day move for OTIS, although its actual average move is +/-2%.1
One piece of information can never provide a complete picture of what's going on in a market, but unusual options activity can sometimes provide a glimpse of the shifting currents below the price-action surface—especially in the run-up to events like earnings releases.
Today's numbers include (all times ET): Mortgage applications (7 a.m.), EIA Petroleum Status Report (10:30 a.m.), Beige Book (2 p.m. ET).
Today's earnings include: Abbott Laboratories (ABT), Biogen (BIIB), Verizon (VZ), Crown Castle (CCI), Tesla (TSLA).
Today's IPOs include: Stronghold Digital Mining (SDIG), Context Therapeutics (CNTX), Cyngn (CYN).                                               
Click here to log on to your account or learn more about E*TRADE's trading platforms, or follow the Company on Twitter, @ETRADE, for useful trading and investing insights
---
1 Source: Power E*TRADE Earnings Analyzer.
What to read next...
10/19/21
Did Friday's intraday reversal in the Russell 2000 signal the potential for short-term small-cap weakness?
---
10/18/21
Big midweek turnaround erases loss, stocks enjoy best week since July.
---
10/15/21
Newly reconfigured transportation stock hits six-month low—and bulls jump in the next day.
---