Long-term options, short-term momentum
UNFI call options volume was unusually high on Thursday
Deep OTM calls most active with earnings due next week
Stock often dropped after releasing numbers over past five years
While "analysis paralysis"—inaction that can result from overthinking a situation—can be a real roadblock for traders, it usually pays to take the time to look past the market's first impressions.
Yesterday, for example, some interesting options activity in United Natural Foods (UNFI) may have given traders the impression that bulls were gearing up for next week's earnings release (September 28).
The top of the following chart shows UNFI on yesterday's LiveAction scan for high call-put ratios (176.5 to 1), while the bottom shows where the majority of that call volume occurred:
Source: Power E*TRADE (For illustrative purposes. Not a recommendation.)
---
With UNFI a little above $37 in the middle of the morning, almost all the options trading was in the January $55 calls (1,100) and $60 calls (397). The November $50 calls were also active, with 100 contracts changing hands. Throw in the fact that the stock was up more than 2% on the day, and you have a picture that probably looked pretty bullish.
But there's a big difference between buying an option that can profit if the underlying stock rallies over the next 3-4 months (January expiration) vs. the next 3-4 weeks (October expiration). However, volume in the October options was minimal—only 27 contracts had traded by 11:30 a.m. ET, scattered across the $35, $40, and $45 calls. That lack of activity may have struck some traders as unusual, since the October calls would likely be more responsive to any post-earnings price action than the more distant January options.
The following price chart, which shows UNFI has been consolidating for three weeks after rallying more than 20% off its July low, marks its two most recent earnings announcements: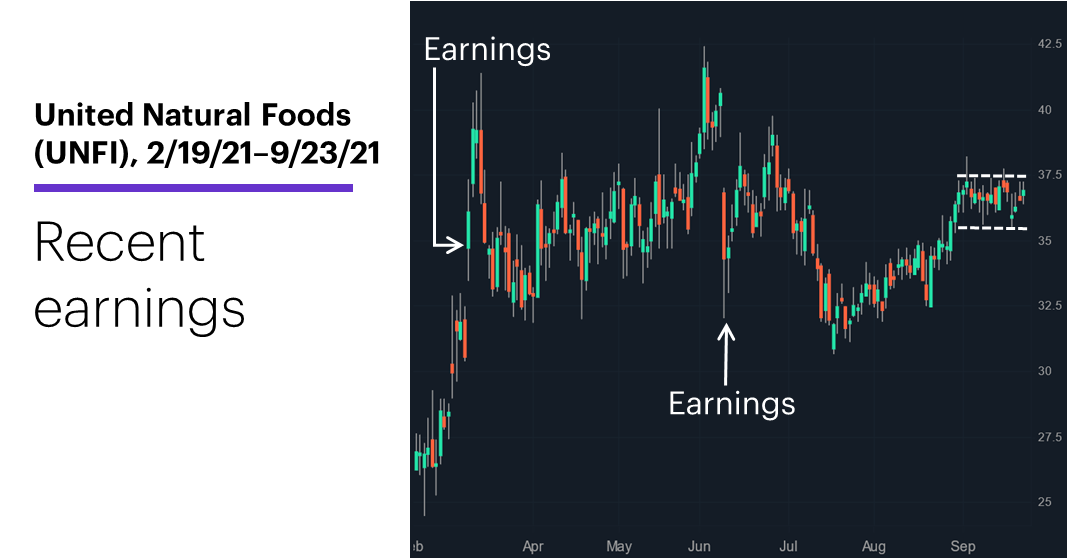 Source: Power E*TRADE (For illustrative purposes. Not a recommendation.)
---
The June release featured a sharp sell-off followed by a bounce, while the March announcement produced a sharp rally followed by a pullback. Of the two, June's immediate reaction was more in line with UNFI's recent history—the stock has fallen after 16 of its past 20 earnings releases, with an average loss of 8.1%.1
If yesterday's ramped-up call activity was evidence of bullish sentiment, it's important to remember that holders of January options (especially deep out-of-the-money strikes) could be operating on a different time frame than traders focused on an upcoming earnings release.
Bottom line, options activity can be a useful tool for stock traders—as long as its relevant to your time horizon.
Today's numbers include (all times ET): New Home Sales (10 a.m.), Fed Chairman Jerome Powell speech (10 a.m.).
Click here to log on to your account or learn more about E*TRADE's trading platforms, or follow the Company on Twitter, @ETRADE, for useful trading and investing insights
---
1 Power E*TRADE. Figures reflect one-day percentage returns after earnings announcement.
What to read next...
09/23/21
Will solar stock's tight consolidation attract traders looking for a break(out) in the clouds?
---
09/22/21
On the verge of earnings, some big prints on the options tape raise questions about which way traders may be leaning.
---
09/21/21
The market's performance after days like yesterday may surprise you.
---