Real estate on the bid?
CSGP options open interest 18 times average on Thursday
Positions concentrated in out-of-the-money calls
Stock hit record high in Feb., but has been in range for nearly a year
Many people track options open interest (OI) to gauge the level of trader commitment in a particular market, sometimes likening it to "fuel for the fire," since long options positions can turn into stock positions at any time.
Perhaps. Big positions can vanish as quickly as they appear. Either way, it's helpful to know not only where those options positions are in terms of the current stock price, but when they're going off the books. An extremely large options position expiring six months from now is a different animal than one with the same strike price expiring in three weeks.
For example, traders have built up sizable options positions in real estate data, analytics, and marketplace provider CoStar Group (CSGP), which had OI nearly 18 times average yesterday: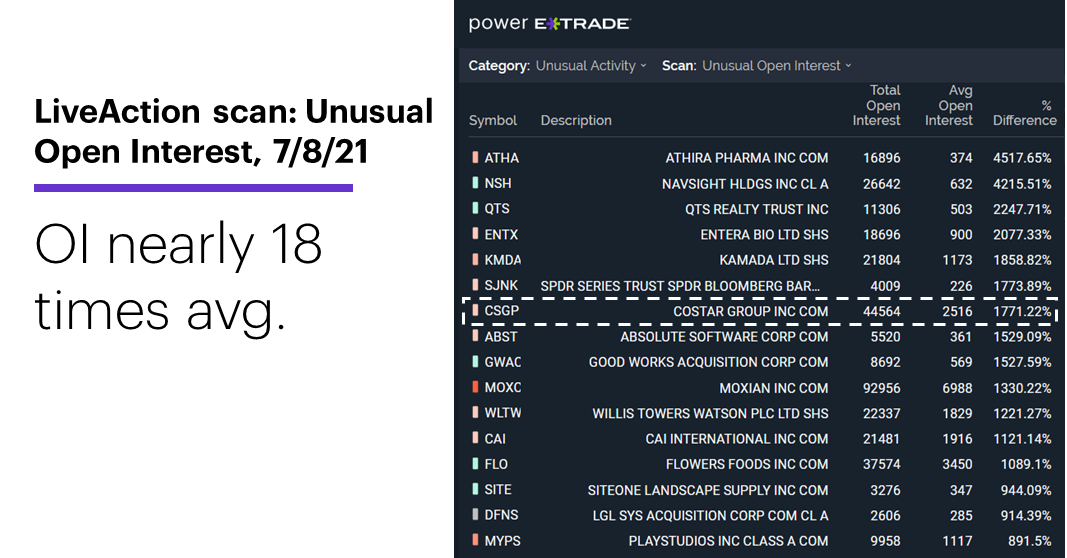 Source: Power E*TRADE
---
Diving into the data revealed a couple of things about those options positions:
1. Calls, especially out-of-the-money (OTM) ones, outnumbered puts by a wide margin.
2. The biggest positions were in July options expiring a week from today.
With CSGP trading mostly between $85–$86 Thursday, the following screen shot of its options chain shows the positions in the July $85–$90 strikes, where calls outnumbered puts by more than five to one (7,977 to 1,553):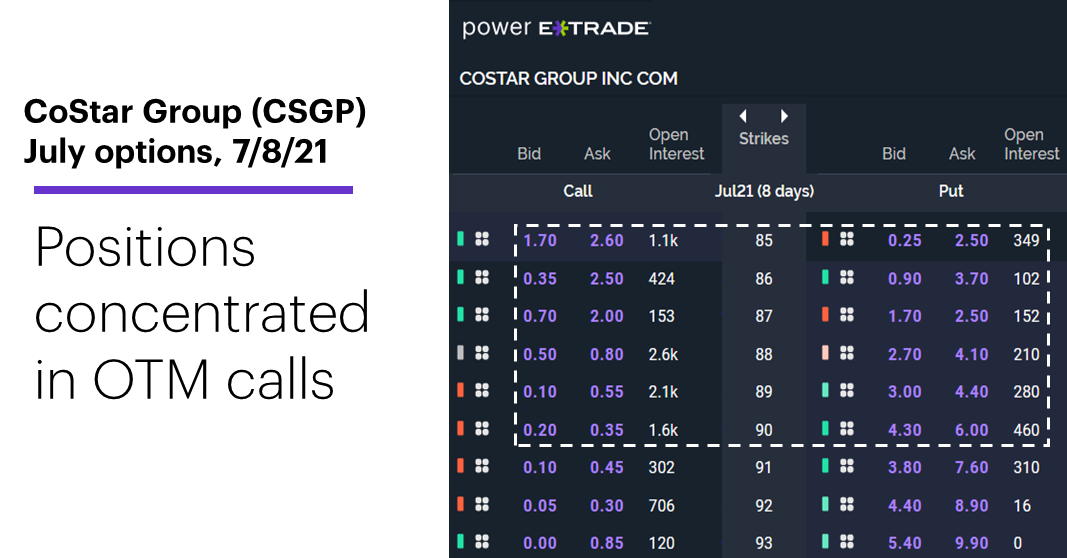 Source: Power E*TRADE
---
Also, there were 1,600 open positions in the August $89 calls, while the biggest concentrations of puts were in more-distant expirations months: 1,800 October $58 puts and 1,000 each of the November $88 and $71 puts.
If the emphasis on July and August calls would seem to tip the scales toward trader expectations of a nearer-term up move (and there's no guarantee that it does), CSGP's price chart provides some additional context. The stock has been in a choppy trading range since surging more than 31% intraday on July 29, 2020, after releasing earnings: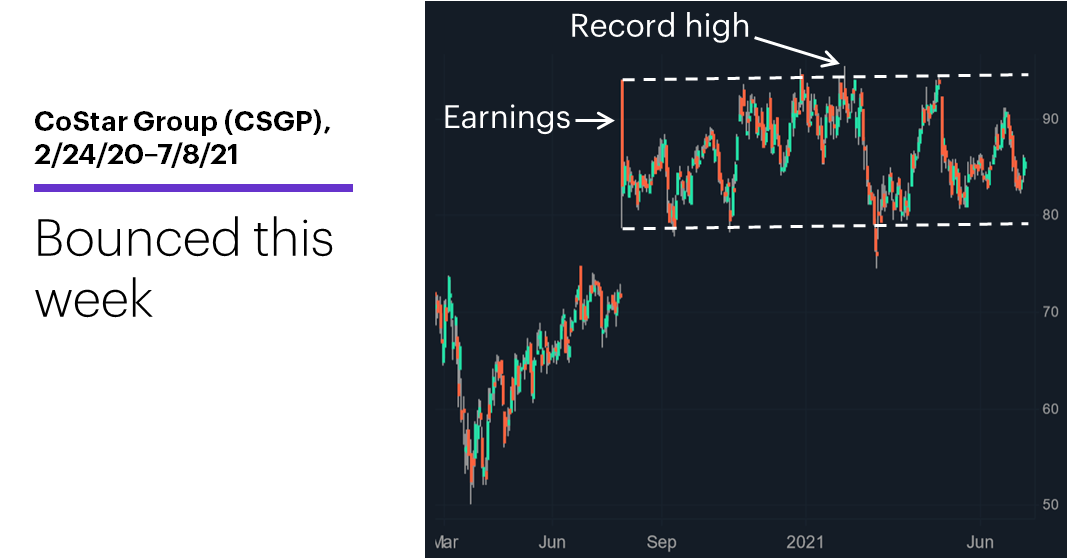 Source: Power E*TRADE
---
Remarkably, although the stock subsequently made a couple of higher highs, it's had only one day since then (March 4) that traded entirely outside July 29's high-low range. However, even after bouncing the past three days, CSGP was still more than 10% below the upper level of its range (around $95) and nearly 24% below the average Street analyst target of $106.58.1
Open interest may sometimes offer a glimpse into which way traders are leaning, but even in the best of circumstances, it's only one piece of information. Whatever value it may have lies in how it fits with all the other pieces at a trader's disposal.
Today's numbers include (all times ET): Preliminary Wholesale Inventories (10 a.m.).
Today's earnings include: AZZ (AZZ).
Today's IPOs include: LinkDoc Technology (LDOC), Unicycive Therapeutics (UNCY), TransCode Therapeutics (RNAZ), GigInternational1 (GIW), Sentage Holdings (SNTG).
Click here to log on to your account or learn more about E*TRADE's trading platforms, or follow the Company on Twitter, @ETRADE, for useful trading and investing insights.
---
1 TipRanks.com. CoStar Group Stock Forecast & Price Targets. 7/8/21.
What to read next...
07/08/21
Traders favor call options in a rangebound steel stock as expiration approaches.
---
07/07/21
In addition to highlighting potential lows, the fear index can sometimes indicate when a stock rally may be ready for a breather.
---
07/06/21
Stocks notch more records on back of tech-stock rally.
---