Open house for options traders?
COOP pulled back to seven-week low after two-week, 37% rally
Call options volume nearly 88 times avg. on Monday
Rising interest rates a plus or minus?
Rising interest rates have been seen as a challenge to the housing market, which boomed as the country emerged from pandemic lockdown—a wave of pent-up demand coupled with historically low mortgage rates helped spur homebuilding, buying, and lending.
How much of an effect higher rates will have on the industry remains to be seen, but homebuilder stocks have, in fact, turned lower in recent months. After gaining 23% in 2020 and 49% in 2021, the S&P homebuilders index is down around 25% this year. Meanwhile, on the finance side of the equation, loan-servicing company Mr. Cooper Group (COOP) was trading at its lowest level in seven weeks yesterday, having fallen more than 15% since mid-February: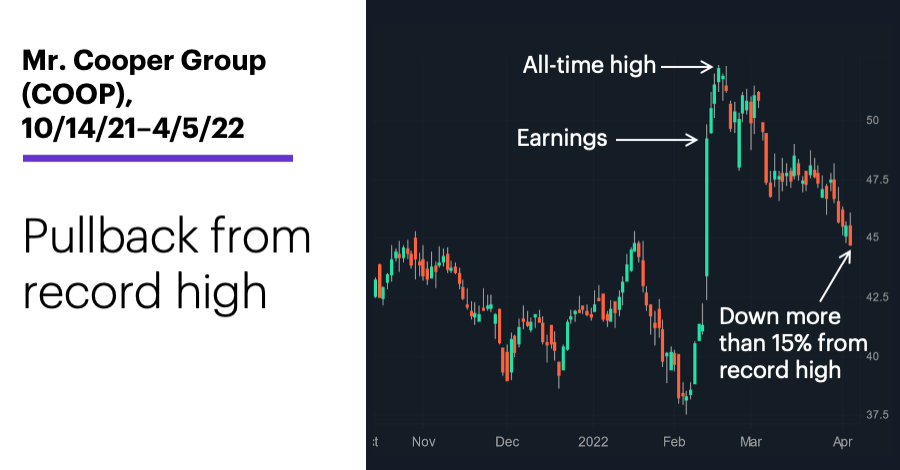 Source: Power E*TRADE. (For illustrative purposes. Not a recommendation.)
---
While the stock's retreat may seem to mirror the pullback in homebuilders, it's not a perfect parallel. First, it started later, and COOP is still up for the year—thanks mostly to the two-week, 37% surge that preceded the downturn and pushed the stock to its record close of $52.19 on February 16, three trading days after its most recent earnings release.
Also, traders assuming the downturn was mostly a reaction to last month's interest rate surge and the prospect of continued rate hikes may not be aware that, unlike many companies in the mortgage industry, a big part of COOP's business—mortgage-servicing rights (MSR)—has the potential to benefit from rising rates. MSRs give companies the right to collect monthly payments from borrowers, and companies like COOP not only earn fees for doing so, they can also earn interest on the money they collect—and the higher rates are, the more they can earn.1
Traders, however, may have been more interested in the COOP's recent options activity. On Monday the stock appeared on the LiveAction scans for high call-put ratios and highest call volume, with nearly 88 times the average numbers of calls changing hands: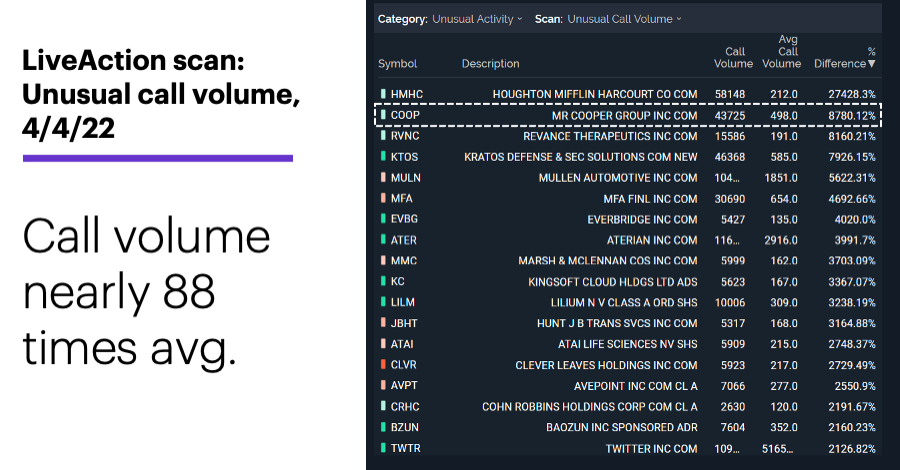 Source: Power E*TRADE. (For illustrative purposes. Not a recommendation.)
---
Comparing COOP's options chains from Monday and Tuesday (below) shows that one big piece of that volume—13,100 contracts of the April $45 calls expiring next week—was mostly a liquidation of existing positions: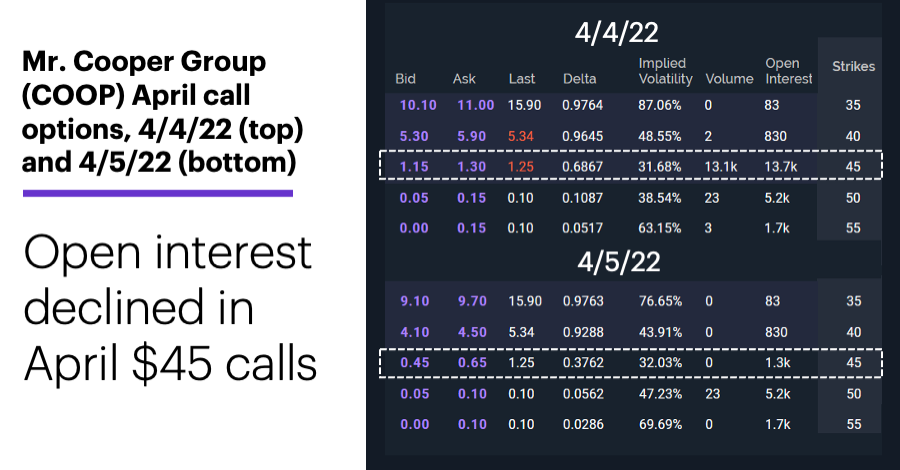 Source: Power E*TRADE. (For illustrative purposes. Not a recommendation.)
---
We know that because open interest (OI) in the contract shrank from 13,700 on Monday (top) to 1,300 on Tuesday (bottom). If Monday's volume was all or mostly new traders entering the market, Tuesday's OI would have been higher, not lower.
However, that wasn't the case with the big trades in COOP's July options. On Monday 19,600 of the July $50 calls changed hands, along with 10,500 of the $55 calls. Here's how positioning changed in these contracts:
1. OI in the $50 calls increased from 11,900 on Monday to 12,300 on Tuesday morning
2. OI in the $55 calls increased from 156 on Monday to 10,600 on Tuesday morning.
That means at least some of the volume in the $50 calls—and nearly all the volume in the $55 calls—consisted of traders opening new positions. While that doesn't necessarily mean the positions were initiated by bullish traders, it does mean that, overall, traders were increasing their presence in the market rather than dialing it back.
Final note: Although it isn't marked on the chart, traders monitoring COOP's options activity may have also noticed the stock's correction has dropped prices to the level of their breakout above the October and January highs—a potential test like the one described in "Investing logic highlights trading strategy").
Market Mover Update: And on the subject of interest rates, the 10-year T-note yield continued to press its three-year highs yesterday, climbing as high as 2.56%.
Today's numbers include (all times ET): Mortgage Applications (7 a.m.), EIA Petroleum Status Report (10:30 a.m.), FOMC minutes (2 p.m.).
Today's earnings include: Levi Strauss (LEVI), Schnitzer Steel (SCHN), RPM International (RPM), Simply Good Foods (SMPL).
Click here to log on to your account or learn more about E*TRADE's trading platforms, or follow the Company on Twitter, @ETRADE, for useful trading and investing insights.
---
1 The Wall Street Journal. Mortgage Firms' Antidote to Rising Rates. 3/29/22.
What to read next...
03/28/22
Another up week for broad market as Russia–Ukraine conflict passes one-month mark.
---
03/24/22
Social media stock illustrates real-time considerations for options straddle traders.
---
03/23/22
The stock market volatility barometer made an unusual move the past several days.
---