Online marketplace gets a bid
ETSY jumped more than 4% intraday despite broad-market weakness
Heavy volume in ETSY October options
Stock off from March record as it invests in new initiatives
On what was a very quiet day for the stock market, there was a lot going on in the world of online niche marketplace Etsy (ETSY) yesterday:
1. The stock rallied more than 4% intraday.
2. Somebody (or somebodies) traded a whole bunch of options.

Also, yesterday's rally just happened to follow Friday's 4.2% drop to $47.98, the stock's lowest closing price since January 3: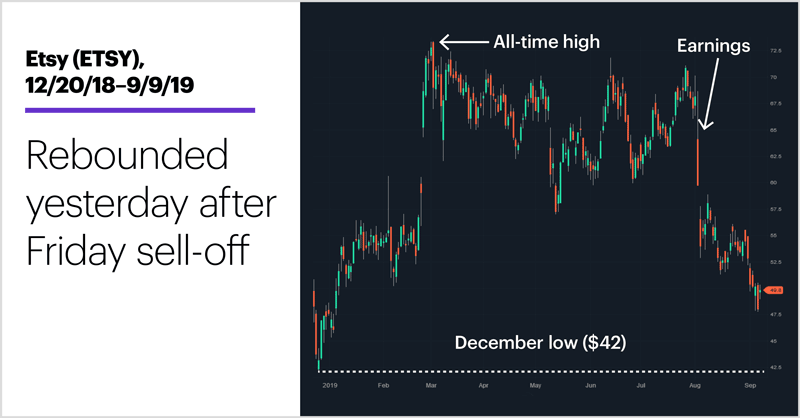 Source: Power E*TRADE
---
That left the stock around $8 above its December low of $42, but down roughly $23.50 (33%) from its March all-time high of $73.34, a retracement that got some gasoline thrown on it in early August when Etsy released earnings and lowered its outlook for the year.1
On the options side, a LiveAction scan showed put option volume was 759% of its average rate early in the trading session, with more than 9,000 puts—representing around $36,000,000 worth of ETSY—changing hands: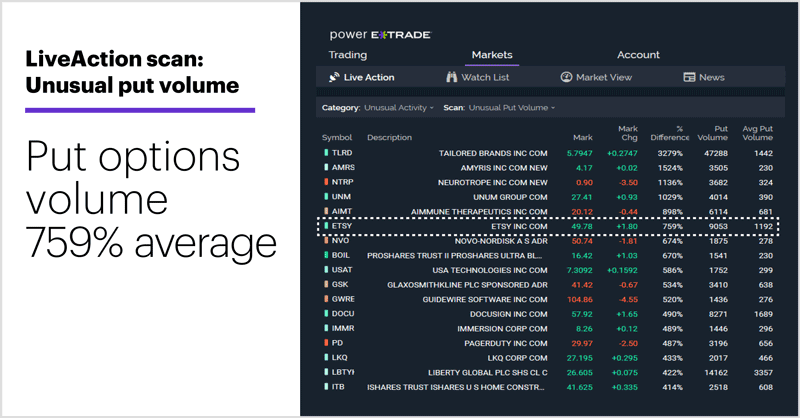 Source: Power E*TRADE
---
Since puts give their owners the right (but not the obligation) to sell the underlying stock, this type of activity may appear to be bearish at a glance.
Glance again. The options chain showed (as is often the case) this volume wasn't necessarily what it may have initially looked like. In this case, 8,400 of the 9,053 contracts that traded consisted of traders getting out of the October $40 puts: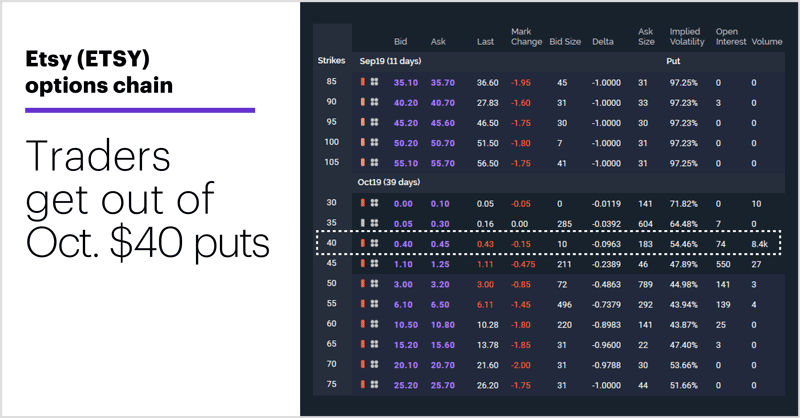 Data source: Power E*TRADE
---
How do we know traders were getting out of these options rather than getting into them? Because even though 8,400 of them changed hands, there were only 74 open positions, as shown in the Open Interest column immediately to the left of the volume. That means there were more positions in the $40 put options earlier in the day, but the day's big prints closed them out.
Maybe a large trader (or traders) who bought these options a while ago cashed in on an already profitable position, perhaps anticipating a rebound that would cut into those profits. Maybe not. But the combination of the stock rally and the not-so-bearish-after-all options story may have caught the eyes of traders looking for a formerly hot stock to return to form. In fact, the bulk of ETSY's open options positions—and most of yesterday's volume aside from the big put option trade—was in September call options with strike prices above the current stock price.
One reason some bulls may be looking for advantageous entry points is that ETSY's lowered outlook was arguably fueled by its decision to make investments that could weigh on its near-term bottom line. The company has launched several new features recently, including a new ad platform to help sellers (who pay for the service) reach shoppers, free shipping on orders over $35, and the acquisition (for $275 million in cash) of a vintage musical instrument marketplace.2
If it sounds like small potatoes compared to Amazon—well, doesn't everything? But last quarter 43 million buyers and 2.3 million sellers accounted for $1 billion in gross merchandise sold (GMS) on Etsy, a 21% year-over-year increase.3
While yesterday's rally doesn't rule out a test of the December low, it does raise the possibility that bulls may be again pointing their horns in the stock's direction.
Market Mover Update: HealthEquity (HQY) jumped more than 4% yesterday, extending the stock's rally off its September 4 low (see "Back in the zone").

Today's numbers (all times ET): NFIB Small Business Optimism Index (6 a.m.), JOLTS (10 a.m.).
Today's earnings include: HD Supply (HDS), RH (RH), Dave & Buster's (PLAY).
Click here to log on to your account or learn more about E*TRADE's trading platforms, or follow the Company on Twitter, @ETRADE, for useful trading and investing insights.
---
1 Barron's. Etsy Stock Falls After It Trims Its Profit Outlook. 8/2/19.
2 TipRanks. Stifel Nicolaus Says Buy the Dip in Etsy and Wayfair Stock. 8/27/19.
3 Motley Fool. Why Etsy Is a Good Investment. 9/7/19.
What to read next...
09/09/19
Market breaks out of trading range, climbs closer to former records.
---
09/06/19
Tracking momentum: Which stocks contributed the most when the indexes pushed out of their recent trading ranges yesterday?
---
09/05/19
Options activity and an intraday price reversal signal potential importance of support level.
---