On the road again
Auto-supply and used-car stocks on a roll since March
Summer travel season heating up
Gold tops $1,800 for the first time since 2011
There's more than one way to get out of your house.
Everyone knows the travel industry has been one of the hardest-hit areas of the economy in recent months—and it's been left for dead by many investors, as airline, cruise, and hotel stocks have struggled to keep pace with the rest of market during the March–July rebound.
One chart pretty much sums up the situation. American Airlines (AAL), Delta Air Lines (DAL), and United Airlines (UAL)—all of which sold off much more than the broad market in February–March—have rallied less than half as much as the S&P 500 (SPX) since March 23, despite a massive jump off their mid-May lows:
Source: Power E*TRADE
---
That's just one part of the "travel" story, though. Some analysts have pointed out that Americans desperate for even the smallest change of scenery may be hitting the road in larger-than-expected numbers, which could be good news for auto parts and supply stocks.1
Some of the high-profile names in this business have already mounted some serious rallies off their March lows. In stark contrast to the picture presented by airline stocks, the following chart shows Advance Auto Parts (AAP), O'Reilly Automotive (ORLY), and AutoZone (AZO) have all lapped the S&P 500 (SPX) over the past 14 weeks:
Source: Power E*TRADE
---
While these stocks may not be the sexiest tickers on a trader's screen, they've all topped the SPX by at least 13 percentage points since late March, even though they've been pulling back or trading sideways since mid-June (they've all outperformed the Nasdaq 100 since March, too). In fact, many bullish traders may be looking for some of these stocks to give back even more of their rallies before attempting to catch another potential upswing.
Another angle to this story is the increased popularity of used cars, which was gaining attention last year and appeared to be kicking into an even higher gear early in 2020.2 (Reports of sky-high demand recently led some industry watchers to advise potential buyers to wait for the market to cool down.3)
In addition to potentially supporting the longer-term bull case for auto-supply stocks (more used cars means more things that need to be fixed), it also has implications for another potentially overlooked group of stocks: When you get a chance, check out the charts of used-car specialists Sonic Automotive (SAH) and CarMax (KMX)—both have staged huge rallies off their March lows, while second-hand auto newcomer Vroom (VRM) has performed solidly since its IPO a month ago.
A medal for metals: Gold topped $1,800/ounce for the first time since November 2011 yesterday, capping a nearly $130 rally since June 5. August gold futures (GCQ0) rallied as high as $1,829.80, extending their upside breakout with a second straight new contract high. But as the following chart shows, silver and platinum have actually outshined gold over the past couple of weeks: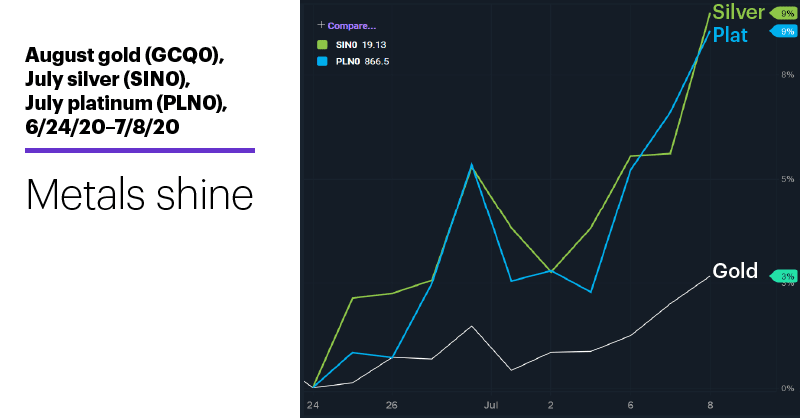 Source: Power E*TRADE
---
Market Mover Update: DraftKings (DKNG) continued to test the first retracement level of its 300% March–June rally (see "The name of the game"). Zscaler's (ZS) new record close yesterday ran the cloud-security stock's rally to more than 55% since May 20.
Today's numbers (all times ET): Jobless Claims (8:30 a.m.), Wholesale Trade (10 a.m.).
Today's earnings include: WD-40 (WDFC).
Click here to log on to your account or learn more about E*TRADE's trading platforms, or follow the Company on Twitter, @ETRADE, for useful trading and investing insights.  
---
1 CNBC.com. These two stocks could be best play on summer travel, market analysts say. 6/18/20.
2 Zacks. U.S. Used-Vehicle Market Red Hot: Stocks to Watch Out For. 1/6/20.
3 Consumer Reports. You May Want to Hold Off on Buying a Used Car. 7/1/20.