Bubble, bubble, oil and trouble
Oil futures tumble 34% intraday as Saudis slash prices
Move seen as retaliation for Russia's rejection of production cuts
Other large one-day crude sell-offs sometimes followed by rallies
If you want to understand what happened in the stock market yesterday, all you have to do is go back to what happened in the crude oil market on Friday, when black gold sold off 10%.
That move didn't come out of nowhere. Russia broke from the Organization of Petroleum Exporting Countries (OPEC), refusing to go along with the production cuts urged by Saudi Arabia and its partners to combat falling oil prices.1 Boom.
Then, over the weekend, the Saudis dropped a bombshell by slashing their crude oil prices. Double boom.
While there are many moving parts to the situation, here's what it really boils down to:
Russia: We're tired of getting pushed around by OPEC, and if we want to sell oil cheaper (putting the screws to US shale producers in the process), we will.
Saudi Arabia: Oh yeah? If you're so eager for lower oil prices, watch this!
In other words, we have an oil–price war. OPEC wasn't expecting Russia to go rogue, and Russia may not have anticipated the Saudi response, or at least its magnitude. And it all caught oil traders off guard, as the price action attests: Oil futures collapsed in the wee hours of Monday morning, with the April contract (CLJ0) diving 34% to $27.34 before recovering somewhat during the day:
Source: Power E*TRADE
---
It was oil's biggest intraday down move since January 1991, the outset of the first Gulf War. While the market cut its losses to around 24% by 3 p.m. ET, it was still shaping up to be one of the biggest down days for crude in the past 35 years.
While no one knows how long a price war could last, or who will blink first, the following table shows the six largest one-day crude sell-offs since 1986,2 and how much the market was up or down one week, two weeks, one month, and three months later: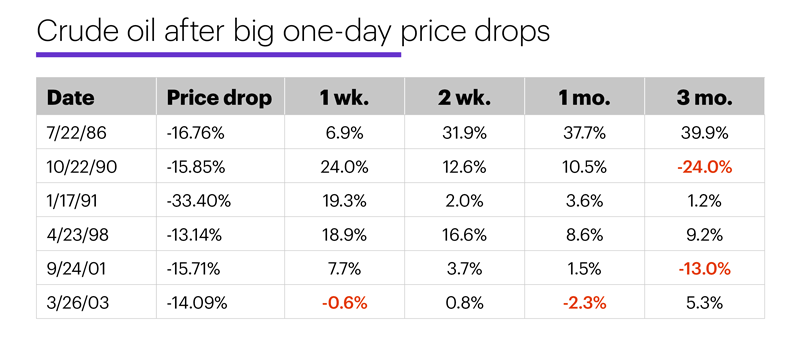 Source: Power E*TRADE
---
Although this is a small sample, each situation was different, and today's market still has the coronavirus wild card attached to it, oil rebounded in the first few weeks from the majority of these shocks, although the ride was usually a volatile one.
The crude move also shook an already rattled equity market, which had escaped last week's volatility with a small gain. But traders were in no mood for new surprises: In the first five minutes of trading on Monday, the S&P 500 (SPX) dropped 7% below Friday's close, triggering the first of three "circuit breakers" designed to slow down the market: Trading was halted for 15 minutes, after which stocks did, in fact, pare their losses—for a while, until the market fell to fresh lows in the afternoon.
It was the SPX's worst day (-7.6%) since December 2008. At its low (2,734.43), the SPX was down 19.25% from its February 19 record close:
Source: Power E*TRADE
---
The chart also highlights why some traders pay attention to Fibonacci retracement levels: The February 28 low bottomed around the 50% retracement of the December 2018–February 2020 rally (the SPX bounced nearly 10% off that low in 72 hours), while yesterday's low was near the 61.8% retracement level.
Fun Fib Fact: Although it's not as commonly referenced, some traders also watch the 78.6% retracement level, which in this case would be around 2,574.
Finally, when the SPX dropped below its February 28 low yesterday, the Cboe Volatility Index (VIX)—the stock market's "fear gauge"—hit its highest level (62.12) since December 2008. Many traders look for potential stock market bottoms when the SPX falls below a previous low (in this case, February 28) while the VIX makes a lower high, which suggests investors are less fearful despite even lower equity prices (for instance, compare the SPX and VIX levels in August 2011 and October 2011).
For the record, that didn't happen yesterday, which could mean the fear hasn't worked its way entirely out of the market yet.
Today's numbers (all times ET): NFIB Small Business Optimism Index (6 a.m.), Eurozone GDP (6 a.m.).
Today's earnings include: Dick's Sporting Goods Inc (DKS), Momo Inc (MOMO), PetIQ Inc (PETQ).
Click here to log on to your account or learn more about E*TRADE's trading platforms, or follow the Company on Twitter, @ETRADE, for useful trading and investing insights.  
---
1 Bloomberg.com. Putin Dumps MBS to Start a War on America's Shale Oil Industry. 3/7/20.
2 Based on daily closing prices for spot crude oil, 1986–2020. Supporting document available upon request.
What to read next...
03/09/20
Volatility reigns as market fights to stay above late-February lows.
---
03/06/20
Airlines have led the market to the downside during the coronavirus scare. Can they lead it back up?
---
03/05/20
There may be more than one way to play potentially overdone market swings.
---