Oil pivot
Crude oil futures dropped sharply, rallied to close up more than 3%
Day-after price action following similar "spikes" a valuable indicator
Stock market followed historical election-year pattern yesterday
Early on it was business as usual, as December WTI crude futures tumbled more than 5% to a roughly five-month low of $33.64/barrel. Yesterday really jumped out because it bottomed more than 4% below Friday's low, but then screamed higher to close up more than 3% on the day, above $37:
Source: Power E*TRADE
---
The chart highlights six other days oil spiked at least 4% below the previous day's low and rallied to close in the upper half of the day's range (if not necessarily above the previous day's close). The implication of this type of price action is it represents an intraday change of trader sentiment from bearish to bullish.
Whether it extends any further than that day is another story. But the first three and last three examples have an important difference:
1. In April, May, and July, the sell-off day was followed by a day that didn't trade below the middle of the sell-off day's range. The result: additional upside over the next few weeks.
2. In August, September, and October, the market traded below the middle of the sell-off day's range the next day (below its low in two cases, in fact). The result: more selling over the next few weeks.
Bottom line, days like yesterday can convince some traders that the market has put in at least a temporary low, but the price action the day after may be a better indicator of whether the short-term outlook is boom or bust.
Short-term election patterns. Surprised by yesterday's SPX rally? Other than being larger than average, a pre-election up day has pretty much been par for the course over the past seven decades or so. Since 1952, the SPX has rallied the day before election day 82% of the time (14 out of 17 times)—including a 2.2% surge in 2016 (make of that what you will).1
That's not the only interesting short-term market pattern that has appeared around presidential elections, either. The day after election day has been more bearish than average—down 10 out of 17 times since 1952, and six out of nine since 1984.
Why highlight results since 1984? Well, because before that, election day was a market holiday (but not a national holiday), which means there have been only nine years since 1952 where people could both trade and vote on election day.
Maybe casting a vote puts people in a good mood, because the SPX gained ground on election day seven out of nine times: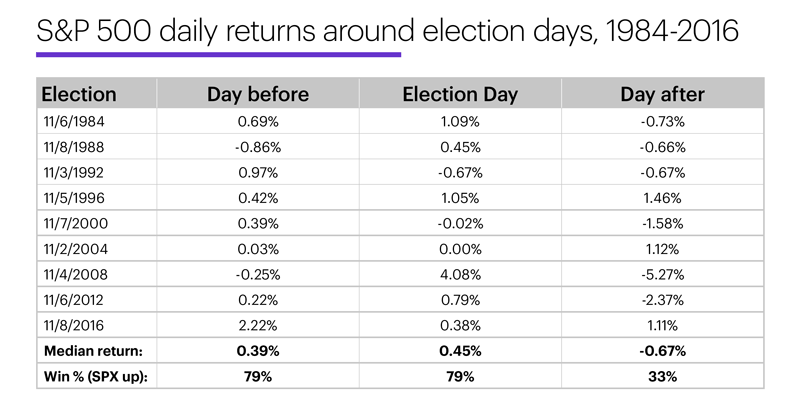 Source: Power E*TRADE
---
Overall, fairly consistent, considering this period encompasses six different presidents and five party changes over the course of nine elections.
Market Mover Update: While SAP (SAP) has kept falling since its earnings disappointment, Roper Technologies posted its third-straight up day on Monday (see "Earnings, falling knives, and floors").
Wynn Resorts (WYNN) has bounced nearly 10% since testing (for at least the sixth time since June) its longstanding support level last Wednesday (see "Laying out the cards").
Today's numbers (all times ET): Factory Orders (10 a.m.), Election Day.
Today's earnings include: Johnson Controls (JCI), Emerson Electric (EMR), Humana (HUM), LGI Homes (LGIH), Wayfair (W), R1 RCM (RCM).
Click here to log on to your account or learn more about E*TRADE's trading platforms, or follow the Company on Twitter, @ETRADE, for useful trading and investing insights.  
---
1 Reflects S&P 500 (SPX) daily prices, 1952–2020. Supporting document available upon request.
What to read next...
11/02/20
S&P 500 ends October with its worst week since March, approaches key support.
---
10/30/20
Amid a surge in options volume, a sell-off drops stock to levels that will likely trigger alerts on many trading screens.
---
10/29/20
Wednesday's sell-off cleared the market's path to a technical level that many traders may see as a tipping point.
---