Oil market highlights support level
Crude oil has traded in choppy range for more than two months
Prices have repeatedly bounced off support level around $86
Market rebounded Monday amid OPEC announcement
It's no secret that the S&P 500 energy sector's roughly 67% gain over the past year—more than 10 times the size of the rally in the only other sector (utilities) in positive territory over that stretch—occurred alongside a surge in crude oil prices.
It's been less of a one-way market in recent months, though. After nearly doubling off its December 2021 low around $61/barrel, October WTI crude oil futures pulled back as much as $25 from their June high. Since then, it's swung up and down in a roughly $12 trading range: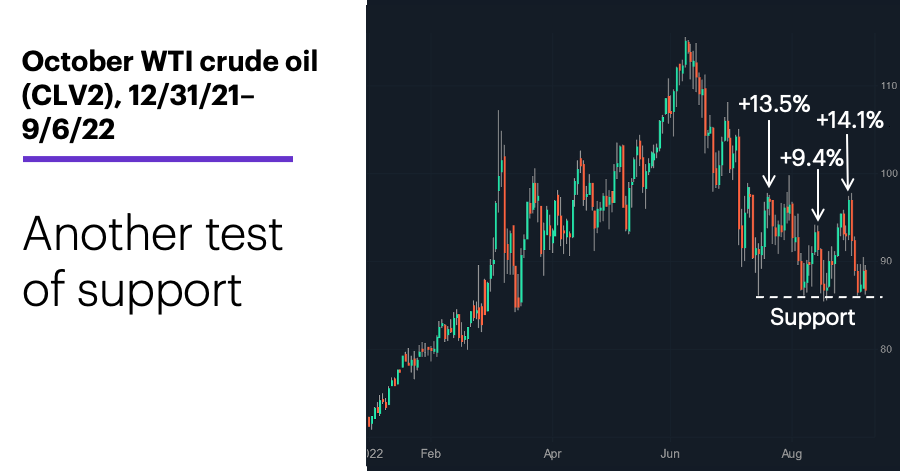 Source: Power E*TRADE. (For illustrative purposes. Not a recommendation.)
---
The lower boundary of that range (roughly $85.50–$86) may be especially interesting to energy traders, since this zone has functioned as a well-defined support level—prices have rebounded off it three times over the past two months.
While bulls are likely aware the market has rallied 13.5%, 9.4%, and 14.1% the last three times it retreated to this level, traders will also be watching for any signs of potential weakness that could lead to a downside breakout.
Before discussing why, it's important to note there's nothing magical about support or resistance. They simply represent price levels traders and investors repeatedly buy or sell at over time. In this case, for example, we know traders "supported" the market when prices fell into that $85.50–$86 zone because the market clearly pivoted to the upside on three separate occasions since mid-July.
Why traders kept buying at this level is a different story. Markets are made up of many participants, all with different motivations, goals, and time frames. Regardless, when a market continues to bounce off support, it can encourage more traders to buy the next time prices drop to that level, in anticipation of another up move.
The pattern repeats until the level is definitively broken—either by prices falling significantly below it, or remaining below it more than temporarily. When that happens, buyers may get out of their long positions, or even switch to the short side.
A key aspect of this process is that some traders who buy at a support level may place stop-loss sell orders a little below it to protect themselves from large losses. This can fuel momentum if a downside breakout does, in fact, occur. Throw in the prospect of new sellers entering the market (including those who may be intentionally attempting to trigger stop orders), and there's the potential for a swift, sharp down move.
That dynamic may have played out in Disney (DIS) last year as the stock established a multi-month support level around $168 before gapping down more than 7% on November 11 and falling an additional 12.4% over the next 13 days: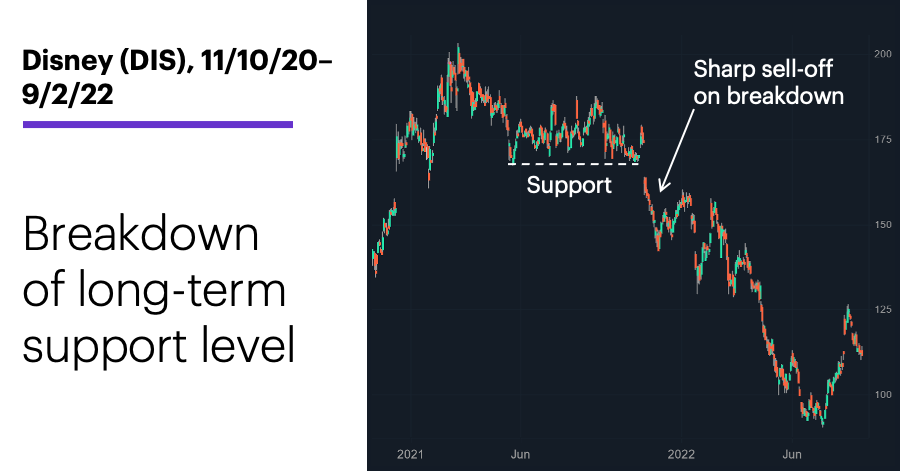 Source: Power E*TRADE. (For illustrative purposes. Not a recommendation.)
---
That doesn't mean oil is destined to break below its current support in the near future, or remain below it for long if it does. Crude oil's 3%-plus intraday rally on Monday unfolded as OPEC and its allies announced a token (100,000 barrel/day) oil production cut beginning in October1—in essence, a reversal of its token 100,000 barrel increase announced last month. If nothing else, the DIS chart provides an example of how long—five months, in this case—such a level can persist.
But that doesn't mean short-minded traders won't continue to monitor this level and trade around it in the future.
Today's numbers include (all times ET): S&P Global Services PMI (9:45 a.m.), ISM Services Index (10 a.m.).
Today's earnings include: Guidewire Software (GWRE), HealthEquity (HQY), Coupa Software (COUP), GitLab (GTLB), Path (UiPath).
Click here to log on to your account or learn more about E*TRADE's trading platforms, or follow the Company on Twitter, @ETRADE, for useful trading and investing insights.
---
1 APnews.com. OPEC+ makes small trim to world oil supplies as prices fall. 9/4/22.
What to read next...
09/06/22
Stocks give back more than half of summer rally, will begin new week near six-week lows
---
09/01/22
Rangebound restaurant stock experiences a spike in call options volume.
---
08/30/22
September has had its share of surprises for stock traders and investors.
---