Oil makes a push
Oil futures tagged highest high since March 18
Will traders attempt to build on "mini-breakout?"
Cloud stock approaches key earnings release
While some commodity markets have been on a roll recently—grains, lumber, and industrial metals immediately come to mind—the most actively traded commodity of them all, crude oil, has been in a bit of a funk.
After hitting a contract high of $67.29/barrel on March 8, June WTI crude oil futures (CLM1) pulled back 15% before forming a large triangular consolidation, trading almost entirely between $57 and $66: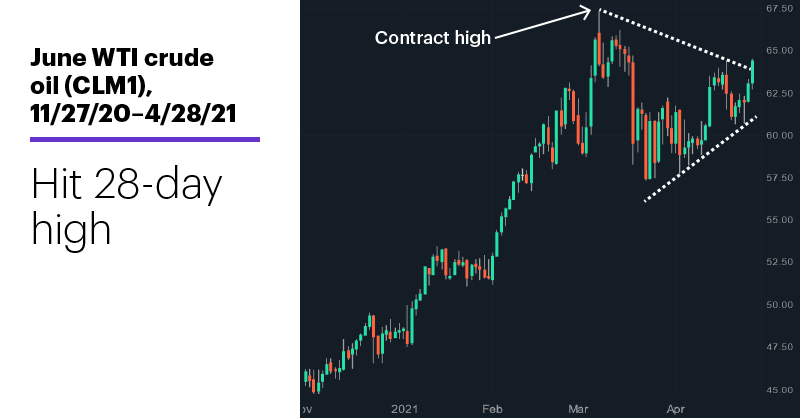 Source: Power E*TRADE
---
This week's probably been a little more interesting for oil traders, though. Yesterday's 2.4% intraday rally, which followed a pivot off Monday's low and a solid gain on Tuesday, pushed prices out of the top of the consolidation to their highest level ($64.53) in nearly six weeks, and within 5% of the contract high.
The bounce has unfolded amid some signs of confidence in future demand: The Organization of the Petroleum Exporting Countries (OPEC) reaffirmed their commitment to gradually increasing production,1 while the Energy Information Agency's (EIA) weekly petroleum status report showed a big decrease in oil distillates (mostly gasoline) supplies, with more trucks roaring across interstates amid a rebound in freight delivery.2
While Wednesday's "breakout" was hardly definitive (prices later dropped back below $64), it was nonetheless part of the market's second-biggest upswing in seven weeks. Earlier this month, the EIA noted that while it still expects COVID-19 to affect petroleum markets this summer, it doesn't think it the impact will be as significant as it was last summer, while rising vaccination rates and fiscal stimulus are poised to support the bullish side of the market.3
In the meantime, traders will be watching to see if the market can build on yesterday's momentum.
And while we're on the topic of triangular consolidations… One of 2019's higher-profile IPOs, cloud-tech stock Fastly (FSLY), has been coiling in a progressively tighter range over the past several weeks, with earnings due out next Wednesday (May 5):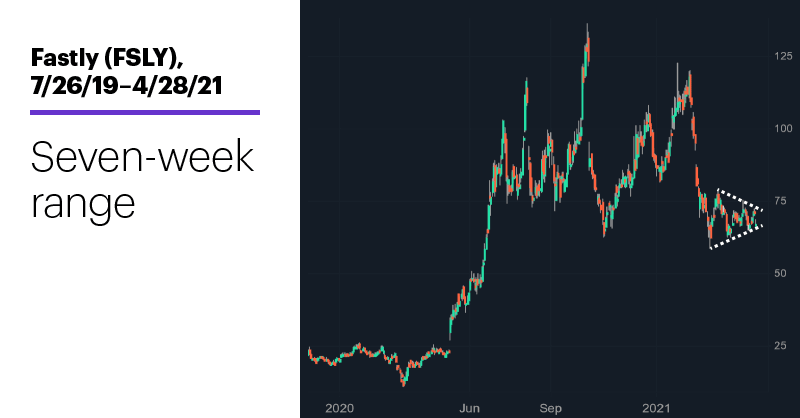 Source: Power E*TRADE
---
The company only has seven earnings releases under its belt, but traders anticipating the stock's next move may be consulting the results of those announcements: While the options market is currently pricing in an approximately 13% earnings-day price move, the stock's actual average move has been 15.5%, with six down moves and one up move.
Market Mover Update: Unitil's (UTL) appearance on yesterday's LiveAction scan for biggest gainers (+16% intraday) coincided with the stock being added to the S&P 600 SmallCap index (see "Index effect" helps small cap go big").
Today's numbers include (all times ET): GDP (8:30 a.m.), Jobless Claims (8:30 a.m.), Pending Home Sales Index (10 a.m.).
Today's earnings include: Amazon.com (AMZN), Bristol-Myers Squibb (BMY), Baxter (BAX), Merck (MRK), Hershey (HSY), McDonald's (MCD), Caterpillar (CAT), Newmont (NEM), Northrop Grumman (NOC), Keurig Dr. Pepper (KDP), First Solar (FSLR), Mastercard (MA), Nio (NIO), Twitter (TWTR).
Today's IPOs include: Endeavor Group (EDR), Fortegra Group (FRF).
Click here to log on to your account or learn more about E*TRADE's trading platforms, or follow the Company on Twitter, @ETRADE, for useful trading and investing insights.
---
1 MarketWatch.com. Oil prices head for a 6-week high on OPEC+ confidence, U.S. gasoline demand. 4/28/21.
2 Bloomberg.com. Oil Climbs With U.S. Demand Bump Driving Global Rebound Optimism. 4/28/21.
3 Oil and Gas Journal. EIA: Summer fuels markets to improve amid uncertainties. 4/8/21.
What to read next...
04/28/21
Luxury stock's options highlight interesting price discrepancies during key trading period.
---
04/27/21
Will this household-name stock's earnings announcement break it out of its range?
---
04/26/21
Market just misses fifth-straight up week despite capital-gains bombshell.
---