Oil, energy, and FOMO
Crude oil up roughly 60% in 2022
Energy sector has been S&P 500 standout
Oil's price swings this year highlight advantages of patience
While no one has enjoyed the pain at the pump, the rallies in energy futures and stocks have no doubt been a bright spot for traders and investors lucky enough to have gotten in on these moves in their early stages.
For stock bulls, the pickings have been slim in 2022: Energy is one of only two S&P sectors in positive territory for the year (the other is utilities). Of course, that narrowly focused upside could increase the possibility that over-eager traders and investors will chase these stocks for Fear Of Missing Out (FOMO).
Or, perhaps more accurately, "FOMOO" (Fear Of Missing Out on Oil), because in the energy space, all roads eventually lead to oil. As of yesterday morning, July WTI crude oil futures (CLN2) and the S&P energy sector were both up more than 60% for the year, while the S&P 500 (SPX) was down roughly 13%: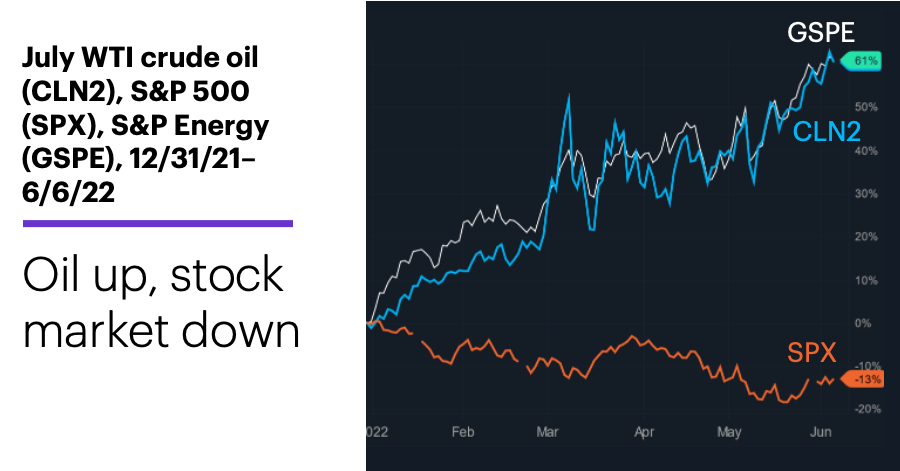 Source: Power E*TRADE. (For illustrative purposes. Not a recommendation.)
---
Although individual oil companies do not always move in lockstep with oil, it's not too much of a stretch to say that (so far this year), as goes oil, so goes the energy sector. And while oil prices near $120/barrel are at a level few analysts expected a year ago, Morgan Stanley & Co. analysts recently commented on the potential for more upside.
In a nutshell, on one side of the ledger Morgan Stanley points out the reduced demand because China has been buying less oil (amid shutdowns stemming from its zero-COVID policies), along with concerns about a larger economic slowdown. But on the other side of the equation, it sees the loss of Russian oil on the market—a trend it expects to accelerate in the second half of the year—as an even bigger constriction on supply.1
Translation: The reduction in oil supply will be bigger than the reduction in demand, hence their Q3 target price of $130/barrel for European Brent crude oil, which is currently trading around $118/barrel.  That's a little more than $1/barrel above US WTI crude oil, which closed last Friday at its highest weekly close since July 2008—the month crude hit its all-time high: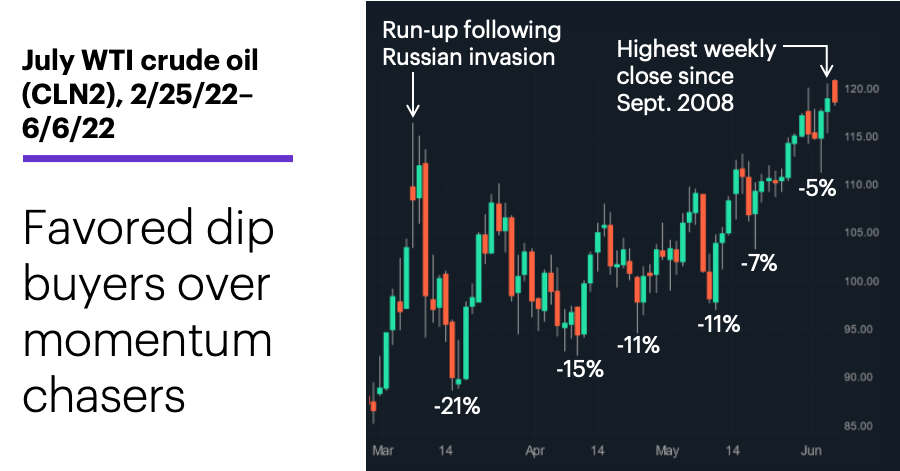 Source: Power E*TRADE. (For illustrative purposes. Not a recommendation.)
---
But as the chart shows, while July WTI crude oil futures rallied 38% between February 25 and last Friday (a period during which the SPX fell 6.3%), it was far from a straight line. The percentages show how much the market pulled back from each of its swing highs—never less than 5%, and as much as 21%.
For all its net gains, this has not been a market that has rewarded momentum chasers this year. It may have more upside for bulls, but if this chart is any indication, not the ones who charge in recklessly.
Market Mover Update: On Monday, the big movers in the energy space weren't petroleum stocks, but rather their "clean" cousins: Several solar stocks, including Sunrun (RUN), SolarEdge (SEDG), and SunPower (SPWR), rallied 3% or more amid reports that the White House was planning to support US solar panel production by instituting a 24-month exemption from solar panel tariffs, among other policies.2
Today's numbers include (all times ET): International Trade Balance (8:30 a.m.), Consumer Credit (3 p.m.).
Today's earnings include: J.M. Smucker (SJM), United Natural Foods (UNFI), Cracker Barrel (CBRL), Dave & Buster's (PLAY), Verint Systems (VRNT), Casey's General Stores (CASY).
Click here to log on to your account or learn more about E*TRADE's trading platforms, or follow the Company on Twitter, @ETRADE, for useful trading and investing insights.
---
1 MorganStanley.com. Midyear Outlook: European Energy & Growth Challenges. 5/19/22.
2 Reuters. Exclusive: Biden to waive tariffs for 24 months on solar panels hit by probe. 6/5/22.
Important note regarding economic sanctions. This event may involve the discussion of country/ies which are generally the subject of selective sanctions programs administered or enforced by the U.S. Department of the Treasury's Office of Foreign Assets Control ("OFAC"), the European Union and/or by other countries or multi-national bodies. The content of this presentation is for informational purposes and does not represent Morgan Stanley's view as to whether or not any of the Persons, instruments or investments discussed are or may become subject to sanctions. Any references in this presentation to entities or instruments that may be covered by such sanctions should not be read as recommending or advising on any investment activities involving such entities or instruments. You are solely responsible for ensuring that your investment activities in relation to any sanctioned country/ies are carried out in compliance with applicable sanctions.
What to read next...
06/06/22
Stocks pull back, oil jumps as markets move into June.
---
05/31/22
Stocks have a shot at a positive month after stopping seven-week skid.
---
05/26/22
No one likes to hear "bear market," but those words may contain as much good news as bad.
---