Oil on full boil
Crude oil up more than 60% this year
Energy sector is sole positive S&P 500 sector
Market reaction to US ban of Russian imports minimal
So far this year, the stock story has been a Tale of Two Markets—energy, and everything else. While the S&P 500 (SPX) energy sector was sitting on a nearly 40% year-to-date gain as of Tuesday, every other sector was in the red and the SPX was down more than 10% for year.
Of course, the SPX energy sector is about oil, not coal or green energy (although many of those stocks have been on the move, too), and crude oil has rallied more than 65% so far this year. Halfway through yesterday's trading session, April WTI oil futures (CLJ2) were up more than 30% in just the past nine trading days: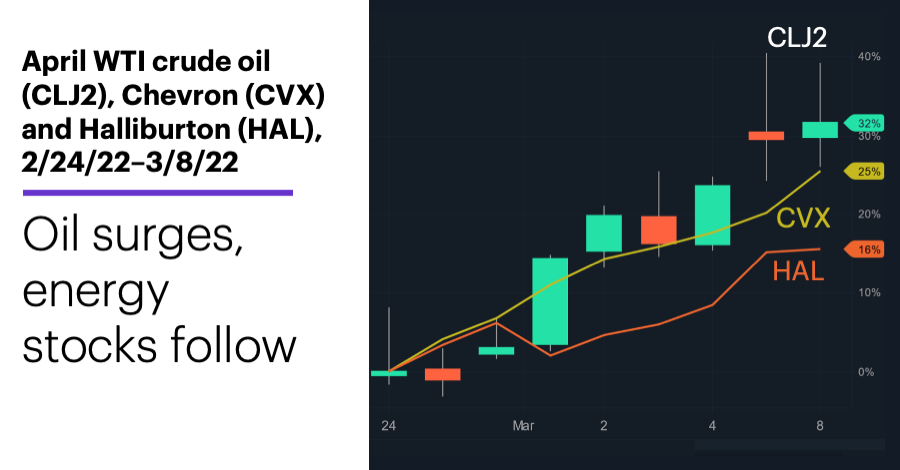 Source: Power E*TRADE. (For illustrative purposes. Not a recommendation.)
---
As the chart shows, oil stocks—represented here by Chevron (CVX) and Halliburton (HAL)—have soared along with oil, as the Russian invasion of Ukraine raised concerns about potential supply disruptions.
And yesterday brought news that would seem to keep the upside pressure on the oil market: The White House announced the US was banning petroleum imports from Russia. Although the move was, as President Biden noted in his announcement, intended to punish Russia for its military aggression,1 it comes with a cost—potentially squeezing the market at the center of inflationary pressures, and which was already approaching record levels before the ban. Two points traders may be considering:
1. The US is not a major importer of Russian crude oil. As of 2020, the most recent data available, the US bought most of its imported oil (more than 60%) from Canada, followed by Mexico, Saudi Arabia, Colombia, and Iraq.2
Although from this perspective it may not seem like losing Russian crude oil would make that much of a difference in the US, crude oil is a global market, and shortages in one part of the world (Russia is the third-largest oil producer) can affect prices everywhere. And the story is much different for Europe, which gets approximately 30% of its crude oil and 40% of its natural gas from Russia.3 That raises a second point:
2. So far, the US is the only major country to ban Russian oil imports. (The UK is reportedly preparing to ban Russian crude oil, but not other Russian petroleum products.4)
This could, as some analysts have noted, limit the tactical effectiveness of the ban since, in the absence of a wider boycott of Russian oil, it's possible the move could enable Russia to sell oil at even higher prices.
Many traders likely watched April WTI crude oil futures (CLJ2) rally to $129.44/barrel on Tuesday morning, approaching the Sunday night high of $130.50 shortly before President Biden announced the ban. But the market quickly gave back more than half the day's gain after the speech concluded:
Source: Power E*TRADE. (For illustrative purposes. Not a recommendation.)
---
It would be foolish to read too much into a few hours of trading, but this intraday "Buy the rumor, sell the news" decline was a reminder that markets don't always move the way traders and investors expect them to based on the headlines. Just as the situation itself in Ukraine has more question marks than answers, so do the trajectories of crude oil and energy stocks. The market has already exceeded the levels even enthusiastic oil bulls were forecasting just two or three months ago.
To reduce risk, traders and investors attempting to maneuver in the oil space can take a first step toward reducing risk by separating politics and emotion from the market, and getting a handle on its fundamentals.
Market Mover Update: Two stocks that have sold off sharply in recent weeks bounced on Tuesday. PVH Corp. (PVH) gained 3.5% (see "Sell-offs and support"), while EPAM Systems (EPAM) rallied 6.8% intraday—only its third up day of the past three weeks (see "Sell-offs: Buying stock vs. options").
Today's numbers include (all times ET): Mortgage Applications (7 a.m.), JOLTS (10 a.m.), EIA Petroleum Status Report (10:30 a.m.).
Today's earnings include: Gatos Silver (GATO), United Natural Foods (UNFI), Thor Industries (THO), Campbell Soup (CPB), Fossil Group (FOSL).
Click here to log on to your account or learn more about E*TRADE's trading platforms, or follow the Company on Twitter, @ETRADE, for useful trading and investing insights.
---
1 APnews.com. Biden bans Russian oil, warns of 'Putin price hike' at pump. 3/8/22.
2 U.S. Energy Information Administration (eia.gov). Oil and petroleum products explained: Oil imports and exports. 4/13/21.
3 USA Today. Biden announces ban on all Russian energy imports over Ukraine invasion; experts expect gas price spike. 3/8/22.
4 Bloomberg.com. U.K. Plans to Ban Russian Oil Imports in New Sanctions Move. 3/18/22.
What to read next...
03/07/22
Stocks stall week after Russian invasion, commodities jump.
---
03/04/22
Longtime traders may see something other than inflation at work in the gold market.
---
03/03/22
A tech stock's recent move underscores some of the key factors options traders need to keep in mind about volatility.
---