Checking in on October
S&P 500 started October with biggest two-day drop since Aug. 5
Consecutive down Octobers and Q4s are relatively uncommon
Some of the market's biggest up moves have occurred in October
Welcome to October!
With the first two days of the month living up—check that, down—to investor expectations, and with last year's brutal Q4 not quite a distant memory, some bulls may be revisiting a familiar feeling of discomfort.
Time for a reality check. So far, at least, this has pretty much been par for the October course.
As of yesterday, the S&P 500 (SPX) had fallen more than 3% to start the month, dropping the index to a trendline connecting the June and August lows: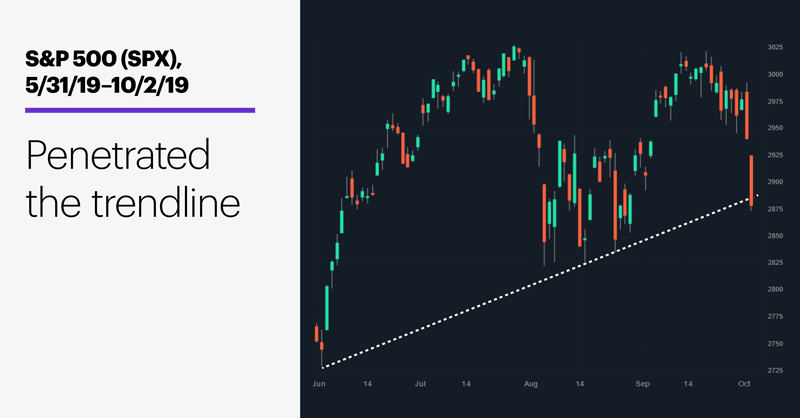 Source: Power E*TRADE
---
It's horrible reputation for sell-offs notwithstanding, October's long-term track record of being a net bullish month for the stock market is so well documented that we won't go into much detail here. If you're looking for a quick refresher, check out the "October prep talk" section of "Stocks process latest Washington drama." Long story short, October tends to be a volatile month, but it's an up month more often than a down one, and when it's up, its typical gain is bigger than most other months.1
Here are a couple of other insights about October and the fourth quarter:
1. More often than not, October sell-offs have been buying opportunities.
2. Since 1959, there have been only two separate instances of consecutive negative fourth quarters for the S&P 500 (SPX): the three-year run from 1977–1979, and 2007–2008. The eight other negative Q4s were all followed by positive Q4s the following year.
Again, with last year's October/Q4 debacle still fresh in most minds, it's understandable that some would receive statistics about how bullish this time of year tends to be with a certain amount of skepticism. (Fool me once, shame on you, fool me twice…)
Aside from the fact that November has been the US stock market's strongest month by almost any metric—which would imply that October down moves could be good buying opportunities—the following chart may put October in better perspective. It shows the monthly distribution of the Dow Jones Industrial Average's (DJIA) 20 biggest down days (top) and 20 biggest up days (bottom) from 1928 through September 2018: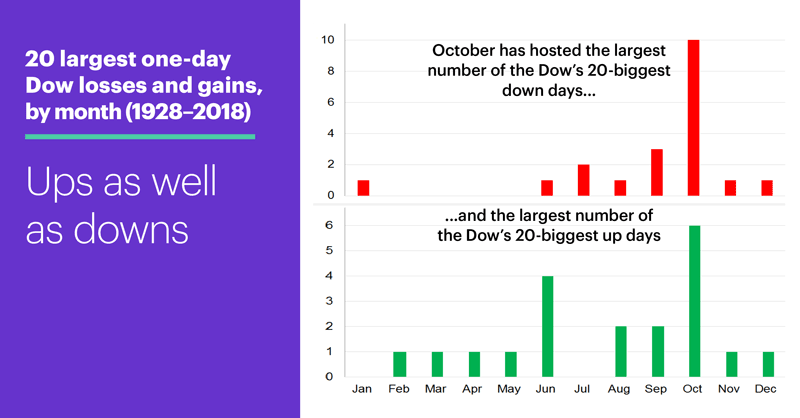 Data source: Power E*TRADE
---
October leads the pack in both cases. The takeaway: Yes, October has had its share of sharp sell-offs, but it's also hosted some sizable rallies—sometimes in the same month, 2014 being a good example. The Dow fell more than 1,100 points (7%) in the first two weeks of October 2014, but then rallied more than 1,500 points (nearly 10%) in the final two weeks, chalking up a 2% gain for the month.
And although there's no guarantee this October won't be a down month, as is the case with Q4s, consecutive negative Octobers have been more of the exception than the rule. The SPX has had 22 down Octobers between 1958 and 2017, 15 of which (68%) were followed by up Octobers the next year.
With those tendencies in mind, many bulls will likely be consulting technical levels (e.g., the August and June lows in the SPX) that may provide support—and a base for a possible rebound—in the event the market continues play the October game.
Today's numbers (all times ET): PMI Services Index (9:45 a.m.), Factory Orders (10 a.m.), ISM Non-Manufacturing Index (10 a.m.), EIA Natural Gas Report (10:30 a.m.).
Today's earnings include: Costco Wholesale (COST), PepsiCo (PEP), Constellation Brands (STZ), Smart Global Holdings (SGH).
Click here to log on to your account or learn more about E*TRADE's trading platforms, or follow the Company on Twitter, @ETRADE, for useful trading and investing insights.
---
1 Supporting document available upon request.
What to read next...
10/02/19
Will ESG tailwinds help favored stocks reach new heights?
---
10/01/19
Apple moves close to a breakout level amid good press.
---
09/30/19
Politics, trade uncertainty highlight a choppy week of market action.
---