Stocks fall to new lows
Market ends week, month, and quarter at new 2022 low
Oil swings, energy sector bounces, dollar hits fresh highs
This week: Jobs, manufacturing data, factory orders
As the calendar flips to October, don't expect many tears from investors as they bid adieu to a punishing September—which, fittingly, ended with the market's sixth down week out of the past seven.
In the process, the S&P 500 (SPX) fell to new lows for the year, closing below its June low on Friday as traders accelerated their selling toward the end of the day:
Source: Power E*TRADE. (For illustrative purposes. Not a recommendation.)
---
The headline: Stocks close out September by falling below summer lows.
The fine print: It may seem like a small victory for bulls, but last week's decline was the smallest of the SPX's past six down weeks. Also, the CBOE Volatility Index (VIX) didn't trade as high last week as it did when the SPX was setting its June lows, an indication the options market was expecting less volatility  even though the stock market was trading lower.
The moves: On Wednesday Acumen Pharmaceuticals (ABOS) jumped 104% to $9.78—one of several biotech stocks in the Alzheimer's space that surged amid Biogen's (BIIB) positive clinical trial results for its Alzheimer's therapy (see "Stock movers," below).1 Also, last week the US dollar index (DXY) hit its highest level (114.78) since May 2002. A strong buck may be great for Americans traveling abroad, but Morgan Stanley Wealth Management points out it also carries economic and market risks, such as pressuring the earnings of US companies with overseas business and making US financial assets less desirable to foreign investors.2
The number: 3. Friday marked the first time since 2009 the SPX has declined for three or more consecutive quarters.
The scorecard: The small-cap Russell 2000 (RUT) lost the least ground last week: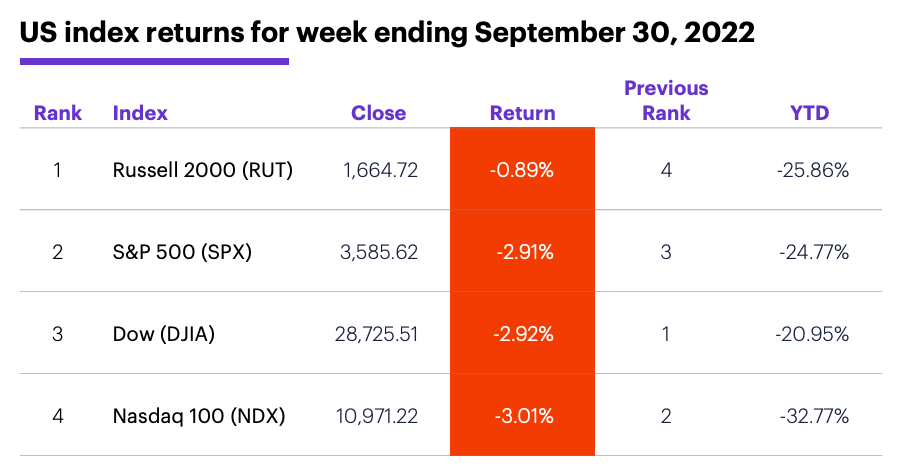 Source (data): Power E*TRADE. (For illustrative purposes. Not a recommendation.)
---
Sector roundup: The strongest S&P 500 sectors last week were energy (+1.8%), materials (-0.7%), and health care (-1.4%). The weakest sectors were utilities (-8.8%), information technology (-4.2%), and consumer staples (-4%).
Stock movers: Prothena (PRTA) +88% to $58 and Biogen (BIIB) +40% to $276.61, both on Wednesday. CarMax (KMX) -25% to $65.15 and Carvana (CVNA) -20% to $21.57, both on Thursday.
Futures: After falling to its lowest level since January 24 ($76.25/barrel) last Monday, November WTI crude oil (CLX2) ended the week slightly higher at $79.67, despite another downturn on Friday. December gold (GCZ2) hit a fresh multi-year low of $1,622.20/ounce on Wednesday, then pivoted to close Friday at $1,670.10. Week's biggest up moves: October VIX (VXV2) +5.1%, September bitcoin (BTCU2) +5.1%. Week's biggest down moves: December hogs (HEZ2) -7.9%, December cotton (CTZ2) -7.8%.
Coming this week
The jobs reports caps a busy first week of the month:
●Monday: S&P Global Manufacturing PMI, ISM Manufacturing Index, Construction Spending, Vehicle Sales
●Tuesday: Job Openings and Labor Turnover Survey (JOLTS), Factory Orders
●Wednesday: ADP Employment Change, Trade Balance, S&P Global Services PMI, ISM Services Index
●Thursday: Challenger Job Cuts report
●Friday: Employment report, Wholesale Inventories

This week's earnings include:
●Monday: Dentsply Sirona (XRAY)
●Tuesday: Acuity Brands (AYI), Smart Global (SGH)
●Wednesday: RPM International (RPM), Lamb Weston (LW)
●Thursday: Constellation Brands (STZ), Conagra (CAG)

Check the Active Trader Commentary each morning for an updated list of earnings announcements, IPOs, economic reports, and other market events.
Three down, one to go
Last week not only wrapped up a rough month for stocks, it also concluded the SPX's longest quarterly losing streak since it fell for six-straight quarters in 2008–2009. Since 1985, the SPX has declined for three or more quarters only three other times.
If we take a deeper dive into Dow Jones Industrial Average (DJIA) dating back to 1930, we find nine other losing streaks of three quarters or more:3 four of them lasted only three quarters (ending in 1930, 1940, 1953, and 1966), two of them lasted four quarters (1938 and 1974), two lasted five quarters (1932 and 1978), and one (ending in June 1970) lasted six quarters.
Click here to log on to your account or learn more about E*TRADE's trading platforms, or follow the Company on Twitter, @ETRADE, for useful trading and investing insights.
---
1 Bloomberg.com. Biogen Rally Adds $11 Billion in Value on Alzheimer's Win. 9/28/22.
2 MorganStanley.com. A Powerful Dollar Could Spell Trouble for Investors. 9/12/22.
3 All figures derived from Dow Jones Industrial Average (DJIA) monthly closing prices, 12/31/27–9/30/22.
What to read next...
09/28/22
The stock market appeared to belly flop on Monday, but looks are often deceiving.
---
09/23/22
Many pandemic-era stock favorites fell out of favor, but one group may have more support than some traders think.
---
09/21/22
Conspicuous options trades may lead traders in one direction when the market may be going the other way.
---