Market seeks floor as Congress eyes ceiling
Stocks rebound, Capitol Hill signals temporary debt-ceiling deal
Energy sector still hot as US crude oil tops $80, jobs data misses
This week: Earnings season begins, CPI and PPI, retail sales
After starting last week by closing at a seven-week low, the S&P 500 (SPX) reversed course to score its third up week since August as Congress moved to temporarily resolve the debt-ceiling showdown.
But the big Wednesday–Thursday rally that unfolded as the ice broke on Capitol Hill was followed by a small Friday pullback amid a jobs-report surprise and another jump in long-term interest rates: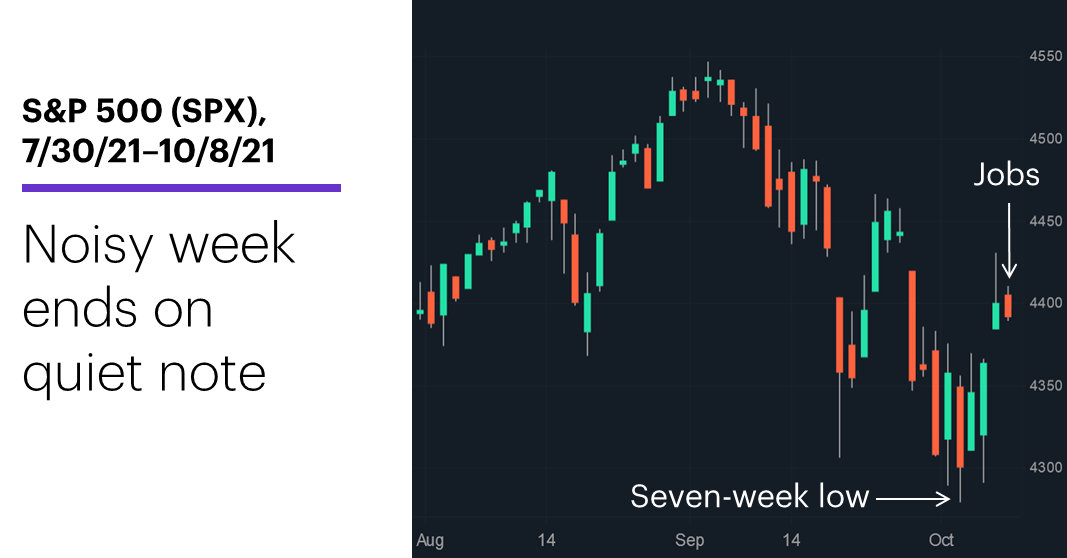 Source: Power E*TRADE. (For illustrative purposes. Not a recommendation.)
---
The headline: Up week for stocks despite Friday dip.
The fine print: The US economy added just 194,000 jobs in September—less than half of what economists had expected. But then again, maybe the data wasn't as bad as it looked at first glance: A 123,000 decline in government payrolls masked a healthy 317,000 increase in private payrolls, and the weak August jobs total was revised up—way up—from 235,000 to 366,000.1
The number: 1.617%, the 10-year T-note yield's peak on Friday—the highest it's been since June 4, and above the late-September highs that sent a few shivers down the stock market's spine.
The scorecard: Friday's selling was enough to drop the small-cap Russell 2000 (RUT) into negative territory for the week: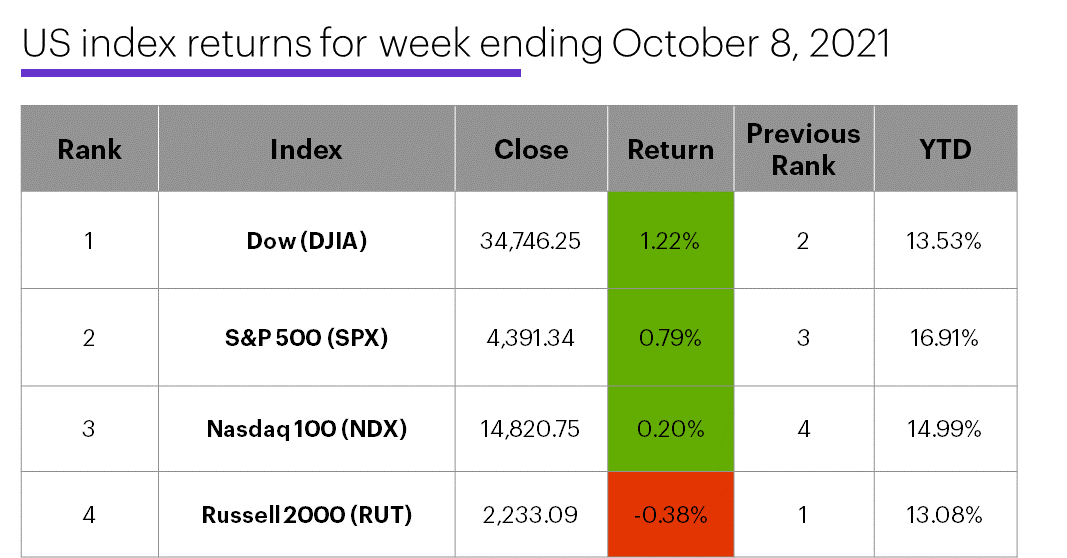 Source: Power E*TRADE. (For illustrative purposes. Not a recommendation.)
---
Sector roundup: The strongest S&P 500 sectors last week were energy (+5%), financials (+2.3%), and industrials (+1.8%). The weakest sectors were real estate (-0.8%), health care (-0.3%), and communication services (-0.1%).
Highlight reel: Xenon Pharmaceuticals (XENE) +102% to $31.50 on Monday, ChemoCentryx (CCXI) +96% to $38.41 on Friday. Regenxbio (RGNX) -20% to $32.33 on Monday, Oric Pharmaceuticals (ORIC) -35% to $12.28 on Thursday.
Futures action: Crude oil kept the heat on last week, tagging its highest level in nearly seven years—November WTI crude oil (CLX1) topped $80/barrel on Friday and closed at $79.35. December gold (GCZ1) hit a 12-day high of $1,782.40/ounce on Friday but reversed to end the day at $1,757.40, down slightly for the week. Biggest up moves: November lumber (LBSX1) +15.2%, October bitcoin (BTCV1) +14%. Biggest down moves: October VIX (VXV1) -10%, December hogs (HEZ1) -4.3%.
Coming this week
Get ready for a busy week—in addition to the latest inflation numbers, the calendar includes Fed minutes and retail sales data:
●Tuesday: NFIB Business Optimism Index, JOLTs Job Openings, Consumer Inflation Expectations
●Wednesday: Consumer Price Index (CPI), FOMC Minutes
●Thursday: Producer Price Index (PPI)
●Friday: Retail Sales, import and export prices, Business Inventories, Consumer Sentiment (preliminary)
And numbers from big banks signal the start of the final earnings season of the year:
●Tuesday: Fastenal (FAST), Smart Global (SGH)
●Wednesday: Delta Air Lines (DAL), BlackRock (BLK), JPMorgan Chase (JPM)
●Thursday: Alcoa (AA), Walgreens (WBA), Bank of America (BAC), US Bancorp (USB), Citigroup (C), Wells Fargo (WFC), Domino's Pizza (DPZ), UnitedHealth (UNH), Morgan Stanley (MS)
●Friday: J.B. Hunt Transport (JBHT), PNC Financial (PNC), Goldman Sachs (GS)
This week's IPOs include: Healthcare Triangle (HCTI), AvidXchange (AVDX), IHS Holding (IHS), Gitlab (GTLB).
Check the Active Trader Commentary each morning for an updated list of earnings announcements, IPOs, economic reports, and other market events.
A rockin' start to October
Just as September padded its bearish resume, so far October has given traders a small taste of the volatility it's famous for, even though the market is up for the month. Until Friday—when the SPX was confined to its second-narrowest daily range of the past month—last week was on pace to be one of the most volatile five-day periods since March.2
Despite its day-to-day ups and down, though, the SPX gained 1.95% in the first six trading days of the month, which is nearly twice as much as the index's median return for the first six days of October since 1960. Interestingly, though, a relatively big bump at the beginning of the month is somewhat par for the course. While the SPX's median gain in the first six days of October is 1%, its median gain for the next 15 trading days is only 0.71%.
Click here to log on to your account or learn more about E*TRADE's trading platforms, or follow the Company on Twitter, @ETRADE, for useful trading and investing insights.
---
1 Reuters. School hiring decline, worker shortages curb U.S. job growth in September. 10/8/21.
2 All figures based on S&P 500 (SPX) daily prices, 12/31/59–10/8/21. The day-to-day volatility referenced here is the S&P 500's one-day "true range," which is the maximum of: 1) the difference between a day's high and low, 2) the absolute difference between a day's low and the previous day's close, or 3) the absolute difference between a day's high and the previous day's close. Supporting document available upon request.
What to read next...
10/08/21
Cloud stock's options volume climbs as prices test 2021 low.
---
10/06/21
Oil just pushed to levels it hasn't seen in years, but energy stock traders may want to keep some key price-action principles in mind.
---
10/04/21
Market will head into Q4 looking to rebound after September sell-off gives back almost all of Q3 rally.
---