Stocks in the seasonal swing of things?
Stocks roll higher as earnings roll in, new records for S&P and Dow
Long-term interest rates hit five-month peak, oil hugs multi-year highs
This week: GDP, 900-plus earnings, Fed inflation gauge
Stocks appeared to look past inflation concerns and rising interest rates last week, as Q3 earnings mostly continued to surprise to the upside and the broad market hit new all-time highs for the first time in more than six weeks.
A small loss on Friday broke a seven-day win streak for the S&P 500 (SPX)—but not before the index set back-to-back records: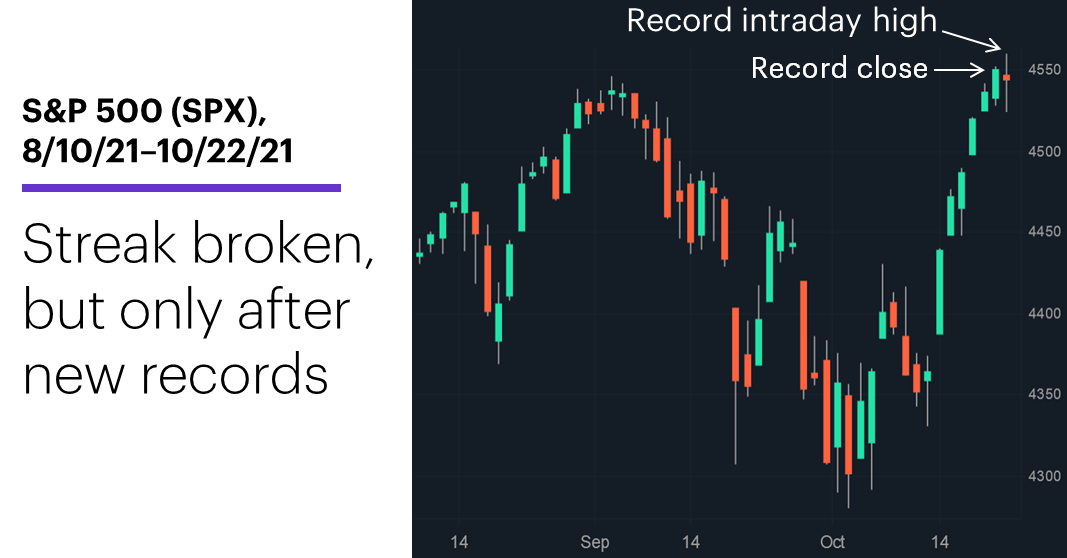 Source: Power E*TRADE. (For illustrative purposes. Not a recommendation.)
---
The headline: S&P 500 back in record territory.
The fine print: The stock market isn't just coming off a second-straight up week, it rallied even as the benchmark 10-year T-note yield hit its highest level since May (1.68% on Thursday). And tech stocks—which are often vulnerable to setbacks when interest rates rise—were among the better performers for most of the week. Although they pulled back relatively sharply on Friday, that was the one day last week that the 10-year yield declined.

The number: 9, the number of consecutive weeks the crude oil market has closed higher.
The scorecard: The SPX bagged the new records—and led the US market for the week:
Source: Power E*TRADE. (For illustrative purposes. Not a recommendation.)
---
Sector roundup: The strongest S&P 500 sectors last week were real estate (+3.3%), financials (+2.9%), and health care (+2.7%). The weakest sectors were communication services (-0.7%), consumer staples (+0.9%), and materials (+1%).
Highlight reel: Meiragtx (MGTX) +30% to $18.56 on Monday, Ginkgo Bioworks (DNA) +20% to $14.81 on Tuesday. On the downside, Revance Therapeutics (RVNC) -39% to $13.81 on Monday, Snap (SNAP) -27% to $55.14 on Friday.
Futures action: December WTI crude oil (CLV1) kept its foot on the gas, closing Friday at a new contract high of $83.76/barrel. After trading as low as $1,760.30/ounce last Monday, December gold (GCZ1) rallied the rest of week, closing Friday at $1,796.30/ounce. Biggest up moves: December spring wheat (MWZ1) +4.6%, December silver (SIZ1) +4.5%. Biggest down moves: November lumber (LBSX1) -12.2%, December hogs (HEZ1) -6.3%.
Coming this week
Earnings seasons kicks into high gear, with a few big-oil names scattered among several mega-tech stocks—and more than 1,000 [900] releases overall. Here are some highlights:
●Today: Facebook (FB), Kimberly-Clark (KMB), PetMed Express (PETS), First Solar (FSLR)
●Tuesday: Alphabet (GOOGL), Eli Lilly (LLY), Advanced Micro Devices (AMD), General Electric (GE), Lockheed Martin (LMT), Microsoft (MSFT), Visa (V), Pinterest (PINS), Twitter (TWTR), United Parcel Service (UPS), Southern Copper (SCCO)
●Wednesday: Apple (AAPL), O'Reilly Automotive (ORLY), Bristol-Myers Squib (BMY), Boeing (BA), eBay (EBAY), Shake Shack (SHAK), Teledyne (TDY), Xilinx (XLNX), Upwork (UPWK), Spotify (SPOT)
●Thursday: Amazon.com (AMZN), Yum! Brands (YUM), Merck (MRK), Caterpillar (CAT), Starbucks (SBUX), Northrop Grumman (NOC), Keurig Dr. Pepper (KDP), Eagle Materials (EXP), Mastercard (MA), Shopify (SHOP)
●Friday: Phillips 66 (PSX), AbbVie (ABBV), Aon (AON), Exxon Mobil (XOM), Colgate-Palmolive Co (CL), Chevron (CVX)
It's also a busy week on the economic calendar, which includes the first estimate of Q3 GDP and the latest reading from the Fed's favorite inflation gauge, the PCE Price Index:
●Tuesday: S&P Case-Shiller Home Price Index, FHFA Housing Price Index, Consumer Confidence, New Home Sales
●Wednesday: Durable Goods Orders, Trade Balance in Goods (advance), Retail and Wholesale Inventories  (advance)
●Thursday: GDP (initial), Pending Home Sales
●Friday: Personal Income and Spending, Employment Cost Index, PCE Price Index, Chicago PMI, Consumer Sentiment
This week's IPOs include: Informatica (INFA), Arteris (AIP), Rent the Runway (RENT), Fluence Energy (FLNC), Candela Medical (CDLA), Solo Brands (DTC), Ensemble Health Partners (ENSB), Airsculpt Technologies (AIRS), HireRight (HRT), Udemy (UDMY)
Check the Active Trader Commentary each morning for an updated list of earnings announcements, IPOs, economic reports, and other market events.
October stock wrap-up
With the stock market in position to make a run at one of its better Octobers in recent years, let's take a look at how the market has tended to perform in the final five trading days of the month.
Not surprisingly, there appears to be a bit of a "what goes up, must come down" factor. If the market had a good three weeks leading up to the final five days of October, the SPX often closed out the month on a tepid note. But if the index lost ground during those three weeks, the final five days tended to be strong:
Data source: Power E*TRADE. (For illustrative purposes. Not a recommendation.)
---
Overall, since 1961 the SPX has gained ground in the last five days of October in 36 of 60 years (60% of the time), with a median return of 0.4% (first column). When the SPX rallied in the previous 15 days, the median return for the final five days was only 0.2% (second column). But when the SPX fell in those 15 days, its median gain in the final five was 1.4% (third column).1
And when the SPX made an especially strong run in the three weeks before its final five trading days—this year was one of only a dozen years that the index gained more than 4%—the median return for the final five days was only 0.07% (final column), and the index rallied six times and lost ground six times.
Click here to log on to your account or learn more about E*TRADE's trading platforms, or follow the Company on Twitter, @ETRADE, for useful trading and investing insights.
---
1 All figures reflect S&P 500 (SPX) daily price data, 9/30/61 – 10/22/21. Supporting document available upon request.
What to read next...
10/15/21
Newly reconfigured transportation stock hits six-month low—and bulls jump in the next day.
---
10/13/21
Another sell-off in growth stocks—temporary or not—has discounted some recently bullish biotech names.
---
10/11/21
Market chops its way to a gain in the first full week of October.
---