The number of the day is...
WBA sold off after releasing earnings Thursday
Stock has closed down 13 of past 25 earnings days
Dovetailing pullback patterns?
Given trading is a business awash in numbers, it's a good idea to remember that one of the most potentially helpful things traders can do is also the simplest: count.
A little counting may have provided some useful insights into yesterday's price action in Walgreens-Boots Alliance (WBA), which fell more than 8% shortly after the opening bell. The stock tumbled to its lowest level in nearly four months before trimming its loss later in the session:
Source: Power E*TRADE
---
Let's forget about the "why" of this move for a moment and instead ask a more direct question: What has this stock done after similar moves in the past?
While there are many ways to define "similar," let's keep things simple and use the following description of Thursday's price action:
1. The stock must fall at least 8% intraday.
2. The stock must fall to its lowest price in at least 10 trading days (two weeks).
3. The stock must close down for the day.
Since April 1980, WBA has had 32 other days like this—not much to go on, perhaps, but still worth investigating. But before delving into what the stock did after these sell-offs, let's look at WBA's average  two-week performance. Start the counting: WBA closed higher on 5,540 of the 10,382 total 10-day periods since April 16, 1980, which means it was up 53% of the time. The stock's average 10-day return was 0.7%.
By contrast, after days like yesterday, WBA was higher two weeks later 20 out of 32 times (62%), and its average return was 4.6%—nearly seven times the average for all other two-week periods.1
Now let's circle back to the "why" of the price action. Yesterday wasn't just any day—it was earnings day, which provides a slightly different counting opportunity. The company topped its headline numbers handily, but also revealed it expected to administer fewer COVID vaccine shots in Q4 (thus dampening a recently robust revenue stream).2 The bottom of the following chart shows WBA's earnings-day performance over the past three years: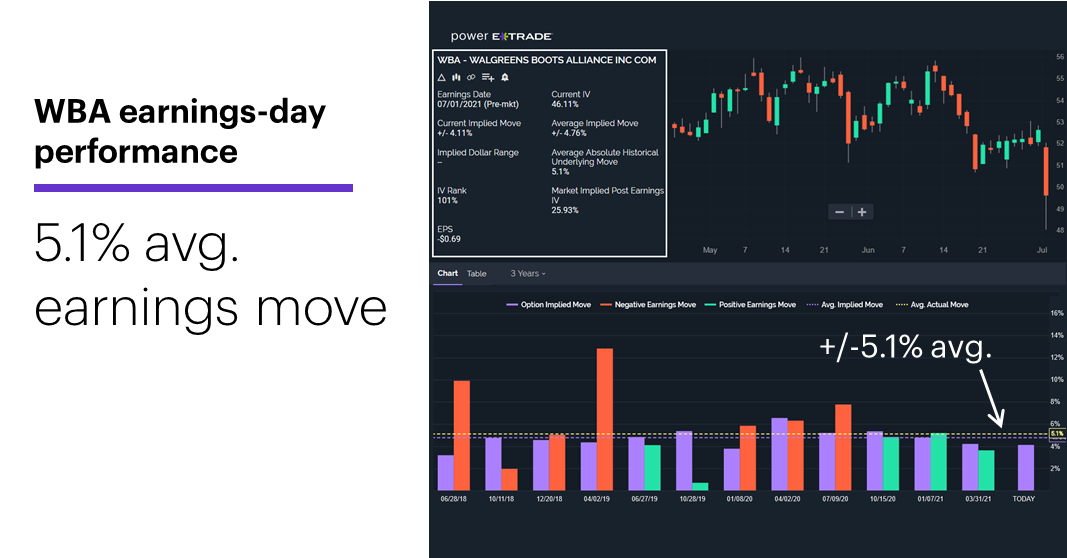 Source: Power E*TRADE
---
The purple columns are the earnings-day moves implied by the options market, while the green and red columns are the actual gains or losses, respectively, on earnings day. The stock's average earnings-day move (yellow dashed line) is +/-5.1%, which means yesterday's 7.4% loss was a little larger than usual.
Now back to the counting: WBA has closed lower on earnings day 13 out of 25 times since April 2015, and two weeks later it was higher seven times (54%, slightly better than its long-term average) with an average gain of 1.9% (more than twice the size of its long-term average).
These numbers can't predict what will happen in any given situation, but they can still provide potentially useful reference points. Traders looking for certainty from any type of analysis will always end up disappointed, but asking a few simple questions and tallying up the resulting performance figures often goes a long way toward cutting through the market noise.
Market Mover Update: Yesterday marked the 11th year in a row (and the 26th of the past 30) that the S&P 500 (SPX) rallied on the first trading day of July.
Today's numbers include: Employment Report (8:30 a.m.), International Trade in Goods and Services (8:30 a.m.), Factory Orders (10 a.m.), vehicle sales.
Holiday reminder: US equity markets will be closed Monday for the Fourth of July (index futures close at 1 p.m. ET), and the bond market closes early (2 p.m. ET) today.
Click here to log on to your account or learn more about E*TRADE's trading platforms, or follow the Company on Twitter, @ETRADE, for useful trading and investing insights.
---
1 Reflects daily Walgreens-Boots Alliance (WBA) closing prices, 4/16/80–7/1/20. Supporting document available upon request.
2 StreetInsider.com. Walgreens expects lower COVID-19 vaccinations in Q4, shares fall. 7/1/21.
What to read next...
07/01/21
Hydrogen battery maker pressures range amid heavy options volume.
---
06/30/21
Check out how the stock market has typically performed during the first full month of summer.
---
06/29/21
The first rule of buying options: Understand that time isn't on your side.
---