Notes from the market front
Many consumer staples stocks jumped in recent days
Gold rebounded after last week's washout
The VIX's new record
Back in 2018 and 2019, when one of the stock market's biggest challenges was the US–China trade war, the all-powerful consumer was often cited as the engine that could keep America's economy (and stock market) humming.
How times have changed.
The potential risk posed by the standoff between the world's two-largest economies almost (almost) seems quaint compared to what's unfolded over the past few weeks.
Then again, the more things change, the more they stay the same. Even as consumers themselves hunker down amid the coronavirus outbreak, consumer staples stocks have been one of the few areas of the market to actually gain ground the past few days—partially because consumers are stocking up, locking down, and wiping off.
The following five-minute chart shows Procter & Gamble (PG), Costco (COST), and Clorox (CLX) crushing the S&P 500 (SPX) this week as of midday on Tuesday: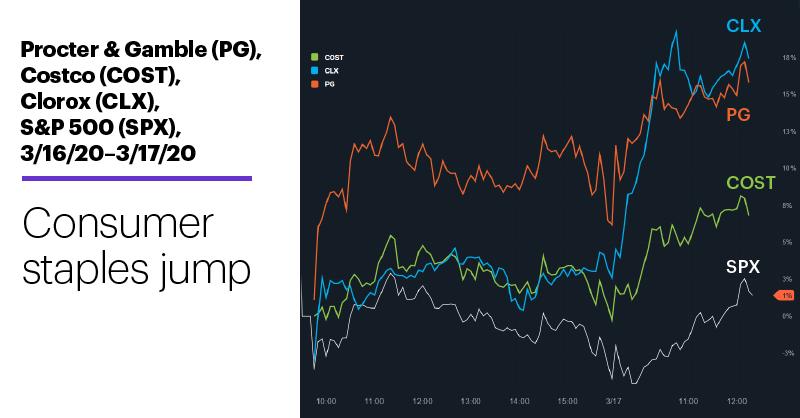 Source: Power E*TRADE
---
In times of trouble, people often flock to companies providing products and services seen as "essential," and food and household goods certainly fit that bill. Also, all three of these stocks had been in extended uptrends before the coronavirus sell-off kicked in.
But there's a cautionary note to be sounded here: If the fear of a spike in US coronavirus cases (and the resulting quarantining, business and school closures, and prolonged "social distancing" that could follow) is driving the pop in many consumer staples stocks, it stands to reason that the sector's momentum could disappear very quickly if the reality turns out be less severe than anticipated.
Certain traders may, for example, look at CLX's 17.4% intraday rally to a new record high yesterday (which followed a rally on Monday when the broad market was experiencing its worst day since 1987) with a certain amount of skepticism, especially since the stock (unlike PG or COST) has yet to pull back even to its late-January lows.
It's highly likely we'll continue to see (as we did throughout the trade war) good news days followed by bad news days, and vice versa. Prudent traders looking for additional bullish bursts in consumer staples stocks (or investors looking to catch a relative low for the long haul) will likely be waiting for days when fears have eased and these names are pulling back rather than leading the market higher.
Getting a hold on gold: On Monday, March 9, April gold futures (GCJ0) hit a new contract high of $1,704.39/ounce, a level the yellow metal hadn't seen since 2012. A week later, the market had tanked 15% to $1,450.90—a low it nearly matched yesterday before jumping $65 to around $1,530 while the stock market also rallied: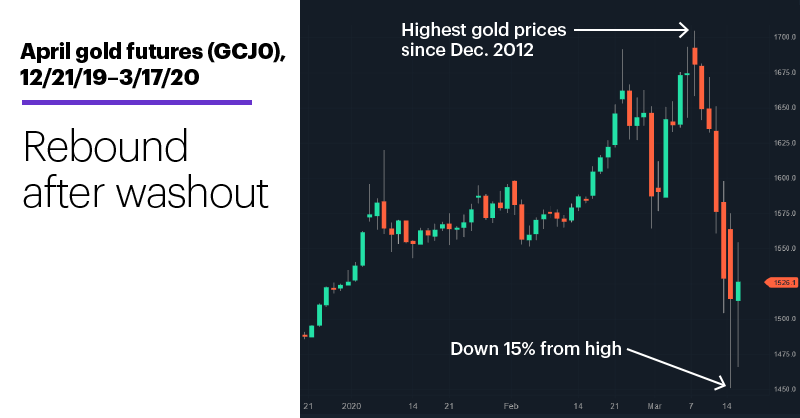 Source: Power E*TRADE
---
Last week's sell-off probably frustrated more than a few traders who were looking for a port in the stock-market storm, but as mentioned in "TGIF: Friday rally pares the bear," during panics, traders often sell everything but cash, and that includes the classic "safe-haven" gold.
The same thing happened on an even larger scale during the 2008 financial crisis: Gold joined the stock market sell-off in March and kept going until late October (when the worst was arguably over, even if no one knew it at the time), at which point it began a nearly three-year uptrend to 2011's all-time highs.
In other words, even if the past couple of days don't turn out to be a relative low point, last week's gold meltdown doesn't preclude another upside run.
Mark Mover Update: No surprise, but the stock market's fear level is still elevated despite yesterday's rebound. The Cboe Volatility Index (Cboe) closed lower yesterday, but it still registered its second-highest intraday reading ever (84.38), one day after setting its highest-ever closing price (82.69).
Today's numbers (all times ET): Housing Starts (8:30 a.m.), EIA Petroleum Status Report (10:30 a.m.).
Today's earnings include: General Mills (GIS).
Click here to log on to your account or learn more about E*TRADE's trading platforms, or follow the Company on Twitter, @ETRADE, for useful trading and investing insights.  
---
What to read next...
03/17/20
Market picked up yesterday where it left off last week—with epic volatility—and a run at the market's December 2018 lows.
---
03/16/20
What was shaping up to be the second-worst week for stocks since 1960 turned out to be only the second-worst week of 2020.
---
03/13/20
With the S&P 500 off more than 20% from February's highs, many traders will be looking to history to try to figure out the market's next move.
---